Micha Biton headlines the community's Yom Ha'atzmaut celebrations April 22. (photo from Micha Biton via Jewish Federation of Greater Vancouver)
Seven years in the making, Laura Bialis' documentary Rock in the Red Zone premièred last October at the Haifa Film Festival, and has since enjoyed several other prominent screenings in Israel. Less than a kilometre from the Gaza Strip, Sderot has been a favorite target of Hamas rocket fire for the last decade and a half – but it has also been the birthplace of a unique style of rock music, producing more than its share of popular bands and singers. One of the rock pioneers featured in the documentary steps off the Israeli silver screen and into Vancouver's Chan Centre for the Performing Arts on April 22 to lead our community's Yom Ha'atzmaut celebrations – Micha Biton.
JI: Your stop in Vancouver is part of a North American tour for Like Water. Are you traveling with a band? If so, who and what instruments?
MB: Exactly a year ago, my fifth album, Kmo Mayim (Like Water), was released in Israel and we performed a series of concerts around the country in celebration of the release – a tour that was very successful and drew attention from radio, television and media outlets. Subsequently, I performed in both San Francisco and New York and realized that, despite the fact that over half of the audience does not understand Hebrew, the music touched the hearts of those who heard it. For this concert in Vancouver, I am coming with five amazing musicians: Yossi Shitrit (electric guitar), Shir Yerushalmi (electric guitar), Hillel Shitrit (keyboards), Itamar Abohasera (drums), Shai Zrian (bass).
JI: In which other cities are you performing on this tour? For how long are you here?
MB: We are coming directly from Israel, and Vancouver is the first city on our tour. After Vancouver, I will perform in Los Angeles and San Francisco. I'll be in North America for less than two weeks. Due to my heavy performance schedule in Israel, I couldn't carve out more time to tour on this trip, but I always manage to make a little time to take in the atmosphere of the cities in which I perform. This is not my first time in Vancouver – last year, during the war between Israel and Gaza, I brought my whole family to Vancouver to visit my wife's family and I fell in love with your beautiful city and people. I'm excited that on my second trip to Vancouver I will get to perform for the wonderful people that I met in Vancouver.
JI: Like Water is your fourth solo recording?
MB: Kmo Mayim is my fourth solo recording, but it is my fifth album. In 1997, I produced my first album, Tanara, with a group of talented musician and it received critical acclaim in Israel. Soon after, I became a solo artist and, over two decades, I recorded four albums of original music. For me, Kmo Mayim is a very personal album that I wrote about relationships – friendships, love, connection with God. Every song tells a different story, and every story has an open-ended moral attached to it. I'm very proud of this album and I'm happy that my audiences like it.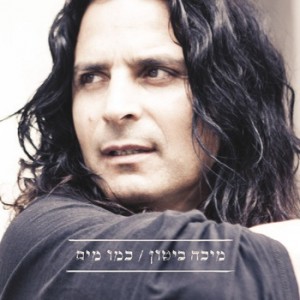 JI: You are one of the pioneers of the renowned rock music scene in Sderot. Could you share a bit about its development, how it has changed over the years?
MB: In the 1990s, I created a band called Tanara, a period that saw an incredible explosion in the Israeli music scene, especially in Sderot. Bands like Tippex, Knesiyat Hasechel and ours developed a new sound that was special and unique to Sderot, combining rock music with the Moroccan/ethnic sounds of our neighborhoods and our childhoods. In those early days, Sderot was underdeveloped and family-oriented. We didn't have much to do, so music became our lives and we played and composed in the bomb shelters all of the time. (In those days, we used the shelters for writing music and rehearsing for concerts. Today, unfortunately, they are used as shelters from the rockets fired from Gaza.) In addition, it was a town where everyone knew everyone – there was no such thing as a stranger in our town, and the warmth created by this strong community significantly influenced our ability to create something unique musically.
JI: How about your own style? How would you describe it now versus when you first started out?
MB: My musical style hasn't really changed much over the years. I've been very successful continuing to write ethnic rock in the style that I helped to create and I am lucky that my audience appreciates my style and my sensitivity. While my roots are strongly planted in Sderot, I am different than most of my fellow musicians from the area. At the age of 10, after my father died, I left my Moroccan biological family and was fostered by an Ashkenazi family in Jerusalem. From that early, tender age, I started to live between two cultures, understanding the beauty of each, and using both of them to influence the way I compose and the way I live. It turns out that my foster mother, Galila Ron-Feder, was a modestly successful author in Israel who shortly after my arrival chose to write an entire book based on my life and my journey (and I was only 10!). This book, El Atzmi (To Myself), became her most successful book. It became a series of books, and then a movie. It has been translated into 27 languages. The influence of Galila and her world, and the world of my parents together, helped me to create a new world of my own. My music and the lyrics that I write are very connected to the fact that I have lived most of my life straddled between these two worlds.
JI: A 2007 New York Times article refers to "Biton's anthem for Sderot," which was "I don't leave the town for any Qassam." What is it like living in Sderot these days? Are you hopeful for the future?
MB: In the quiet days of peace, we love living in this area. My nine brothers and sisters and their families live in Sderot, and my family and I live on the border between Sderot and Gaza in Netiv Haasara, a moshav where we can see Gaza from our backyard. This is my home, and we are very drawn to this place. For the past 10 years, we have lived with the reality that at any moment, day or night, the sirens will start and we have 15 seconds to run to our bomb shelters. Our children have grown up with the feeling that life is beautiful but uncertain. This past summer, and several times in the past, we have been forced to leave our homes and our community because of the imminent danger that the conflict caused. Rockets fell on our yard. A rocket hit my wife's parents' home, who live a block away from us, destroying precious family heirlooms. For every rocket that fell last summer, there are hundreds of rockets that have landed around us in the past 10 years that go unreported but, for us, they are very real. When we came to Vancouver last summer, my 4-year-old son looked at me and asked, "Abba, why don't they have tzeva adom (warning sirens) here in Vancouver?" and I explained to him that not everyone has to deal with rockets falling on their heads all of the time. It was a very sad moment for me.
In 2007, when I wrote the song 'I don't leave the town for any Qassam,' I felt that people were deserting Sderot and all of her beauty because of the situation. I wanted to give them strength and remind them that it was critical to stay and to fight for our hometown. Less than a year later, I wrote HaTzad HaMuar (The Lighted Side) from the same place in my heart. Despite all of the pain, I wrote, don't forget the light, the hope, the optimism. Because that is really what Sderot is all about. Not a place where rockets fall, but a place of warmth and love and peace.
JI: In the same article, you speak about Hagit Yaso as a star almost certain to rise to the top. She has, of course. And she played here in Vancouver last year for Yom Ha'atzmaut. Are there any current young Sderot musicians for whom we should be keeping watch?
MB: Hagit is an amazing singer and an extraordinary human being. I'm proud to stay that she was one of my most talented students when I taught music and theatre in Sderot. I am so happy for her success and that she represents a new generation of musicians that has emerged from Sderot. The wonderful thing about this young generation is that they are succeeding to continue the tradition of Sderot, bringing exciting new musical projects to Israel and to the world. During one of my tours, I invited her to the stage to sing with me, and it was a really beautiful moment of connection between the pioneers of the music scene and the young musicians of this generation.
One of the new, talented musicians climbing up the ladder at the moment is my cousin Tzafrir Yifrach, who concentrates on world music. He has exceptional talent and is performing quite a bit these days around Israel, and musicians from all over Israel love coming to his recording studio in Sderot to work on their own projects with him. Another rising talent is Nir Vaknin, who is in the process of finishing his debut album.
JI: If there is anything else you'd like to add, please feel free.
MB: During the time that I was in production for Kmo Mayim, I started another project with a musician from the U.S., Lisa Tzur, who was the executive producer of Kmo Mayim. I've traveled a lot in North America and have performed at synagogues where the singing was so beautiful that I never forgot it. I wanted to be a part of that somehow. Taking words from the prayer service and from Psalms, as well as a few original texts, we recorded a project that is different than anything else that I have recorded. The idea was to create music that was accessible and singable by audiences that were not necessarily Israeli. Lisa comes from that world (as a lifelong member of the Reform Jewish movement and as an ordained rabbi) and together we created something very special that will be released this summer both in Israel and in the world.
The April 22 festivities at the Chan start at 7:30 p.m. For tickets ($18) and more information, visit jewishvancouver.com/yh2015.