Back row, left to right: Jocelyne Hallé, Debbie Cossever, Nassa Selwyn, Susan Goldstein, Arnold Selwyn, Karon Shear and Marshall Berger. Middle row, left to right: Beryl Israel, Maurice Moses, Daniella Givon, Muriel Morris, Dawn Hurwitz and Rona Black. In front: Sara Bernstein, left, and Tamar Glaser. (photo by Jocelyne Hallé)
Shortly after she arrived in Vancouver from South Africa, in 2002, Beryl Israel founded Showtime, a seniors' singing and dancing group. In the decades since, Showtime participants have performed 230 concerts. After a hiatus forced by the global pandemic, Showtimers are back to rehearsals, hoping to have their first public performance in September or October.
"It's old-time, happy favourites, from the movies and from Broadway shows," Israel said of the Showtime repertoire.
For most of the group's history, rehearsals took place at the Jewish Community Centre of Greater Vancouver, but, as rehearsals return, they will be meeting at Kerrisdale Community Centre. Concerts are performed wherever they can bring happiness and good memories – community centres, church groups and Jewish venues like the Richmond Kehila Seniors, the Louis Brier Home and Hospital and the Weinberg Residence.
From the start, 20 years ago, the group – which usually consists of about 16 performers, many of whom are Jewish – has done a concert every three or four weeks. That came to an abrupt halt with the arrival of COVID. Now, as the group plans the first post-pandemic activity, Showtimers are reflecting on what the group – and Israel in particular – has meant to them. In a series of testimonials collected by participant Karon Shear, members spoke of the impact of their participation in general and of their friendship with Israel. The testimonials were compiled "behind my back!" Israel noted, and were shared in Senior Line, the publication of the Jewish Seniors Alliance of Greater Vancouver.
Muriel Morris, who has just retired as the group's pianist, said the Showtime experience was important at a pivotal time in her life.
"Beryl came into my life shortly after Ben, my husband, died," said the musician. "Meeting her was so fortunate for me. Showtime filled a great void in my life, as pianist of the group, giving pleasure to all our audiences and giving myself a true feeling of well-being and fulfilment."
With Morris's departure, the group will sing to music recorded by North Shore musician Bob York.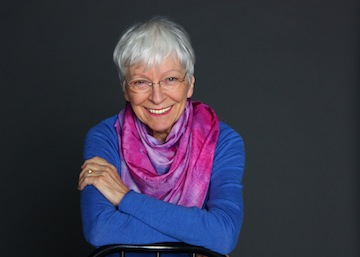 "We're very privileged and lucky that he's done this for us," Israel said.
While Showtime includes a cadre of singers and dancers, Israel alone fills many roles.
"I'm the everything," she said with a laugh. "I'm the director, producer, choreographer, I make the costumes, I do the arrangements, I do the bookings. I ended up doing it all."
Most of the performers are north of 70.
"I don't know what's happened with the 60-to-70 age group," she said. "They sort of disappeared."
A number of the most active participants are in their 90s – and maybe singing and dancing keeps them young.
"It's very rewarding, both for participants and for the audience," Israel said, a theme reflected in the many testimonials collected by Shear.
"I love the costumes, the rehearsals, being on the stage, singing and dancing and entertaining folks," said singer Debbie Cossever. "Beryl gave me the opportunity to use my talents bringing joy to the lives of seniors. I have been with her troupe for 17 years
because I love it! I am so proud I am a Showtimer."
"Beryl has enhanced my life and my dreams have been fulfilled," said singer and dancer Sara Bernstein. "It has been an honour over the 17 years being part of Showtime. I witnessed how people sprung up from wheelchairs in elation of the dance, costumes and musical joy Beryl produced. I shall never forget seeing stroke victims joyfully tapping a finger or toe in unrestrained elation. Caregivers and staff mentioned that the residual energy of the shows carried on for days."
"Although my stage presence in acting and singing goes back over 75 years," Arnold Selwyn added, "the last 16 years, performing with Beryl's Showtime group, has given me, without a doubt, the most satisfaction and pleasure. Her professionalism, choice of content and skill of program arranging, makes each show run smoothly and [be] enjoyable for the varied audiences. It is a joy to work with her and watching her dance is a delight."
"Thank you for giving me the opportunity to do a mitzvah (again and again) while I do some of the things I love most – singing and dancing," said Daniella Givon. "It is a pleasure to bring light and colour, music and movement to those who are wheelchair-bound, who cannot live on their own and who need special care. Every time I see our audience smile, nod their head, clap their hands and sing with us, I know this mitzvah counts."