Esther Edel (right) has participated in the Run 4 Afikim twice. (photo from Esther Edel)
The annual Run 4 Afikim supports Afikim, a nonprofit organization in Israel that addresses child poverty. One of the participants in the run – for two consecutive years now – has been former Vancouverite Esther Edel.
Jerusalem-based Afikim was founded in 2008 by Israeli educator and child services administrator Moshe Lefkowitz. At the moment, Afikim staff helps 528 impoverished children in 14 learning centres throughout Israel, mainly in Jerusalem.
Afikim's approach is to help parents as well, providing family counseling, while the children receive hot meals, tutoring, life skills training and emotional support. Currently, Afikim cannot keep up with the demand for its services, and Lefkowitz would like to see the number of students Afikim accepts increase by 80 this year.
One of the ways Afikim raises funds is the Run 4 Afikim. The website describes the event as a non-competitive relay from Jerusalem to Eilat, totaling 370 kilometres in 36 hours. Participants run in groups of three. Each group completes one leg of nine to 14 kilometres at a time and each runner ends up running multiple legs over the 36 hours. Participants must raise a minimum of $2,000 each to take part.
This year, the Run 4 Afikim began on Jan. 9 and ended on Jan. 11. The event raised more than $265,000, exceeding its goal of $250,000. One of the participants was Edel, who made aliyah in 1997.
"I had a strong religious Zionist education, which contributed to my moving to Israel.… My parents and sister still live in Vancouver. Unfortunately, I do not visit them as often as I would like," shared Edel in an email interview with the Independent.
While Edel first participated in Run 4 Afikim last year, it wasn't her first long-distance run.
"I've always been active, since I was little. Non-competitive sports and any outdoor activity are parts of my day-to-day life. I've participated in numerous 10-kilometre runs over the years. Most of them have been in Jerusalem, as parts of the annual Jerusalem Marathon, generally as fundraisers for different organizations."
She was introduced to Afikim, she said, "via a good friend, Ruchie Schwartz, who already participated in the run. She had posted on Facebook the recap/promo video of the previous year's run. When I watched it, I was moved by the passion of the participants and, even more so, by the cause that was driving them to raise funds and awareness for the Afikim Family Enrichment programs."
The weekly programs include music, sports and other extracurricular activities. "While these types of pursuits are easily available for children from more privileged backgrounds," explains the website, "Afikim's children would have no access to them without this program. Like all facets of Afikim, extracurricular activities help close the achievement gap between disadvantaged children and those from higher socioeconomic backgrounds."
Edel wanted to participate in the Run 4 Afikim but had some doubts. "I was slightly hesitant, as I had taken a break from running for a bit and wasn't sure if I would get back into it," she said.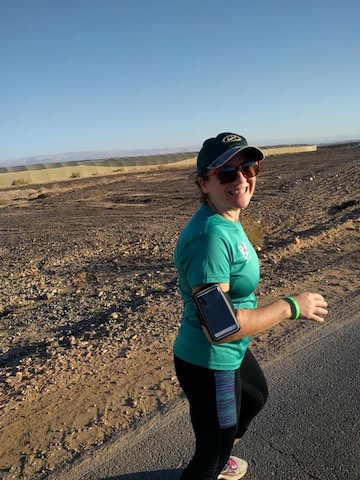 But those doubts were easily overcome. "I added a few runs to my weekly workout schedule, which I had not consistently been doing before I decided to participate," she said.
To meet the $2,000 financial contribution requirement, she fundraised using email, connected with people on Facebook, contacted friends by other means and benefited from word of mouth.
"This year, there were eight groups and 32 segments divided between the groups," she said about the run. "My team ran five segments, which approximately totaled 48 kilometres over 36 hours. Due to the timing of the segments, all the groups were functioning on very little sleep throughout the run. It's mainly 36 hours where adrenaline and endurance get you through."
Edel's team schedule included, on the Wednesday evening, one run from the Jerusalem starting point, and three running segments on the Thursday, the first starting at 5:30 a.m., the second at 2:30 p.m. and the third at 10:45 p.m. "Friday morning, we started at 6 a.m. and most of the participants completed the final few kilometres to Eilat," she said.
Edel added, "It's important to note that it is purely volunteer-based, with the maximum effort to keep the overhead as low as possible.… Throughout the run, there are always one or two escorts, including trained paramedics, who also volunteer their time each year to drive the roadside escort."
Edel also mentioned the lunch on the Thursday, which was "an organized activity, with all the runners and some of the Afikim children. This allowed us to connect with the Afikim kids and see firsthand how this run and fundraising affect these children."
To learn more about Afikim's work, visit afikim.org.
Olga Livshin is a Vancouver freelance writer. She can be reached at [email protected].