Last year, Richmond RCMP Superintendent Will Ng came up with the idea of creating a challenge coin unique to each of seven communities in Richmond. (photo by Lauren Kramer)
In 2019, Superintendent Will Ng at the Richmond RCMP came up with the idea of creating a "challenge coin" unique to each of seven of Richmond's larger communities: Jewish, Christian, Buddhist, Hindu, Muslim, Sikh and Chinese. A coin was designed for each with the guidance of the community's spiritual leaders.
For the Jewish community, the coin was collaboratively designed by Sgt. Kevin Krieger and Congregation Beth Tikvah's Rabbi Adam Rubin.
"I was genuinely moved and touched when the RCMP approached me to help design the coin," Rubin told the Independent. "The fact that the RCMP was willing to produce a challenge coin for the Jewish community speaks volumes about its commitment to diversity and inclusion, as well as its commitment to the safety, well-being and flourishing of Jews in the Lower Mainland."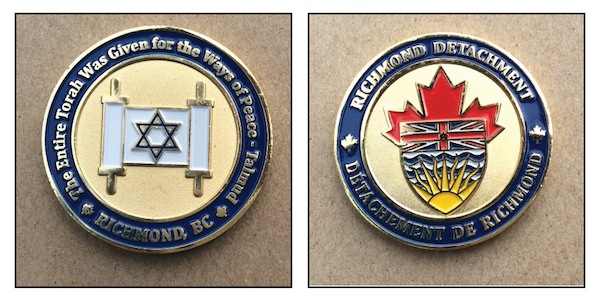 The Jewish coin features a quote from the Talmud (in English) and an image of the Star of David and a Torah scroll. Rubin and Krieger both felt that these are widely recognized symbols of Judaism and Jewish life.
"The Torah is at the very heart of our religious life, the core of who we are as a people, while the Star of David connects us to our past and to the state of Israel," Rubin said. "The excerpt from the Talmud, 'The entire Torah was given for the ways of peace,' is a heartfelt expression of an essential teaching of our tradition – that peaceful relations between people is one of the goals of religious life. Given recent events in North America, Europe and elsewhere, that claim is more important than ever."
Some 400 coins were produced in time for Rosh Hashanah last year and have been handed out by members of the police force at special community events, both in Richmond and beyond.
"The coin represents the fact that we stand in solidarity with our Jewish community against hate and antisemitism," said Ng. "We will do our best to protect our Jewish community to ensure they feel safe to both live and practise their religion free from hate or prejudice."
Rubin said he is deeply grateful to the RCMP for producing a coin with such an important message. "I hope and pray that, though this challenge coin may be fairly modest in the grand scheme of things, it plays a part both in ensuring the continued flourishing of Jews in Canada, and in helping to reinforce the crucial value of peace."
Cpl. Adriana Peralta, who works in Richmond RCMP's media relations, said the coins are commonly used in the RCMP as a token of appreciation for community service, or as a small gift to individuals who have served their community. "We have a large faith-based community in Richmond and our detachment came up with this particular series of coins as a way to connect with our interfaith partners and celebrate the rich diversity of our cultural groups," she explained.
The RCMP has created a display of the seven coins at the Richmond detachment, where they are positioned below an image of the Richmond skyline.
Lauren Kramer, an award-winning writer and editor, lives in Richmond. To read her work online, visit laurenkramer.net.