The Intergalactic Nemesis: Target Earth comes to York Theatre April 30 and May 1. (photo from Jason Neulander)
The story takes place in 1933. And, were it not the full-color cartoon panels being projected onto a large screen, you might feel as if you were also back in 1933 while watching the live performance of The Intergalactic Nemesis: Target Earth at York Theatre April 30 and May 1.
Target Earth is the first instalment of a trilogy that follows "Pulitzer Prize-winning reporter Molly Sloan and her intrepid research assistant Timmy Mendez," as they "team up with a mysterious librarian … named Ben Wilcott. Together, they travel from Romania to Scotland to the Alps to Tunis to the Robot Planet and finally to Imperial Zygon to defeat a terrible threat to the very future of humanity: an invading force of sludge-monsters from the planet Zygon!"
The dozens of characters are voiced on stage by three actors. They are joined by a Foley artist, who creates all of the sound effects, and a pianist/organist who provides the music soundtrack. The full-color comic book is projected onto a movie screen. In Vancouver, the actors will be Rachel Landon, Brock England and Jeff Mills, with Kelly Matthews in charge of the sound effects and Harlan Hodges on piano and organ.
The series – comprised of Target Earth, Robot Planet and Twin Infinity – is produced and directed by Jason Neulander.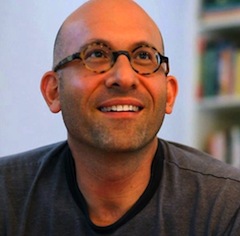 Neulander grew up in New Jersey and went to college at Brown University in Providence, R.I., where he majored in theatre.
"Right out of school, I founded a company called Salvage Vanguard Theatre in Austin, Tex., where we developed and produced new plays. The Intergalactic Nemesis came out of that company, originally as a radio play," he told the Independent.
"I ran Salvage from 1994 to 2008 and built the company up to a point where it's now something of a local institution. They're still going strong without me. In 2008, I decided to focus entirely on The Intergalactic Nemesis and got invited to bring the show to the Long Centre for the Performing Arts [in Austin]. The venue there was 2,400 seats and I felt like that was too big to house my little radio play. So, I came up with the idea of projecting comic book artwork to create a visual spectacle to fill the room. That version of the show premièred in 2010 and we've been on the road with it ever since."
Based on an original idea by Ray Patrick Colgan, the touring show was adapted from the radio drama by Colgan, Neulander, Jessica Reisman, Julia Edwards and Lisa D'Amour. The comic-book artwork for Target Earth is by Tim Doyle with Paul Hanley and Lee Duhig; the sound effects were created by Buzz Moran; and Graham Reynolds was the composer. Others, of course, helped bring the whole production to fruition.
For his part, Neulander said his biggest inspiration for The Intergalactic Nemesis was his kids. "I wanted to make something that I could enjoy with them," he said. "That's actually worked out pretty well! Artistically, this show is all about pushing my own inner-kid buttons. I was 7 when Star Wars came out (the first one) and 12 when Raiders of the Lost Ark came out and I love that kind of storytelling.
"One of my favorite memories as a kid was watching the old Flash Gordon serials and the old Ray Harryhausen movies on TV with my dad on Saturday mornings. When I was a little older, I got really into golden-age sci-fi short fiction, like Bradbury and Asimov and those guys. When I was a young adult, I discovered golden-age Hollywood movies for myself – His Girl Friday hugely influenced our script. I kind of backed into both radio drama and comic books, so maybe those are actually a little less influential on the show than those other things."
While there is no overt Jewish aspect to the story, Neulander said his sense of Jewish heritage played a role in its creation.
"This show is all about the heroes defeating the bad guys more through smarts than through violence," he explained. "The main male character is a librarian, so I feel like there's got to be some Talmud in there somewhere. But, more than that, I think my upbringing taught me that if you work hard, you can succeed against all odds. I'm not sure if that's solely a Jewish thing, but it's definitely what the story of this show is all about."
And Target Earth won't just take you to another time, but place.
"It's so much fun!" said Neulander. "It's like getting to watch an animated movie and seeing how they do it all at the same time. The visual images are just beautiful to look at and then you have three voice actors playing so many characters, often in the same scene, you have one person using all these unusual objects to make sounds you never thought they could make (my favorite is a trail from a box of mac and cheese), and the music just soars. You really do get taken to another world."
While Neulander is taking a creative break from the Intergalactic world – "I'm just wrapping up a script for a thriller, which will be my film directing debut" – the series' shows keep touring. This summer, said Neulander, "we are taking Twin Infinity to the fringe festival in Edinburgh in what we think will be a very splashy U.K. première."
But first, Target Earth and target Vancouver.
"We've been itching to get to Vancouver for a few years now," said Neulander. "I think that your city really is one of the ideal places for this show. I just think audiences are going to eat it up! Can't wait to get there!"
Shows are April 30, 4 and 7 p.m., and May 1, 2 p.m. Tickets start at $25 from tickets.thecultch.com or 604-251-1363.