David Fine and Alison Snowden wrote, directed and animated the National Film Board of Canada animated short Animal Therapy. (photo by John Bolton)
They're baaaack! And with another funny – and thought-provoking – National Film Board of Canada animated short. Jewish community member David Fine and wife Alison Snowden, who co-created the NFB's Oscar-winning Bob's Birthday 25 years ago, have returned to the genre with Animal Behaviour.
Animal Behaviour, which screened at the Toronto International Film Festival earlier this week, will be part of the Vancouver International Film Festival's True North Shorts program, The Curtain Calls, on Oct. 1 and 8. There are further screenings scheduled for other festivals across Canada.
The 14-minute short, produced by Michael Fukushima, executive producer of the NFB's animation studio, is written, directed and animated by Fine and Snowden, who are currently based in Vancouver. In addition to countless other projects, the pair also created, and contributed in many capacities to, the adult animated series Bob and Margaret, which was based on Bob's Birthday.
"We had worked in series and missed making a personal film and doing the animation ourselves, directly," Fine told the Independent about what motivated Snowden and him to make another animated short. "We really thought it would be nice to get back to the type of filmmaking we started our career with and our producer, Michael, had suggested that he would be keen to see any ideas from us and we happened to have one, so we thought, why not have a go. It's very different to make a personal film like this than a series."
The couple humorously tackled some of the issues of being middle age in Bob's Birthday. In Animal Behaviour, they explore – also with much humour – some of the pros and cons of following our natural instincts versus doing what is socially acceptable. They do so using the vehicle of a weekly group therapy session led by Dr. Leonard Clement, a Labrador retriever.
Lorraine, the leech, has attachment issues and experiences panic attacks; Todd, the pig, has an eating disorder and suffers from insecurity; Cheryl, the mantis, hasn't had a lasting relationship, and the fact that she has 1,000 kids is the lesser of her two main problems; Linda, the Tabby cat, has obsessive compulsive disorder and doesn't ever feel clean enough, despite constantly licking herself; and Jeffrey, the blue jay, has some serious guilt issues as a result of something he did when he was a very young bird. The members of the group seem to know one another well and there is a rhythm to their session. Then walks in Victor, the ape, with his anger issues, who believes that everyone else is an idiot and that people in therapy are navel-gazers who just need to get on with their lives.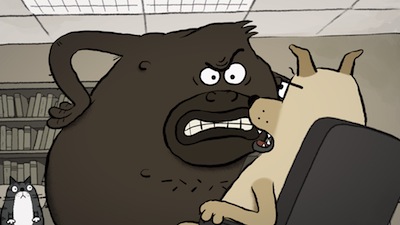 "The notion of going to therapy to change seems like a tall order, so we thought it would be fun to look at therapy and have a character who comes in and questions its validity," explains Fine in an NFB interview online. "At the same time, we're careful not to go for the low-hanging fruit or make fun of the process. We don't want to answer the question ('Is therapy valid?'), we want to pose the question and start the discussion."
"It was quite a difficult script to write," says Snowden in the NFB interview. "We thought it would be easy, because it's in one room, there's one conversation, but there are so many possibilities with all the animals, and if we did it wrong it would get boring.
"At first, there were a lot of characters, but you couldn't get attached to any of them, so we honed it down. Really, it's about the ape and Dr. Clement – that's the showdown. Then they all came together. The others are in the room, they're observers, and they're there for comedy. But the key characters are those two and their drama."
"From idea to final film was probably about five years," Fine told the Independent, "but there was a development period, which was sporadic and took time to get to the green light. Once in production, it took about 2.5 years to make, in terms of pure working time."
About working in animation, Fine said, "We like controlling every frame and effectively being both directors and actors, because we pose and make the characters act. We also love working with voice actors and then being able to edit the track in a way you can't really do in live action. It's really about all the nuance and control, which is so much fun."
The creative process starts with the writing, he said, "with the idea and the script," which they "work to refine…. After that, the voice record was key. We interviewed about 300 voices to cast this group. All the actors are Vancouver-based, which we are very proud of."
Among the credits, thanks are given to the animation programs at Capilano and Emily Carr universities, and the film is dedicated "to the wonderful doctors, nurses and staff at Vancouver General Hospital."
"During the production, near the end, Alison was struck with a very sudden, serious health crisis and was in intensive care and recovery for five months," explained Fine. "VGH saved her life, so, when we were finally able to finish the film together, it was very important to us to make that dedication to show our appreciation."
For tickets to The Curtain Calls and the full film festival schedule, visit viff.org.