Rabbi Rick Jacobs, president of United Reform Judaism. (photo by Ian Spanier)
Temple Sholom is celebrating its 50th anniversary this year. As part of its continuing celebrations of this milestone, Rabbi Richard Jacobs, president of United Reform Judaism, and Paul Leszner, head of the Canadian Council for Reform Judaism, joined Rabbi Dan Moskovitz and the Vancouver congregation last Shabbat.
Rabbi Rick, as he is fondly known, is entering his third year as president of URJ. Throughout his rabbinate, he has been a social justice activist, whether setting up a homeless shelter in his hometown of New York City, or joining an international humanitarian mission to the Chad-Darfur border. Vibrant, welcoming and warm are some of the words that he uses to describe the movement, and it was not difficult to sense the enthusiasm as he discussed with the Independent his leadership philosophy, as well as the goals of Vision 2020, a URJ campaign to reach and inspire the 900 or so Reform communities across North America.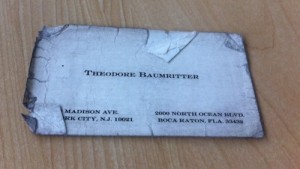 JI: I read about your personal mission and the fact that you carry around a business card of your grandfather, Theodore Baumritter. What does that say to you?
RJ: My grandfather was a person with such integrity and such goodwill that everywhere he went, people came to know and love him, people he met through business and through Jewish life. He taught me as much about life and Judaism as anyone I have ever met. Generational bonds are very important. To know where you come from and the people that helped you become who you are, they shape one's character and aspirations.
My other grandmother emigrated from Eastern Europe when she was a teen. She was a seamstress on the Lower East Side and didn't have the privilege of going to high school until she was a senior citizen. She went back and got her degree. She raised five children.
I feel very blessed to have the grandparents and parents I had, and hope that when we talk about ancestors they are not just vague theoretical people.
JI: What would you like readers, and Jews generally, to know about Reform Judaism?
RJ: Reform Judaism is large, passionate strong, dynamic, welcoming and truly inspirational. It can speak to lifetime congregation members and to those who haven't tasted any of the rituals of the Jewish traditions. There may be people who at one point lived somewhere in a Jewish community and are open to finding a place for themselves.
JI: What are the specific goals of Vision 2020 and how do you propose to carry them out?
RJ: With guidance and help from rabbis and leaders across the U.S. and Canada, UJR envisions three major strategic priorities.
The first is to strengthen congregations, even congregations that are thriving and growing…. The world in which we live and the Jewish communities in which we find ourselves are having to change at an extraordinary rate. Congregations have to learn about how to engage in learning, spirituality and worship to nourish the soul. How do we ensure the synagogue is not frozen in one moment even though we have been growing steadily? How do we express chesed (loving kindness) in the congregation?
The second priority is called "audacious hospitality." Audacious hospitality reaches beyond politeness…. Anyone who shows an interest in Judaism should not be turned away. If someone walks into the synagogue for the first time, it's a very tentative moment. "Will I feel at home? Will I want to explore and get to know people?" Particularly a family with children. We want and need everyone to feel a genuine connection, rather than institutional – seniors, disabled, interfaith families; someone who has no knowledge of their Jewish faith; a traditional person who is now seeking something more contemporary. It's about inclusion with no barriers. What's important is building the bridges outside the walls and at the same time paying very close attention to those inside our walls.
JI: Low-income people or families may not have the means to afford membership or event costs. How do you propose to remove that barrier?
RJ: One of the barriers that keeps people outside the synagogue can be a financial barrier. Sometimes it's a barrier or a priority they choose to avoid. Either way, we want to lower those because it's not the finances that bind us together. We are bound together because we are part of a people, and we want to reduce ways in which you have to formally affiliate. Although, supporting something you care deeply about is a deeply held Jewish value. But, if someone wants to participate, it cannot be a barrier. Whether it's participation in summer camp or Jewish day school, we have to remove those barriers.
JI: The third pillar of Vision 2020 is tikkun olam. Could you give me some examples?
RJ: Tikkun olam [perfecting the world] is a very large category to express a fundamental Jewish commitment. In the past 20 years, every study of the Jewish community [asks] … "What is the most compelling way you express your Judaism?" Pew Research [results] said: One, remembering the Holocaust. Two, standing up for equality and social justice. We use [tikkun olam] to actually express a fundamental Jewish commitment. When we pray or celebrate holidays, it is not instead of doing community work for people who have no home or food – tikkun olam is becoming a partner with G-d and making the world as God intended it to be. It's primary. It is the pillar of Jewish life.
For us, tikkun olam also involves core Jewish values on a local and national level. It's about helping immigrants, making sure that gun violence is not to the point that it inhibits our society. It also means making sure that public policy is responsible to [people's] needs, whether it's health care or caring for seniors. We don't separate public policy and say, "That's the government's job." We care about them. On a local and a national level, these are core Jewish values.
So, how do we lead and support the things that our Jewish tradition commands us to do? Young people tell us (whether they are involved or not) that, for them, the way that tikkun olam is practised is a serious, ongoing discipline, a way of life and a top priority.
JI: Is that where all the passion is to be found? What happens to the ritual and liturgy? Can these inspire people in these high-tech times?
RJ: Not only can we, but it's happening. I recently attended a convention in Atlanta, Ga., where 1,000 of our own youth leaders attended, but also youth professionals who lead prayers, study. They [made] sure that we learned about the history of civil rights. Atlanta is where Martin Luther King preached. I use the example of young people because they have the fire burning in them. They speak Hebrew, they know how to pray, chant Torah and they have attended Birthrights. It is one thing to hear it from rabbis and educators. It is another thing to hear it from youth leaders.
We have 15 summer camps. Young people will talk about their expressions of Jewish commitment, such as meditating, praying and singing. They will stand up for Israel in their schools. This is the kind of Jewish engagement we are seeing. But this is also the time to be thinking about the young people who aren't engaged.
JI: How do you reach them?
RJ: One method, which we can now use, is technology. We have, for instance, a website, reformjudaism.org. Last year, there were two million users on the website looking for Jewish learning and connection. Technology can be a connector but can't have the same experience as a face-to-face real community, only virtual.
JI: What really excites you about your job?
RJ: I love traveling and getting to know Jewish communities all across North America. From a small little community in Mississippi or a large congregation in Arizona. Or, this weekend, Vancouver, Calgary and Edmonton. It's a privilege getting to know the different communities and bringing a sense that we are part of something larger.
Jenny Wright is a writer, music therapist, children's musician and recording artist.