Akiva Gersh teaching a group in Israel. Gersh is the editor of, and a contributing writer to, the book Becoming Israeli: The Hysterical, Inspiring and Challenging Sides of Making Aliyah. (photo from Akiva Gersh)
If you or someone you know is considering making aliyah, there is a book that offers a glimpse of the experience. Becoming Israeli: The Hysterical, Inspiring and Challenging Sides of Making Aliyah (Rimonim Press) is a compilation of blogs and essays written by 40 olim (immigrants), including the editor, Akiva Gersh.
"The book speaks about the various sides of aliyah, from the hysterical, to the challenging, to the frustrating, to the emotional," Gersh told the Independent.
Gersh grew up in the New York area. He and his Philadelphia-born wife, Tamar, made aliyah about 13 years ago. As they were going through the process, Gersh wrote about it in a blog. When he realized others were doing the same thing, he was spurred to collect as much information as he could for publication in book form.
"I kept thinking, someone must have done this," said Gersh. "People had written about their own aliyah experiences, but not a broad compilation of experiences … and that is what I wanted to do, what I wanted to share. I worked on it for about two years – finding the blogs, talking to the bloggers, telling them what I'm doing, and getting permission to use their posts in the book. And, after about two years doing all this compiling and editing, the book was born."
In Becoming Israeli, said Gersh, there are the insights of (English-speaking) Jews who have made aliyah, as well as those who have been to Israel, but haven't yet made the move. "In the book," he said, "you can really sense the things they love about Israel. Above and beyond that, there is the general world … and much of that includes the Christian world who loves coming to Israel."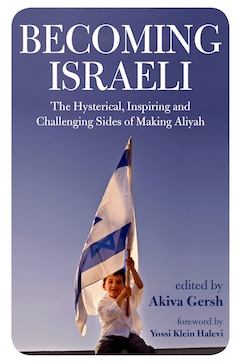 The feedback has been good, especially from olim who have read the book and can relate to their fellow travelers. "They went, 'Wow! Amazing!'" said Gersh. "Every page, they're like, 'This is my story!' They're laughing, they're crying.
"I've read the book multiple times and I still laugh at the jokes and cry at the same emotional places," he added. "It's a really powerful book and I've had really positive feedback from olim who say 'thank you' and feel it is awesome … [and] exactly what they've been going through and experiencing."
Gersh is a teacher by training and works in a private English-language school in Israel. He also connects with people using music, through a program he started in 2007 called The Holy Land Spirit.
As a musician and teacher, Gersh offers groups – mainly Christians – who visit Israel an evening program of music, prayer and spirituality from a Jewish perspective. "They love it," he said. "We pray together, dance together, speak together."
Gersh teaches at Alexander Muss High School, a study-abroad institution near Tel Aviv. There, kids from 45 different countries come to learn for a few weeks or up to a few months at a time, about Jewish history and Israel. They spend half their time in the classroom and half their time traveling around the country.
"So, it's academic and hands on," said Gersh. "It's awesome. I've been there about 10 years now. The language of instruction is English and, for those who want to improve their Hebrew, there are opportunities.
"We have young Israelis who are fresh out of the army. And, for those who want the Hebrew experience, they can get it from them and also from being out and about in Israel.
"The kids are inspired, enlightened, pumped up about Israel," he continued. "We're not a religious program. We're not a church denomination. We're pluralistic. We have Jews on staff, but we don't push Judaism. We just open up a space for kids to explore connections to Judaism."
According to Gersh, many of the students are experiencing certain aspects of Judaism for the first time. This is something especially meaningful for him, he said, noting, "I had no connection to Israel growing up at all. I never thought about it, nor talked about it. It just wasn't a thing in my community. I heard about it a couple times in Hebrew school, but it wasn't on the radar at all. By the time I was done with high school, going into college, I was really done with anything Jewish…. In college, I began searching for something more cultural, meaningful, spiritual in my life.
"That journey, which was a three-year journey, took me to many different places, meeting different people, reading different books. At the end of the journey," he said, "it brought me full circle to Judaism. But, I found a new side and a new expression of Judaism that I hadn't seen before."
Among the places Gersh traveled after college was West Africa, where he spent two months learning more about the drumming he studied in school.
"After traveling around there," he said, "I went to Israel for the first time. I was about 22 years old at that point. I traveled around Israel for two months, backpacking and enjoying, taking a class here, a class there, doing a Shabbat and just really getting into it. After those two months, I realized I wanted to really explore my roots and see what Judaism was about. Still, at that point, I did not want to become religious."
Eventually, Gersh did become religious. He spent some time in a yeshivah, both in Israel and in the United States, before making aliyah with his wife in 2004.
The foreword of Becoming Israeli was written by Yossi Klein Halevi, an Israeli author Gersh looks up to as a Jew, as someone who made aliyah and as a writer.
"We had a book launch at the beginning of the summer and we had a panel of me and a bunch of other bloggers from the book, and he was one of the panelists," said Gersh. "It was amazing to have his voice and his perspective."
Becoming Israeli is available on Amazon, and Gersh also has a website, becomingisraeli.com.
Rebeca Kuropatwa is a Winnipeg freelance writer.