Viktor Ullmann, 1924. (photo from Arnold Schoenberg Centre Los Angeles)
The memories of City Opera Vancouver's production of The Emperor of Atlantis in 2009 still resonate. Written by Viktor Ullmann (composer) and Petr Kien (librettist) in 1943-44 at Theresienstadt concentration camp, its stirring score and lyrics, both of which, remarkably, reflect hope for a positive future, stay with you. No doubt, Project Elysium's Cornet: Viktor Ullmann's Legacy from Theresienstadt will have a similar effect.
In two public performances (and one private), the group Elysium will present Cornet, the last work that Ullmann finished before he was deported to Auschwitz on Oct. 16, 1944, and killed there two days later. Set to excerpts from Rainer Maria Rilke's The Lay of Love and Death of Cornet Christoph Rilke, it tells the "tale of a young soldier who experiences love and death in a single night."
Combining recitation and piano, the piece will be performed by pianist Dan Franklin Smith, who is also music director of Elysium, with Gregorij H. von Leïtis, who is the group's founder (in 1993) and artistic director, among other things. The evening will include Ullmann's Piano Sonata No. 6, Op. 49, written in Theresienstadt in 1943, and a lecture by Michael Lahr, Elysium program director and executive director of the Lahr von Leïtis Academy and Archive. Project Elysium was created by Vancouver performer and producer Catherine Laub to bring Elysium to Canada.
"In honor of the 70th anniversary of the end of WWII, Elysium – an organization focused on performing music of composers persecuted during the Nazi regime – is coming to Canada for the first time to present a concert of Viktor Ullmann's music. One of the concert dates will be the actual date 71 years ago that Ullmann arrived in Auschwitz from Theresienstadt and was immediately put to death," Laub told the Independent. "The focus of the endeavor is not to dwell on the suffering and death of this artist but to celebrate a man who created beauty during an intensely painful time, and be uplifted by artistry that justly survives his shortened lifespan. In Michael Lahr's words, 'The adamant will to live, the unshakable hope that good will prevail no matter how horrible the attempt to crush it – this is the message of Ullmann's music from Theresienstadt. Elysium offers Ullmann's music as a powerful symbol of hope.'"
In addition to being a performer, composer and teacher, Laub has been a concert producer since she moved to Canada from the United States in 2006. She founded the Erato Ensemble, with William George, and has been involved on the production side with various other ensembles. Since the creation of the monthly Sunday concert series at Roedde House Museum in 2012, of which she is artistic director, she said, "I have started to focus more energy on being aware of which artists and which projects are poised to bring important gifts to audiences and communities in Vancouver. Project Elysium is the largest-scale project I've been involved with from an organizational standpoint, and it's unique in that I'm not wearing my performance hat at all."
The Project Elysium concerts, she said, "have been in the works since December 2013, when I reconnected with Gregorij von Leïtis and Michael Lahr on a trip to Munich. I first worked with them when I was fresh out of graduate school and participating in their young artist program. In the years since, I had become more familiar with the second part of their mission statement: '… fighting against discrimination, racism and antisemitism by means of art.' It inspired me that here were people with a clear artistic mission as well as a humanitarian focus. In today's world, where we all expect quick sound bites and instant gratification, it has to be clear why live performance and the arts – beyond big-budget Hollywood – are relevant and important. This seems like a clear answer to me, and it's never been more important to be reminded of what happens to the world when we don't listen to such messages."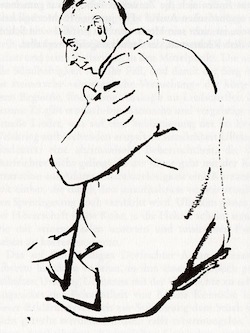 "Never forget." This was one of the reasons that City Opera Vancouver decided to produce The Emperor of Atlantis.
Artistic director Dr. Charles Barber first encountered Ullmann's music when he was in graduate school at Stanford. "I had made friends with Lotte Klemperer, daughter of the great conductor Otto Klemperer," Barber told the Independent. "She and her father knew his work, and she introduced me to Ullmann's broken life and unbroken promise. We listened to recordings together, and Lotte told me about his music and its time."
Barber also knew Ullmann's work through violin teacher Paul Kling. "He had played Ullmann's music, knew it intimately, and was imprisoned with him at Theresienstadt. Prof. Kling considered Ullmann one of his teachers, and strongly believed in his genius."
While Ullmann and Kien did not survive the Holocaust, Kling did, and, said Barber. "I felt an obligation to help maintain, in his name, the music that might have been."
The choice of Atlantis, said Barber, had to do with "its unique story, its historical context and its relevance today." City Opera presented it "in partnership with the Vancouver Holocaust Education Centre, and they were wonderful collaborators in bringing this British Columbia première to the Rothstein Theatre.
"City Opera specializes in chamber opera: the small forms, the intimate eloquence, the affordable advantage. Atlantis met all of these criteria, and more. The music is wonderful, the libretto is bold and vivid, the voice is favored and the audience was moved. It's what we hoped to achieve, and it's what we tried to honor." (For more on the 2009 production, visit jewishindependent.ca/oldsite/archives/feb09/archives09feb06-01.html.)
While Barber, unfortunately, won't be able to attend Elysium's Cornet concert – he will be in Quebec City with COV, conducting its opera Pauline – he put the program into context. He said, "It highlights Ullmann's gifts: concision, wit, superlative technical accomplishment, daring, and a strong foundation in European musical traditions.
"Ullmann's significance in musical history is, alas, limited. He was one of the great lights in a musical generation destroyed by the Nazis. We will never know what his place would have been; we only know what it might have been. In his 46 years, he seems to have composed as many works. Only 13 survived him after he was killed at Auschwitz.
"His music works for me, and I think will for the audience coming up, because of its eclecticism. Ullmann was an authority on many sources, he drew widely upon them, but found a voice that was unlike others of his day. He was not an academicist. He wrote for real people, and presumed in them a shared awareness of musical and cultural traditions, and a desire to advance them – playfully, skilfully and imaginatively."
"While it isn't possible to rewrite history," said Laub, "this project functions as a kind of musical 'rescue mission,' bringing recognition to a brilliant composer whose work was nearly lost to us. His story and his music allow us to make a more personal connection to a time that is almost too overwhelming to contemplate. This connection is essential as it helps us not only mourn but learn."
Echoing these comments, Barber said, "These concerts will not be a funeral procession. Ears will be challenged, knowledge will be deepened, and awareness will be empowered.
"According to my teacher Paul Kling, the real Ullmann was a witty and profoundly learned man who delighted in sharing knowledge and in jolting listeners. What an irresistible combination."
Cornet will take place Oct. 16, 8 p.m., at the Cultch's Historic Theatre, and Oct. 17, 8 p.m., at Pyatt Hall. Tickets ($30/$20) are available from the Cultch box office, 604-251-1363, and tickets.thecultch.com/peo.