Loolwa Khazzoom in Iraqis in Pajamas' video for their song "Cancer Is My Engine," to be released on Chanukah. (photo by Ailisa Newhall)
With shared themes of finding light in the darkness, Seattle-area band Iraqis in Pajamas is releasing the video for their song "Cancer Is My Engine" on Chanukah.
Amid the global pandemic, volunteer cast and crew drove in from across Washington state, donning masks and practising social distancing, to film the music video against the backdrop of the Olympic Peninsula forest.
The video tells the story of front woman Loolwa Khazzoom's choice to reject the conventional thyroidectomy treatment for thyroid cancer, despite medical and financial pressure. Khazzoom instead chose to approach the diagnosis as an opportunity for radically transforming her life, such as by going vegan and practising numerous forms of mind-body medicine. (See jewishindependent.ca/healing-powers-of-song.)
After cold-stopping the growth of the nodules for years, through these measures, Khazzoom moved to Washington state from California, returned to her lost love of music, and launched her band, which combines ancient Iraqi Jewish prayers with original alternative rock. Immediately following, the thyroid nodules began shrinking. Through magical realism and metaphor, the music video reveals how, by listening to her inner voice, Khazzoom self-healed through her actual voice, by singing – the ability to do which may have been destroyed by a thyroidectomy, given the proximity of the thyroid gland and vocal chords.
The video begins with Khazzoom standing at the edge of a cliff, singing the opening line of the song, "Cancer is my engine." As she sings, a candle is lit by her voice. She is transported to a forest, where she is searching in the dark with the light of that candle. She comes across a stuffed bear – representing Khazzoom's mother – and picks it up, then continues on her quest.
An insurance agent and doctor appear and begin chasing Khazzoom. As she runs from them, she comes to a fork in the road – with the doctor on one side and the insurance agent on the other. She pauses, then runs forward, where there is no path, heading toward the light. She keeps running until she comes to a cliff and jumps off it.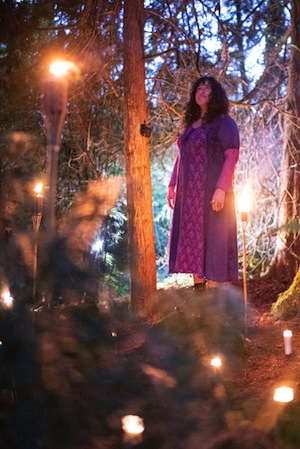 She lands in the middle of a drumming circle and starts dancing wildly. A few scenes later, she is drumming in the middle of the circle, and everyone else is dancing around her. Both circles represent the pivotal importance of music and dance in Khazzoom's healing. The video then shifts from magical realism and metaphor to real-life shots, with the band playing music in a vegetable patch in Khazzoom's garden, representing Khazzoom's regimen of juicing daily and eating a whole-foods, plant-based diet. The video ends with Khazzoom standing on the edge of the cliff and singing the last words of the song, in the original a cappella Iraqi Jewish prayer that exalts the power of the Divine.
The video was sponsored by nonprofit Healing Journeys and funded by the Lloyd Symington Foundation, both of which offer programs for people living with and healing from cancer.
Studies on the healing possibilities of music are documented in books like The Power of Music by Elena Mannes and The Healing Power of Sound by oncologist Dr. Mitchell Gaynor, and the National Institutes of Health has launched a series of studies on the healing powers of music. Whether singing lullabies or sacred chants, mothers and religious leaders have known for millennia what scientists are only beginning to understand. Singing bypasses our mental process, both awakening and soothing us at the core. Among other benefits, we are able to access, release and heal from the experience of trauma, without having to recount and risk getting triggered by painful memories.
Khazzoom has had a career as an educator, activist, journalist, health coach, and more, all with the central organizing principle of individual and collective healing. Her work has been featured in media including the New York Times and Rolling Stone; she has presented at venues including Harvard University and the Simon Wiesenthal Centre; and she has published two books, which are taught at universities nationwide.
Iraqis in Pajamas comprises Khazzoom on both vocals and bass, Sean Sebastian on guitar and Robbie Morsehead on drums. The trio opens up audiences to contemplation about trauma, healing and transformation, whether addressing domestic violence, cancer, racism, mental illness, street harassment, family caregiving or national exile.