An image of drones filling the sky from Reva Stone's Falling. (photo from Reva Stone)
Multi-awarding-winning Winnipeg artist Reva Stone researched drones for three years and then began creating art to share some of what she had learned about how the technology affects our lives. The exhibit erasure, which comes from that research, features three works – Falling, Atomic Bomb and Erase. It is on display at the University of Manitoba's School of Art Gallery until April 26.
"I'm very much an observer of what's going on with new technologies, so when I saw the impact that UAVs [unmanned aerial vehicles] were starting to have – especially with war and changing the nature of war – I applied for and got a Canada Council [for the Arts] grant to do a lot of research and reading about what actually is happening," Stone told the Independent.
She went so far as to get two quadcopters, to understand what they really sounded like, and hoping to use them in her art, which she has.
"I was working on this, and then I started thinking about our skies filling up with these commercial and militarized drones and how they were basically machines … that could fall out of the sky … that could crash into each other, that could bring down an aircraft. We were filling up our skies," she said. "And then, about two years ago, I was reading and realized that we were now targeting not other countries, but targeting humans."
Stone ended up making five or six individual pieces that deal with different aspects of the use of drones, but relate to one another. Depending on the exhibition venue, she decides which ones will work best together in a particular space.
Originally, drones were developed for spying purposes for the military. Later versions were outfitted with weapons for protection and assault. More recently, commercial drones have been developed. Now, anyone can buy a drone for as little as $20. This easy accessibility is challenging our society, contends Stone, causing hazards to planes in airports, affecting people at parks and disrupting the peace.
"Drones are becoming these things that fly in the air that have no human controllers … that are almost autonomous," she said.
Stone often uses computers, movies, motors and speakers to help fully immerse visitors in her art pieces.
The work Falling, she said, "is an animated video that I made that has to do with what I see as a very new future, wherein UAVs are ubiquitous, because of civilian, military, commercial and private use.
"It's almost slow motion or balletic on a massive screen," she said. "There's constant falling out of the skies, sometimes flipping as they fall. Sometimes, there's a drone that has exploded in the sky … sometimes, small and far away and, sometimes, they're so big when they fall through the sky that they look almost life-size and you'll have to back away from the screen … that will be the feeling you get. Then, sometimes, there are these little windows that open up and you look through, into another world, and that world is more about what we're fighting about – the fact that we are actually using these to make war. Other than that, some of them are commercial, some are cute, some are scary looking … and it's like a continuous rain coming down."
Atomic Bomb is also a film.
"I started with an early atomic bomb explosion," said Stone. "It was a 30-second film and I made it into an almost 20-minute video. I really slowed it down and altered the time to give the impression that the person in the exhibition space is looking at a still image caught in time. I show this video together with texts that I found speak to the history of the use of radio-controlled airplanes and UAVs, and to longheld ideas about collateral damage – the relationship between … the use of atomic bombs and the use of drones and collateral damage, which, to me, is a huge issue with the use of drones as military."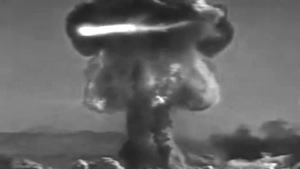 The first text is from Harry Truman, the American president who made the decision in the Second World War to use the bomb, and it reads: "The world will note that the first atomic bomb was dropped on Hiroshima, a military base. That was because we wished, in this first attack, to avoid, insofar as possible, the killing of civilians."
The next one is from John Brennan, Central Intelligence Agency director from 2013 to 2017: "There hasn't been a single collateral death because of the exceptional proficiency, precision of the capabilities we've been able to develop."
According to Stone, "This is just bullshit. But this is part of the cleaning up of the media presentation of all these ideas and all these things I've been researching, that I've been noticing going on over time. And, it has actually made me change the name of the work. I was going to call all three of them a totally different name. Recently, maybe a month ago, I changed it to erasure because of the erasure of people, the erasure of a lot of critical dialogue that's been happening since I started researching in 2015 … how we are mediated, what we are presented with as a culture. The info is so mediated by how it's reported, and if it's reported."
Stone wants "her audience to consider how the capabilities of such technology may be turned against citizens and how governments might, and do, get away with employing them in the name of patriotism in ways that ultimately test the ethical and moral values of its citizenry," notes the exhibit description. "With news cycles moving so rapidly, the reports of deadly events quickly fall from memory, seemingly erased from public consciousness."
The third piece, Erase, is interactive. Stone said it is based on what, in her view, the Obama administration practised – the targeting of individuals based on algorithms, mostly guilt by association.
"With this one, I'm actually replicating the procedure," she said. "I have my two quadcopters that are doing the surveillance and capturing people in the exhibition space, unbeknownst to them. Then, they get captured and saved.
"Then, it's a process that goes on, that they get played back. And you begin to realize that you're under surveillance, the people in the space. And, every so often, a target comes up over one of them, one of the captured images. It's really intense and an explosion occurs, and that person actually comes out of my captured list. That person will never show again. They've been erased."
The exhibit erasure opened Feb. 7. For more information about Stone and her work, visit revastone.ca.
Rebeca Kuropatwa is a Winnipeg freelance writer.