Leah Stern in Haiti, where she was helping orphaned and abandoned children. (photo from Leah Stern)
While London-based journalist and content producer Leah Stern was unable to be the guest speaker at this year's Choices, the annual campaign event of Jewish Federation of Greater Vancouver's women's philanthropy, the Jewish Independent had the opportunity to chat with her over the phone prior to her scheduled talk. Hopefully, she will have the chance to come to Vancouver on another occasion, as she is a fascinating and accomplished person.
Born and raised in Miami, Stern made aliya after graduating university. In her career to date, she has been the face of the evening news on the Israel Broadcast Authority and a correspondent for CNN, she has liaised with the Vatican on behalf of the Israeli government and worked with nonprofits in South America. She is currently communications director in London, England, for OurCrowd, a high-tech, crowdfunding platform created by venture capitalist John Medved, for which she travels to Israel every couple of months. This is only a partial resumé.
JI: You made aliya in 2002. What led to that?
LS: Growing up in Miami Beach, everyone was very materialistic, focused on clothes, cars, houses, etc., and I wanted to run away from it all. My brother went to Israel to serve in an elite military group during the Second Intifada and my mother and I decided to follow him there. She went first, I came after.
JI: How did you get into journalism?
LS: That started with a program I saw in Miami on CNN with coverage of Scuds falling in Sderot and I saw a woman running in fear along the street. Suddenly, I thought, I need to be there in the thick of it all. When I finally went, I was only 21. At first, when I arrived, I could not find a job, so I folded laundry, made pizza and worked as a housekeeper.
JI: What happened next?
LS: I decided to volunteer for the Magen David Adom (MDA). That consisted of a week indoctrination course and then riding in the back of an ambulance to callouts. My first call was to a bus bombing in Jerusalem on May 18, 2003. I remember riding in the back of the ambulance, going at 100 miles an hour, running through red lights and then we came upon the shell of the bus. My first memory is seeing the bodies of college students my age, all sitting exactly as they were in that last moment before the explosion, one was reading a book, one was eating a sandwich. That picture still resonates with me today.
JI: Did that experience have an impact on your career?
LS: I did the MDA job for about three months. I was so affected by it I decided to … blog about it. I sent articles back to Miami. I wanted to give a different view than the jaded coverage by CNN and Fox. I thought I could make an impact on people by reporting the truth of what was happening through my eyes, and not through the eyes of the foreign press that did not understand the contextual background to the story.
JI: You also worked for the Jerusalem Post?
LS: Yes. I applied and got an internship as the funeral reporter. I did that for awhile but I wanted to go to the next level. So, I applied to IBA, the Israel Broadcast Authority, the only government-run, English-speaking channel in Israel, to be a news anchor. I bombed the audition. I said, "Baby Netanyahu" instead of "Bibi Netanyahu." I thought I would never get the job. But the bureau chief called me that night and said, "You were absolutely terrible but there is something about you. Come in tomorrow for another screen test." So, I studied the names of all of the people in the Knesset and practised in front of the mirror, and I got the job.
JI: What happened at IBA and where did you go from there?
LS: I started off as a newsreader but eventually my boss let me go out in the field. I went out as a one-woman band. I went and bought a video camera and all the equipment. I would mic myself up and take my camera out on a tripod and do the interview, write the text and send it to my editor in three-minute news package format while sitting in the front seat of my Peugeot. These were some of the most incredible days of my life, being in the thick of things.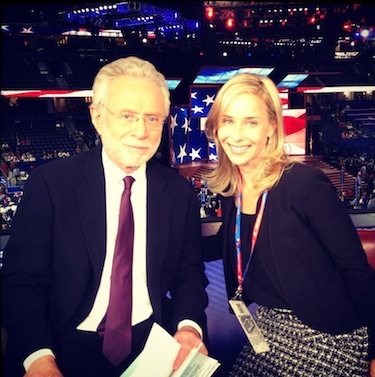 It was during this time that I came to realize that there were so many stories that were not being covered, i.e. co-existence, Israeli doctors working with injured Palestinians, stories that I felt would change the world's perception of what was happening in Israel. So, I started to tell them and sent some to CNN and they must have liked them because I got invited to Atlanta and met with Ted Turner, who offered me a job as a correspondent. Wolf Blitzer sort of took me under his wing.
JI: What were some of the stories you covered for IBA and CNN?
LS: I was sent all over, to Ethiopia to cover the migration of the Ethiopian Jews to Israel … to the Vatican to cover the funeral of Pope John Paul II in 2005. I went to Baghdad and Kabul and all over the Arab world.
JI: Were you concerned about any danger in covering some of these assignments?
LS: No. I was a CNN producer, an American journalist on an American passport and did not at any time feel in danger. I was running on pure adrenalin, and was determined to tell the story for people who did not have a voice.
JI: You accompanied the Israel Defence Forces during the disengagement from Gaza in 2005. What was that experience like?
LS: For me, this was the first time that I found myself reporting on a big story alongside the major players of the world media…. I had just interviewed Ariel Sharon and was forming my own opinion on this. I was conflicted, lots of questions were running through my mind, like, was the government right? What were these people entitled to? [Stern ended up making a documentary about the experience, called Disengagement (2006).]
JI: Were you treated any differently for being a woman reporter?
LS: War reporting is a man's world. Here I was a young, blond, American, female journalist with not great Hebrew, with an English accent, with very seasoned male war reporters, trying to be one of the guys. I had to earn the respect. It was not easy. It took time.
JI: How did people react to you in the various areas you visited?
LS: Good reporters get people to open up to them and to trust them. You have to ask the tough questions, be relatable, get people to be real. I let people know I would tell their story … like they told it to me.
JI: Has your attitude towards covering the news changed over the years?
LS: I always remember the quote from Abba Eban, "To be a realist in Israel, you have to believe in miracles." My time in Israel was one miracle after another. When I did my first stand up in front of the camera during the Second Lebanon War, a rocket landed near me and I was not afraid. I felt as if the camera would protect me and I was so dedicated to telling the story that I did not think of any danger. But one of my colleagues, Steve Sotloff, was beheaded by ISIS, and that was a wake-up call for me. I would not go back to some of those countries now even though I have been offered opportunities to report in Iran and Syria.
JI: In addition to reporting, you did a three-year diplomatic stint at the Vatican as a liaison for the Israeli government. What was that like?
LS: I studied Italian because I had to read 20 newspapers a morning and brief the Israeli ambassador on what Italians were saying about Israelis. Twice a week, I also got to sit in on meeting with Pope Benedict XVI and his cardinals…. I learned what it meant to be an Israeli diplomat in the Vatican. It was very interesting but it was also the first time I had to be careful about being open about my Israeli and Jewish status.
JI: What does your future hold?
LS: I am writing a book, but I am not sure what to focus on. I think writing a memoir is a bit egotistical at the age of 35. I have been roaming the world for 15 years, I am ready to put down some roots and I am getting married again next year.
JI: Do you have any advice for women considering career options like yours?
LS: I believe in tikkun olam, to make the world a better place. I think the best advice I can give is to be strong and to follow your dreams. Remember that small things make a difference. Don't be afraid to try. Put yourself out there. Make an impact.
Tova Kornfeld is a Vancouver freelance writer and lawyer.