Nadav Lapid's The Kindergarten Teacher raises some interesting ideas, but is lacklustre overall. (photo from VIFF) 
The rollercoaster ride of emotions continued this week, as the Jewish Independent reviewed another set of films that will be featured at the Vancouver International Film Festival, which runs Sept. 25-Oct. 10.
Last week, the JI was inspired by the documentary Ilya and Emilia Kabakov: Enter Here (which the paper has sponsored), we enjoyed meeting the plucky street musicians on which Jalanan focused, and we were once again horrified by the banality of evil in learning more about Heinrich Himmler in the ironically-named The Decent One. This week, we went from mild boredom with Nadav Lapid's The Kindergarten Teacher (Israel/France) to engaged interest with Nancy Kates' documentary Regarding Susan Sontag (United States) to heart-racing dread with Alexandre Arcady's 24 Days (France).
The Kindergarten Teacher raises some potentially thought-provoking questions about the origins of creativity, ie. what allows some people to craft magnificent works (in this case, poems) and others to never achieve anything above mediocrity. It does so through the relationship of kindergarten teacher and aspiring poet Nira and one of her students, five-year-old Yoav, who we're supposed to believe is a poetic genius.
Understanding that this is a work of fiction, the bounds of believability are strained nonetheless on more than one occasion: for example, Yoav's father fires Yoav's nanny without pausing upon hearing Nira's unsubstantiated accusations; and Yoav's poems, while good for a child are hardly earth-shattering. What's more frustrating is what passes for internal conflict – Nira staring, staring, staring – or genius at work – Yoav pacing, pacing, pacing. Ultimately, there's nothing grossly wrong with the storytelling or filmmaking here, the movie just needed a better editing job and more focus. At an hour-and-a-half, The Kindergarten Teacher might have been stimulating; at almost two hours, it's sleep-inducing.
***
Kates does a far better job at rousing curiosity, raising questions about the nature of art, culture, sexuality, happiness and other such topics. For those who already know a lot about Susan Sontag, Kates' documentary likely won't be that illuminating about her as a person or writer/critic/filmmaker, as the biographical and professional moments highlighted seem pretty basic. But, for those who know little of Sontag, this is a great introduction, which captures not only Sontag's strengths but also her vulnerabilities. For both types of viewers, the excitement of intellectual, philosophical and personal discovery (and re-discovery) that Sontag felt and expressed is catching.
***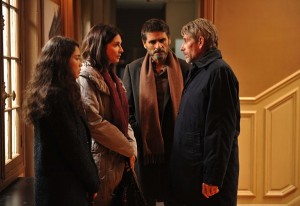 We know how 24 Days will end. It's based on the true, tragic, terrifying story of the kidnapping and subsequent murder of Ilan Halimi. Yet, Arcady manages to make us hope – throughout the entire film – that, somehow, Halimi will survive.
Overwhelming at times, between his family's grief, the police's desperation and his captors' anger, 24 Days apparently sticks quite closely to the events as they happened in Paris in early 2006, as recorded by Halimi's mother, Ruth, in the book 24 jours, la vérité sur la mort d'Ilan Halimi, which she co-wrote with Emilie Frèche.
Targeted for kidnapping because he was Jewish – the logic being all Jews have money and, therefore, could afford to pay a large ransom – Halimi was tortured, starved and, literally, left for dead when the negotiations for the ransom failed. His family was traumatized by ever-changing demands, graphic photos of their beaten son, expletive-filled threatening phone calls (more than 600 in 20 days) and false hope. The police are portrayed as genuinely trying to find and free Halimi, but as sadly ineffective – and completely insensitive to the antisemitic motivations of the criminals.
***
Other films with Jewish content or creative talent include Zero Motivation (Israel), a black comedy by Israeli writer/director Talya Lavie about everyday life for a unit of young, female Israeli soldiers; and Welcome to Me (United States), a "dramedy" directed by Shira Piven, about a lottery winner (played by Kristen Wiig) who has borderline personality disorder and makes some questionable decisions about what to do with her windfall. For the full festival lineup, visit viff.org.