Anton Lipovetsky is among the professional artists working with Studio 58 to develop Monoceros: A Musical. (photo by Dahlia Katz)
In the face of a pandemic and all its associated restrictions, the show is going on at Langara College's Studio 58 – albeit in a very different way. Monoceros: A Musical runs through the end of March and features the contributions of two Jewish community members: writer Josh Epstein and composer/lyricist Anton Lipovetsky.
In contrast to other Studio 58 productions, Monoceros is seen as a "development lab," an opportunity for the creators to tweak the piece, while allowing students to work on a new musical and learn about the process. The production is not a performance in a traditional sense, as the public will not be able to come and watch it. Ordinarily, shows are performed in Langara's 100-seat theatre, but this is the first time Studio 58 has created a production outdoors – because of the risks of singing inside.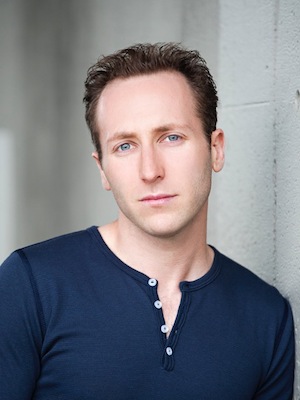 Adapted from a Suzette Mayr novel by Epstein and his business partner, Vancouver writer/director Kyle Rideout, Monoceros tells the story of Faraday, a high school wallflower who dreams of becoming a famous veterinarian. When Ethan, a classmate known for wearing a unicorn outfit, dies unexpectedly, Faraday sets off on a quest to fulfil Ethan's last wish.
"The book starts with one of the most powerful chapters I've ever read," Epstein told the Independent. "I was engaged from the first sentence, my heart was drawn to every word. I, too, lost my best friend much too early and I felt very connected to this book. We were about to turn the book into a film, for which we had funding, but, at the same time, we felt a musical bursting out of it and attached Ben Elliott and Anton to write the music. We fell so in love with the musical that we halted the film for now to keep working on the piece. Our show tackles difficult subject matter but in a fresh, humorous way, daring the audience to go on a wild adventure and to listen."
"I read the book and I loved it. It was heartbreaking and brutal and honest – the kind of book that really stays with you after you read it," said Lipovetsky. "We decided to centre the story more on a singular character, Faraday, and her quest to bring unicorns to Calgary in honour of the student who passed away. Her quest challenges who she is as a person and she discovers herself along the way."
Putting on a production in 2021 is "completely wild," said Epstein, an award-winning actor, writer and producer. "Until the day we started, we had no idea if it would actually happen. Now, here we are with a full tent city built by Studio 58, a rock concert sound setup and an incredible creative team that includes one of Canada's top directors, Meg Roe, and Lily Ling (Hamilton's musical director) – who was only available to us because Hamilton is on hiatus."
Epstein emphasized that, "while the show's path has been altered by COVID-19, the team has used the time to strengthen the script and score, as well as attach some of the best people around [to the project]. Above all, the process is very safe and we're having fun being able to work together, if only from a masked distance."
"Acting, singing and connecting with your collaborators while most of your face is covered is not easy. The students are doing a wonderful job," Lipovetsky said. "And rehearsing outdoors during early March in Vancouver can be challenging – but sometimes it's magical. There are moments where the students' voices soar in beautiful harmony and the sun will come out above us and I'll feel real joy. I have missed making music and theatre so much and I'm grateful to get to do it even under these strange circumstances."
In addition to the staff and faculty who are involved, Studio 58 has 10 professionals working with the students, 14 student performers, and many other students helping with technical requirements. One of the top theatre schools in Canada, with the only conservatory-style program in Western Canada, the professional theatre training program at Langara is in its 55th season. It typically produces four main-stage productions a season, ranging from dramas, to comedies, to musicals.
Monoceros is commissioned and supported by Toronto's Musical Stage Company and funded by the Aubrey and Marla Dan Foundation. The show has an elaborate development road planned out that will include workshop productions in British Columbia and Ontario – culminating in Toronto – before continuing to other stages.
Epstein, whose work has taken him around the world, is currently writing an original feature for Paramount with Rideout. Lipovetsky is an acclaimed composer, lyricist, performer and teacher, and he is currently an artist-in-residence in the Musical Stage Company's Crescendo Series.
For more information about Studio 58 and its programs, visit langara.ca/studio-58.
Sam Margolis has written for the Globe and Mail, the National Post, UPI and MSNBC.