Left to right: Sheryl Wheaton as Rosie, Lori Ashton Zondag as Tanya and Caitriona Murphy as Donna in Mamma Mia! with Adam Charles as Jack, Caleb Lagayan as Race and Graeme Kitagawa as Mush in Disney's Newsies. (photo by Lindsay Elliott)
Iconic Swedish pop music and a story that exemplifies America's love of the underdog are coming to Stanley Park's Malkin Bowl this summer. Theatre Under the Stars presents Mamma Mia! and Disney's Newsies on alternate nights, starting with a preview of Mamma Mia! July 5.
Set in the Greek islands, Mamma Mia! features ABBA songs aplenty, as bride-to-be Sophie invites three of her mother's former lovers to her wedding in order to figure out which one is her father. The TUTS production features two Jewish community members who are veterans of the stage: Wendy Bross Stuart as music director (and rock band pianist) and Stefan Winfield as Harry Bright, one of the possible fathers, a role that was played by Colin Firth in the film version of the musical.
About his preparation for the TUTS production, Winfield shared: "Main note to self: do not attempt to replicate Colin Firth's performance! He is a great actor. His quintessentially understated, sensual and impossibly British charm that comes across so well on the screen is not something I'd ever be able to reproduce on the Malkin Bowl stage in a way that connects with anyone past the first row … so, I'm bringing what I can to the role, doing my best to fulfil the vision of the creative team."
Winfield's first TUTS show goes back to childhood. In 1976, he played Randolph in Bye Bye Birdie. "My next appearance on the Malkin Bowl stage was not until 1999,' he said, "when I played an adult role (i.e., not a Jet or a Shark!) in West Side Story."
Since then, he has been involved in several TUTS shows, including Jesus Christ Superstar, another mounting of Bye Bye Birdie and of West Side Story, and The Drowsy Chaperone. Among other things, he was also in Parfumerie at the Metro Theatre in 2014, directed by Disney's Newsies musical director, Christopher King, and has been directed a few times by fellow Jewish community member Richard Berg, who is currently TUTS's production manager.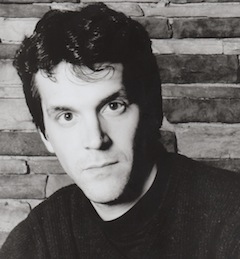 "It's a pleasure to be working again with Shel Piercy," Winfield added. "This is the fourth time I've performed under his direction on a theatre production, but the first time dates back to 1977! I played Kurt in a very local production of The Sound of Music for Marpole Community Theatre, directed by Shel, who, I believe, had only recently graduated from Eric Hamber. He's a guy who's been telling great stories for several decades, on stage and screen; I am very honoured to work with him."
Another co-worker partially explains why Winfield likes being involved in TUTS. "The opportunity to work under the direction of and perform with outstanding theatre professionals, including my wife, choreographer Shelley Stewart Hunt – not to mention the crowd of extraordinarily talented and impressively trained up-and-coming young people who give themselves over to TUTS for the summer. And, for me personally, TUTS has really lived up to its mandate of creating a family atmosphere in allowing me to share the experience with my son Wesley, who was 'en ventre sa mère' during Bye Bye Birdie as Shelley was choreographing, then performed in featured bits in The Drowsy Chaperone at the age of 5, and is doing the same now in Mamma Mia! – this time actually executing choreography set by his mum! To watch it gives me joy … naches, if you will."
And it's a family scene that is among Winfield's favourites in Mamma Mia!
"There are a lot of great moments," he said, "but I'd say my favourite occurs during the scene when the dads meet Sophie for the first time. Harry is singing 'Thank You for the Music,' playing the guitar while lost in wistful reminiscence, when, to his surprise, in walks Sophie who joins in on the song. It's a moment made all the more special by the lovely voice and energy of the young lady who's playing Sophie in our production, Keira Jang."
Also a TUTS veteran, Bross Stuart has worked with Piercy and Stewart Hunt before.
"Shel, Shelley and I have worked together on many shows; we go back a very long time," said Stuart. "In fact, Shelley was actually my student when she was in Grade 8. And an excellent student at that! As a team, I have profound respect for Shel and Shelley. There is a wonderfully creative synergy between the two of them and between them and myself. They see possibilities which are almost magical."
Bross Stuart's first TUTS production was Fiddler on the Roof in 1997.
"In those days," she said, "it had not occurred to people in Vancouver that it might be useful to have an actual Jewish person involved with a production of Fiddler on the Roof. TUTS was ahead of its time, realizing how important this would be! In those days, there was very little Jewish influence in this town, especially compared to where I had spent my childhood and young adult life – in New York City and Montreal."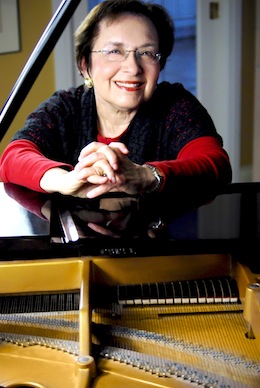 Describing working at TUTS as "intoxicating," Bross Stuart highlighted the beauty of Stanley Park and said about the feeling of "conducting/playing outdoors in front of a large, appreciative audience – absolutely second to none. A very special experience!"
As well, she noted that "each show has completely different demands because of the material we are using." For Bross Stuart, ABBA's music was a new challenge.
"ABBA was not in my repertoire at all," she admitted. "During the ABBA period, I was busy living in Japan and studying traditional music for koto and shamisen, composed by Yatsuhashi Kengyo and Tsuruyama Kengyo. No pop music for me! However, I have learned so much about this style from working on Mamma Mia! Doing ABBA music has taken me to a new place in my musical life. Growing and learning is such an exciting venture."
While music rehearsals officially started on April 24, Bross Stuart said she opened her home for early rehearsals to anyone who wanted a head start.
"The style of the music makes the approach much different from most shows," she said. "Less on the micro details and more on the big picture. As a detail-oriented person, it is a great learning experience for me – and, I am playing keyboard in a rock 'n' roll band (and conducting). Each of the four keyboards is hooked up to a computer with many sound patches. I love it!"
For tickets to Mamma Mia! and Disney's Newsies – which may not have local Jewish community members in its creative team but has music by Alan Menken, lyrics by Jack Feldman and book by Harvey Fierstein – visit tuts.ca or call 604-631-2877.