Left to right: Nathan Piasecki (Artful Dodger), E. Marie West (Nancy) and Stephen Aberle (Fagin) in Theatre Under the Stars' production of Oliver! Aberle also plays Mr. Brownlow. (photo by Tim Matheson)
Actor Steven Aberle describes Theatre Under the Stars as "a thrilling combination of enthusiastic, amazingly talented youth and, as they say, 'seasoned' pros." In this instance, Aberle – who plays both Fagin and Mr. Brownlow in TUTS's Oliver! – counts among the seasoned pros, while fellow Jewish community member Kathryn Palmer, who plays Strawberry Seller and is in the ensemble, is one of the talented youth, though Aberle and the other seasoned pros also have plenty of that, of course. The Independent caught up with both actors by email earlier this month.
More than just luck
JI: You're a relative newcomer to the Vancouver stage. Could you share some of your performing background?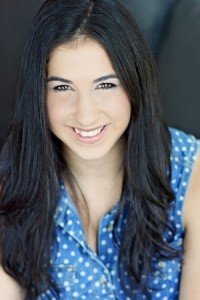 Kathryn Palmer: I have always had a deep-seated passion for music and performing. When my home life started getting rocky, my Auntie Kathryn, who was a professional opera singer, seized the opportunity to get me out of the house for a few hours a week and into her studio for voice lessons. I was hooked and completely inspired! It wasn't long before I was accepted into the voice program at Canterbury Arts High School, taking Royal Conservatory Exams, singing in choirs, competing in music festivals across Canada and performing in as many musicals as I could.
JI: You're a graduate of the Canadian College of Performing Arts in Victoria. Are you from Victoria? Can you share some of your personal background, including what role, if any, Judaism or Jewish culture or community has played (plays) in your life?
KP: Born and raised in Ottawa, I moved to Victoria to study at the Canadian College of Performing Arts. I was very fortunate to graduate with about two years of paid theatre work … beginner's luck, I call it.
At school, we were always told to use what makes us different and unique. One of the things my auntie had taught me was all about Jewish folk music. Being able to sing folk songs in Yiddish and Ladino was definitely something that made me unique but also grounded me. Being Jewish doesn't exclusively impact the work I choose to do but it definitely infuses it. When I'm doing these musicals that are set in the past, I always wonder that would my life be like a young Jewish woman during this time. I also get excited to perform in shows with a more Jewish theme, like Hodel in Fiddler on the Roof at the Gateway Theatre or Louise Philo in Girl Rabbi at Congregation Emanu-El in Victoria.
JI: What are some of your aspirations regarding a career in performance?
KP: I adore theatre. I love musical theatre. I also love working with kids. I want to go back to school within the next few years and do my ECE [early childhood education]. I'm hoping to one day move back to Ottawa and start a theatre school there. Hopefully, I can inspire children the same way my auntie inspired me.
Not just the beard
JI: You seem to have been very busy on stage in the last couple of years. Can you share with readers some of your performance highlights since the JI last spoke with you in December 2013 about Uncle Vanya?
Stephen Aberle: I have been blessed with busy-ness these past several years, yes, kein ayin hara [no evil eye]. I guess I'm at that stage in my career where, if one remains alive, willing and (unfortunate but still true in today's theatre) male, opportunities arise. Since
Uncle Vanya, I've had the good fortune to perform in Snapshots: A Musical Scrapbook, with music by Stephen Schwartz (of Godspell and Wicked fame) at Studio 1398 on Granville Island last fall. That was an opportunity to work on some amazing material with a wonderful company, including director Chris McGregor and Wendy Bross Stuart as music director.
I've been fortunate to perform with Wendy many times, including a couple of shows together at TUTS. We'll be doing Snapshots again this coming fall [late October, early November], at Presentation House in North Vancouver, this time to be directed by Max Reimer.
I got to be part of a workshop of Hamelin: A New Fable by Leslie Mildiner (another member of the Jewish community) for Axis Theatre, although, unfortunately, scheduling didn't make it possible for me to be in the touring production. And, earlier this year, I was in What You're Missing, a lovely new play by Vancouver-born playwright Tamara Micner (she's now based in London), at the Chutzpah! Festival.
JI: What most attracts you to, and repels you about, the character of Fagin? How are you approaching the role?
SA: Well, Fagin is one of the great characters of 19th-century literature – and, in Dickens' novel at least, one of the great antisemitic caricatures of all time. That kinda sums up both the attraction and the repulsion: the character and his motives and passions are grand, fascinating, delicious for both performers and audiences; he's also, let's not mince words, a brutal travesty – again, as Dickens originally conceived and presented him in the novel Oliver Twist.
I want to rise to the level of the challenges the character offers. He's big, and I need to honor and own that and, at the same time, find the truths in the character and his situation. Lionel Bart, who was Jewish and who created the musical Oliver!, trod a careful line in dealing with Fagin. There are no explicit references in the play to Fagin's being a Jew, but Bart wove klezmerish themes into a lot of his music. The late great Ron Moody, also Jewish, who originated the role in London and who played it in the movie, followed that line, playing into Jewish nuances in the music and in the character's accent.
The story of Oliver Twist and of the musical Oliver! deals with some dark themes – themes that are very much still with us, here and now. Grinding poverty rubbing shoulders with enormous wealth and privilege; love, hatred, loyalty and betrayal; violence against women; criminality, justice and injustice; prejudice; legitimacy and illegitimacy and the arbitrariness of those categories. Our director, Shel Piercy, is not shying away from that darkness, and I'm interested in his approach, his color palette. There can be a tendency, sometimes, for musical comedy to be cutesy, all fun and games and sweetness and light; that's not the intention with this production. So, I'm looking for ways to explore Fagin's breadth and depth. He's devious, avaricious, by turns fearful and bold, can be selfish and brutal; he's also probably the closest thing to a parent most of his gang of little thieves have ever known. He uses them, but he also feeds them and shelters them and plays with them and teaches them the only way he knows how to make a living, which happens to be thieving.
Shel has made some intriguing casting choices. One actor – Damon Calderwood – plays both Mr. Bumble and Bill Sykes, and Shel has me playing both Fagin and Mr. Brownlow, the kind gentleman who strives to rescue Oliver from Fagin's clutches. I get to play both the wicked and good father (or grandfather) figures, if you like. A practical consequence of that choice is that I spend a lot of time on stage, so one important goal for me as an actor will be to remain upright. It's going to be a workout.
JI: You were Buffalo Bill in a prior TUTS season. How did you come to start auditioning with TUTS, and have there been other roles? Does performing on an outdoor stage present unique challenges?
SA: I first worked at TUTS (in those days it was called Theatre in the Park, or TITPark) in the mid-'70s as a carpenter and stagehand, and I've had the pleasure of performing there each decade since – in Anything Goes in '87, as Tevye in Fiddler on the Roof in '97 and as Buffalo Bill in Annie Get Your Gun in 2008.
I started auditioning for TUTS soon after I graduated from Studio 58, and I keep auditioning there when I'm free and I think there might be a role for me. I love it there. The people are great, a thrilling combination of enthusiastic, amazingly talented youth and, as they say, "seasoned" pros. There's a lot of love around the place. A special smell pervades the atmosphere, although it no longer carries as much of the whiff of pigeon droppings as it had in the old days. I've probably been just about everywhere it's possible for a human being to get to in that building, including all over way up in the gridwork, where I spent a great deal of my time during those summers in the '70s.
Playing outdoors presents some curious and inspiring challenges, yes indeed. There are obvious ones, like wildlife, for example. You never know when you might be joined on the stage by a raccoon or a squirrel or a crazed moth, and every actor knows that small children and animals – even insects – are far more interesting to watch on stage than we are because they're unselfconscious and unpredictable.
We're playing in Vancouver in the summer and the days are long, so the first half or so of the show is hard to light – you can't use light to draw the audience's attention very effectively because it's hard to compete with the sun. Shel pointed this out to us in rehearsal: "Your movement is my spotlight." We as performers need to provide focus through our actions, positions, motions and stillnesses. We're also quite far away from the audience, so we have to use our bodies fully. Someone in the 20th or 30th row may barely be able to make out my features, so I need to release my thoughts and emotions into my body: to smile and frown and laugh and wonder, not just from the neck up but with all of me….
JI: If there is anything else you'd like to share with readers, please do.
SA: Well, there is one other thing. It's interesting to me that, especially in the last few years, so many of the characters I've played have been Jewish. Tevye in Fiddler, Jacob in Joseph … plays at the Chutzpah! Festival, now Fagin. I think I get called to audition for most of the film and TV rabbi parts that come into town.
I guess it's the beard.
Oliver! alternates evenings with Hairspray from July 10-Aug. 22 at Malkin Bowl (tuts.ca).