Left to right: Councilor Kelly Greene, Councilor Bill McNulty, Bayit past president Michael Sachs, Richmond Mayor Malcolm Brodie, Bayit president Keith Liedtke, Councilor Chak Au and Councilor Alexa Loo at the Bayit, after the mayor officially proclaims Jan. 27 as International Holocaust Remembrance Day in the city of Richmond. (photo by Cynthia Ramsay)
On Jan. 22, emotions were near the surface in a Holocaust commemoration that included the official proclamation of Jan. 27 as International Holocaust Remembrance Day in the city of Richmond. In a packed sanctuary at the Bayit, a synagogue in the province's second-largest Jewish community, survivors, rabbis, community leaders and a host of elected officials from all levels of government were on hand to mark what was billed as an historic day.
Writer and teacher Lillian Boraks-Nemetz spoke as a survivor of the Holocaust and shared her first-person account, as well as the moral implications of what happened and the weight of survival.
"Not a day passes when I don't ask myself why did I survive when six million perished, 1.5 million children and among them my 5-year-old sister," said Boraks-Nemetz. "And I survived. Why? When every European Jewish child was automatically sentenced to death by Hitler, I won. Was my survival a miracle? A twist of fate? The will of God? Why me?"
She recalled the day everything changed, Sept. 1, 1939.
"I was alone on the porch of my grandfather's summer home when masses of airplanes passed over my head. I heard shots, explosions, my dad ran to get me and we barely made it to the shelter, where the sight of crying children and frightened people confirmed my own fears," she said. The Nazis invaded her Polish homeland. Jews lost all human rights, her father lost his right to practise law, her uncle was prevented from practising medicine. Teachers, professors and businesspeople were all kicked out of their positions. Jewish children did not attend schools and they were bullied, a precursor of the much graver fate to come.
Soon the Jews of Warsaw were imprisoned in the ghetto, where a Nazi-created dystopia developed.
"People stole food from each other," she said. "All morality ceased to exist in an amoral world."
Young Lillian was smuggled into the factory where her mother was a slave labourer. Lillian's grandmother had bought a small house in a village and promised it to a man in exchange for posing as her husband, creating a pretext of a non-Jewish Polish family. Lillian was then smuggled from the ghetto through bribery and survived the war with her grandmother and the man.
"What were my chances of surviving? The rate of a child's surviving the ghetto was seven percent," she said. "We were liberated in 1945 by the Russians. But liberation isn't liberating to survivors."
While adults worked to reestablish their lives in a new country, children were left largely to their own devices to assimilate all that had happened. Psychiatry or any professional help was largely nonexistent.
"I was told to forget and to let go by people who didn't have a clue what was on my mind or my soul," she told the audience. "This was not a physical wound that results in a bruise or a scab, which then falls off and mostly disappears. This is a branding on the soul of fire caused by man's inhumanity to man, woman and child. The enormity of the Holocaust is still largely incomprehensible and still emotionally inaccessible to those who were born here."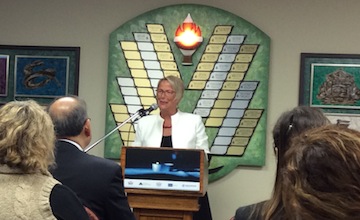 Judy Darcy, British Columbia's minister of mental health and addictions, shared the story of how her father survived the Holocaust and subsequently hid his Jewish identity to everyone, including his own children, until the last years of his life, when he tried to reconcile his experiences in meetings with the late Toronto rabbi Gunter Plaut. Darcy's story was featured in the Independent (Feb. 24, 2017, jewishindependent.ca/mlas-father-hid-past).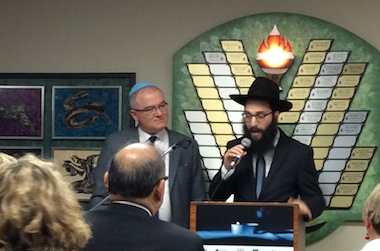 Rabbi Levi Varnai, spiritual leader of the Bayit, recalled his family's survival during the Holocaust, and Ezra Shanken, chief executive officer of the Jewish Federation of Greater Vancouver, spoke of the human potential for good and evil.
"We must understand that we as human beings have the capacity for immense love but also to create immense pain and it's only through disciplining ourselves through education and through moments like this that we ensure that the community that I think we all want, which is a community of love, is what will remain," Shanken said.
Richmond's Mayor Malcolm Brodie spoke at the event. In an interview with the Independent after, he noted that he often receives requests for proclamations. Recently, the urgency for making a statement and standing with Jewish people was accentuated when a Richmond auction house had to be pressured to cancel the sale of Nazi military memorabilia. Participating in the commemoration with the Jewish community was significant for him, said the mayor, and the past is a lesson for the future.
"I found it quite moving," said Brodie, noting the remarks by Boraks-Nemetz and Darcy. It is important, he said, "to remind people, and the greater community, to watch out for the signs, because something like this – hopefully never on the scale – but something could happen again.… There have been enough times recently that antisemitism is still a real thing. It is something that we don't hear too much about but it is something that is very real. In addition to honouring these millions who died, we have to educate young people to make sure that everybody knows the facts and we make sure that it never happens again."
Michael Sachs, a Jewish community activist and past president of the Bayit, was pivotal in organizing the event – which was co-hosted by the Bayit, Vancouver Holocaust Education Centre, Centre for Israel and Jewish Affairs, Kehila Society of Richmond and Jewish Federation of Greater Vancouver – and ensuring the attendance of the elected officials. Among the attendees were the mayor, most of Richmond's city councilors, all four of the city's members in the Legislature, Member of Parliament Alice Wong and former MP Joe Peschisolido, as well as others.
"There were 100 chairs and it was standing room only," Sachs said afterward. "It's historic because it's the first time in Richmond that this proclamation has been made. To have such an outpouring of elected officials, VIPs and all these people coming out – it's the first in history in Richmond."
Sachs was effusive in his praise for the mayor for his actions. While many commemorations are taking place because it is the 75th anniversary of the liberation of Auschwitz, that was not a prime motivator of the Richmond event, said Sachs.
"It's the first step of many that will come," he said. "It's the beginning of a real public acknowledgement that will lead to more public education. We had someone who was there, one of the aides of an elected official, and he came up to me afterwards and he said, 'I didn't know anything about the Holocaust.' That's one person right there," Sachs said. "And, hopefully, this moment continues to help bring Holocaust education into every classroom in this province."