Sifriya Pijama has created approximately 100 books in Hebrew and Arabic. (photo by David Salem)
Keren Grinspoon Israel promotes literacy through the gift of books to young children in Israel. Last fall, KGI was chosen by the U.S. Library of Congress as a Literacy Awards Program Best Practice Honoree, "in recognition of the organization's long-standing achievement in promoting literacy and the development of innovative methods and effective practices in the field." This past December, KGI's founding director, Galina Vromen, retired, and the organization welcomed Andrea Arbel to its helm.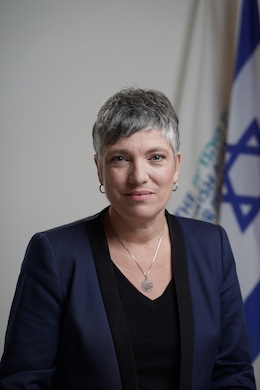 The Harold Grinspoon Foundation started PJ Library in 2005 in the United States. According to its website, the program now sends "free books to more than 230,000 subscribers throughout the United States and Canada" and "is an expanding global community linked by shared stories and values that spans across five continents and more than 670,000 subscribers."
The program reached Israel in 2008, when the foundation's director of special projects, Vromen, moved back to Israel. She said Harold Grinspoon jumped at the opportunity to extend the program. "He basically said, 'OK … if you're going back to Israel, see if you can start PJ Library there,'" Vromen told the Independent. "We were giving away about a million and a half dollars' worth of grants each year there. He said, 'I don't think I need a full-time person to watch over those grants in Israel … so I can assure you full-time employment for six months.'" The job lasted much longer than that, of course.
According to Vromen, the PJ Library book delivery system needed to be different in Israel, as mailboxes there are too small for books. But, on the plus side, unlike in North America, where Jewish populations are spread out, in Israel, you can reach practically every Jewish kid through the public school system.
In 2009, a pilot program was launched with Israel's Ministry of Education, starting with 3,500 children in the Gilboa region.
"People knew me [in that area] and I came to them and said that we wanted to do a book program," explained Vromen. "They asked, 'What books?' And we answered that we didn't know yet. So, they basically said, 'Well, if Grinspoon says he's going to do it, he's going to do it.' And they gave me a lot of support."
After the first year, the numbers increased to 40,000 children, with funding being split between the foundation and the ministry. The program – called Sifriya Pijama – continued to expand and, eventually, in 2014, the foundation started a program in Arabic.
"Harold Grinspoon, when he started PJ Library, he was inspired by Dolly Parton – a program called Imagination Library, which was really one that served inner-city families, gifting books," said Vromen.
In Israel, Sifriya Pijama gives kids a shared experience, as they start learning to read.
"Whether it's a religious or secular school, they get the same books, with the same parent suggestions, for teachers to implement the program within the classroom and, so, it has become quite a bridge-builder," said Vromen. "I think that children coming from religious homes and those from secular or non-religious homes in Israel don't normally read the same books or authors. It's not like in America, where everyone grows up reading Dr. Seuss.
"So, in that way, we've managed to make it so that kids now, across the board, are really experiencing the same kind of books. And, with the Arabic program, one could say … What's a Jewish foundation group dedicated to Jewish education doing running a book program with the Ministry of Education in Arabic? But, the truth of the matter is that, for Israel's Arab minority, language is an issue."
Spoken and written Arabic differ. Formal Arabic, which is found in books, unifies Arabs around the world, and the books for kids in formal Arabic begin to build language skills, said Vromen. Just like Sifriya Pijama, Maktabat al-Fanoos is a program about identity, she said.
Many PJ Library books in North America focus on Jewish holidays and Jewish values. The books in Israel focus less on holidays and more on values, like hospitality, taking care of the sick, and honouring your parents.
"We have a book about a bear that is sick and someone takes care of him, and then they all get sick and he takes care of them," said Vromen. "That's a perfectly good story for the programs. Another good example is a story we have about a mother koala bear who is very, very busy, but the little koala bear wants to play with her all the time … and the little koala bear learns to do things by himself, eventually deciding to make mud pies, and they come together at the end. It's a cute little story and a way of discussing an important issue that, when you're 4 years old is a big concept … giving mom a little bit of mom time and you needing to play by yourself for now … explaining values to a child in a child's world.
"What's really important is choosing books that open up a conversation," said Vromen. "This is a book you can have a conversation about between parents and children. Basically, we're trying to create opportunities for parents and children."
Since the program in Israel is school-based, however, the education process starts with the teacher introducing the book to their class, reading it aloud a couple of times. Often, there is an activity included. Then, eventually, the kids take the book home.
"Each child takes home a copy and they keep it," said Vromen. "There are eight books per year, per child, for three years in preschool. There are four books in first grade and in second grade. And so, by the time the child goes into third grade, they already will have received 32 books from us over the years."
While most schools are either Jewish or Arab, a small minority are mixed. In mixed schools, the program starts by delivering four Hebrew books in the first half of the year, then four Arabic books in the second half of the year.
So far, the program has created approximately 100 books in Hebrew and Arabic, with nearly 30 of them being translated into English and other languages.
COVID-19 posed a challenge in Israel when schools were closed, but the younger kids were the first to be sent back to school, so the program has more or less caught up on the missed books and is now running as normal.
"For the Arab program, about 90% of the books they receive are the only children's books they have in their home. In Hebrew-speaking families, it's about 47%," said Vromen. "We're the largest book-giving program in Arabic in the world."
The program reaches about "70% of Hebrew-speaking children," she added. "So, we're talking about 80% of children in public schools in Israel – that's quite extraordinary."
Late last year, Vromen retired and, on Dec. 1, Andrea Arbel stepped in to lead KGI, after having worked for 18 years at the Jewish Agency.
"I relate to PJ Library on several spheres – as a published author who believes in the positive power of the written word on children; as someone who cares about strengthening Jewish culture in Israel and overseas Jewish communities; and as a mother of three who understands the critical importance of nurturing young minds and how much these efforts put children on a successful trajectory," said Arbel.
Together with KGI's leading partners and other supporters, Arbel is hoping to expand Sifriya Pijama and Maktabat al-Fanoos in both scope and depth, and to widen their sphere of influence on the broader community in new ways. For more information, visit hgf.org.
Rebeca Kuropatwa is a Winnipeg freelance writer.