Left to right, Anna Karatchun, Malka Pischanitzkaya and Jenya Friedman at the N'Shei Chabad Unity Event on Feb. 22. (photo by Esti Loeub)
On Feb. 22, Chabad Lubavitch of Vancouver hosted the N'Shei Chabad Women's Unity Event. Introduced by Henia Wineberg, it was organized to coincide with similar gatherings taking place in 50 cities in 15 countries on six continents in honor of Hakhel, a year of gatherings.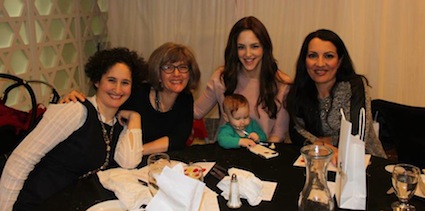 The local dinner and lecture was attended by more than 120 women. The meal, prepared by Menajem Peretz of FortyOne Catering, was followed by the talk given by Freidy Yanover.
Yanover spoke about joy in the days leading up to Purim. Given that we have two months of Adar this year – being a Jewish leap year – we have two opportunities to consider what it means to live with joy, she explained. Her talk was illustrated with reference to the Torah and her own anecdotes and personal stories. It was followed by live music by Adina Selfinger and her singers.
Every seat came with a party bag containing pamphlets from mikvahcampaigns.org about Shabbat candles and the role of the mikvah. To illustrate the scale of the event, each table carried a globe with stickers showing where the events were taking place.
The atmosphere was relaxed and light-hearted, with diners being encouraged to mingle with new acquaintances. Introductions were helped along by a Connect 4 game provided at each seat, along with conversation starters, such as "Talk to someone who bakes challah" or "Talk to someone from out of town."
Shula Klinger is an author, illustrator and journalist living in North Vancouver.