Filmmakers Aleeza Chanowitz, above, and Prague Benbenisty will be in Vancouver for the Sir Jack Lyons Charitable Trust Film Prize and to help the Jerusalem Foundation celebrate its 50th anniversary. (photo from Vancouver Jewish Film Centre)
Two up-and-coming Israeli filmmakers are bringing their films – and themselves – to Vancouver this month.
The Sir Jack Lyons Charitable Trust Film Prize event, being presented on May 16 at the Rothstein Theatre by the Jerusalem Foundation of Canada with the Vancouver Jewish Film Centre and Chutzpah!PLUS, will feature a screening retrospective and the 2016 winning films, followed by a question-and-answer period with the Jerusalem filmmakers, Aleeza Chanowitz (Mushkie) and Prague Benbenisty (Blessed).
The Lyons Prize is awarded annually to two students from Jerusalem film schools. There is a monetary component to the prize and the jury-selected students are also invited to present their films at the Israeli Film Festival in Montreal and other festivals in Canada. "By traveling to Canada and being introduced to established film industry professionals," reads the prize material, "the award winners are given an important stepping stone in their creative and professional development."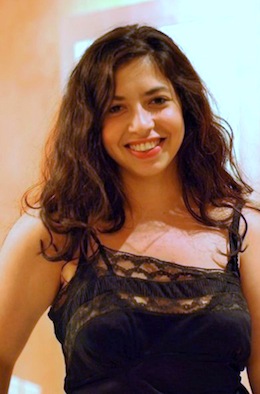 Chanowitz and Benbenisty have presented their films in Jerusalem, and Chanowitz's Mushkie premièred at this year's Berlin Film Festival. They started their time in Canada in Montreal, and also presented their work in Toronto. During their stay in Vancouver, the filmmakers will tour Emily Carr University's 3-D film-capture and virtual reality projects, as well as visit studios.
"I've had a couple of face-to-face meetings, a ton of phone calls and emails with Nomi Yeshua since mid-November 2015," said VJFC executive director Robert Albanese about planning the event. Yeshua, who grew up in Vancouver and made aliyah about 25 years ago, heads the Canada Desk of the Jerusalem Foundation. The May 16 event will also celebrate the foundation's 50th anniversary.
"Nomi had the plan to bring the winning filmmakers to Canada and I was totally on board to make this happen," said Albanese.
As for Chutzpah!PLUS, Mary-Louise Albert, who runs the annual Jewish performing arts festival, and Albanese have been running a cooperative series of films for the past two years, so she, too, was on board to co-present, he said.
"We're looking forward to engaging the whole community, especially young adults," said Albanese. There is no charge to attend the event. At the reception, Yeshua will make a brief introduction, and then attendees will move into the Rothstein.
"I'll be making a selection of past year's winning short films and screening those," said Albanese, "then bringing up this year's winners to the stage and, after some brief words, screening both of their films and bringing them back up to the stage for a talkback."
Both Chanowitz and Benbenisty began their studies at the Sam Spiegel Film and Television School in 2012, and wrote and directed their respective films in their third year of study. Chanowitz, who was born in Brooklyn, made aliyah a couple of months after receiving her bachelor's degree; Benbenisty was born in Tel Aviv. Their films are very different, in part because of their differing geographies.
Chanowitz's Mushkie, which runs just over 12-and-a-half minutes, is a day (or two) in the life of two recent olim (immigrants) from the United States, best friends Mushkie and Sari. Chanowitz plays the title character, who is secretly exploring life outside of the boundaries of her religious upbringing, and gets into a little trouble while doing so. Chanowitz's sense of humor shows not only in the film, but in the credits, where she thanks, among many others, her parents, who, she writes, "… I hope will continue to support me, but never see my work." Given Mushkie's sexual explicitness, the sentiment is understandable.
Benbenisty's 15-minute Blessed offers viewers a glimpse into Sephardi – specifically Moroccan – culture in Israel. While in the biblical story, it is the younger Jacob who steals older brother Esau's blessing from their father, in Blessed, it is the older, overlooked and unmarried sister, Zohara, who steals – at least initially – from her soon-to-be married younger sister the blessing that is given to all brides before their wedding day. The blessing gives Zohara the ability to see the love that has always been around her, and changes not only her relationship with her sister, but herself.
And there is more to this short film. In attempting to catch Zohara's attentions, a shy but determined suitor recites to her a poem, "Zohra Al Fassiya," by Erez Biton. Al Fassiya (1905-1994) was a well-known and popular Jewish Moroccan singer who, when she had to leave her home country, emigrated to Israel in 1962. She fell into anonymity and represents the negation of Sephardi culture by the Ashkenazi majority in Israel until recent years. That Blessed's Zohara hears and is affected by this poem adds significant meaning to this short film.
The Sir Jack Lyons Charitable Trust Film Prize event starts at 7 p.m. on May 16 in the Zack Gallery.