In 2002, when the once and future prime minister of Israel, Binyamin Netanyahu, visited Montreal, a violent riot by anti-Zionists erupted at Concordia University. That was a turning point in a now two-decades-long period of anti-Israel and, in some cases, anti-Jewish activism on Canadian campuses.
Universities across Canada would go on to host events such as Israel Apartheid Week and, on multiple campuses, countless peaceful and less peaceful attacks on Israel and its supporters have occurred. As all of this has transpired, Concordia has had the reputation of having probably the most anti-Zionist and antisemitic campus culture in the country. So, many Jews and other observers were stunned when the Concordia Student Union issued an apology to the Jewish community. Released the day before Yom Hashoah, the statement from the CSU began: "Today, we strive to acknowledge our mistakes and begin the process of correcting ourselves."
The 500-word letter of apology was an unequivocal denunciation of past CSU actions and approaches.
"Overall, our mistakes can be described in one word, indifference," it reads. "Indifference to one of the world's oldest forms of discrimination. Indifference to the concerns of our Jewish students. Indifference to the struggles they have faced. While a common topic of our meetings has been how the CSU can tackle other forms of discrimination or support certain minority groups, the Jewish community and antisemitism are seldom brought up.… The CSU has assisted in fostering a campus culture where Jewish students are afraid to openly identify as Jewish…. Our silence on these issues only benefits the oppressors and sets the belief that these acts are somehow justifiable, which encourages the oppressors to continue this behaviour. This behaviour continues well outside the boundaries of our campus and into a society where they may harm many more individuals."
In addition to the apology for past behaviours, the statement promises concrete action now and in the future. All elected student union officials will receive training on antisemitism every year. Executive members of all Concordia campus clubs will also receive annual training to identify antisemitism and help foster an environment where Jewish students and members of the community can feel safe and fully included. A bystander prevention program is being developed to help students "identify and safely intervene and/or support Jewish students if they witness an act of antisemitism."
"While we stood idly by in the past while acts of antisemitism occurred, we hope not to repeat those mistakes again and hope the Jewish community will give us another chance to support them in the future," the apology concludes.
The statement was issued after a process of listening to Jewish students express their fears and experiences with antisemitism at the university. It was drafted by Eduardo Malorni, currently the student life coordinator of the CSU, who will assume the role of general coordinator (the equivalent of union president) in June.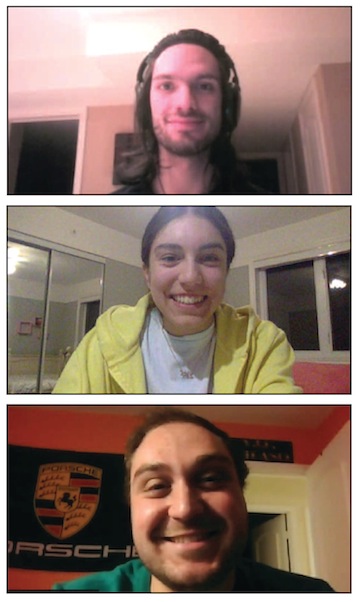 "We got feedback that it was very appreciated," Malorni told the Independent. "Some people brought up that it was too little, too late, which is a fair criticism for an organization that's been around as long as us. But our feedback all seems to be positive."
Two Jewish campus leaders who also spoke with the Independent were emotional.
"I cried the first time I read it," said Nicole Nashen, an elected CSU councilor and incoming president of Concordia Hillel.
"We cried together," said Harrison Kirshner, a vice-president of Concordia Hillel, a CSU councilor and incoming executive member.
"As a student, when I first came to Concordia, I knew in my mind what type of institution this is and I knew that I had to hide part of myself in a sense," said Kirshner. He would think twice, he said, before mentioning celebrating Jewish holidays, for example. Part of the progress that culminated in the apology, he suggested, was students like him opening up and sharing their experiences.
"I realize that conversation and speaking to people about what we face is a much better way than hiding it and not talking about it and not addressing those issues," he said. "Because, if we don't address them, nothing is going to change. But, if we do address and we do talk about the experiences that we face, change can stem from that. That's what we are seeing happening."
The campus climate is significantly better than he expected when he arrived.
"I noticed that people were receptive to those discussions, people that I thought maybe wouldn't be receptive to those discussions were receptive to those discussions," he said. "Part of the reason is because, instead of going in with a fighting attitude, we need to go in with a respectful attitude, a dialogue attitude, an attitude that allows us to open up a conversation with our fellow councilors who I consider to be allies, friends."
Nashen also acknowledged a feeling in the pit of her stomach when fellow students would raise the topic of ethnicity.
"I didn't know how I was going to be labeled or what the reaction was going to be or what assumptions are going to be made about me because of the fact that I'm Jewish," she said. Elected to the CSU recently for the second time, she said she never foresaw being so welcomed.
Both Kirshner and Nashen credit Malorni, who is not Jewish, for encouraging them to share their stories and for making other Jewish students comfortable to come forward and share their experiences. The letter, they said, came from his heart.
"It did come from the heart," Malorni admitted, "but it only came from the heart because Harrison and Nikki were so open about talking about the issues they faced and also in setting up meetings with other Jewish students who would never have come near the CSU with a 10-foot pole, setting up meetings and saying it's safe, you can explain it to them, they're not going to bite your hand off, because students would never have told us 95% of what they told us, unless those meetings were facilitated by both Harrison and Nikki. That's why I think, in terms of writing the apology, when it came down to it, it became – I wouldn't say it was easy to write it – but the words were a little easier to come from brain to paper."
The letter, of course, comes from a new group of CSU leaders, not from the individuals who were involved before and perpetrated some of the extreme activities, such as a Passover Against Apartheid event a few years ago. The current crop of leaders was elected in a campus vote that saw extremely low turnout. However, Malorni noted, student union votes at Concordia and most universities are notoriously and chronically low, so the small number of voters who endorsed the current leaders is commensurate with the number who voted for the earlier, problematic representatives.
"The majority of messages that I've received are shock," Nashen said. "I would have never imagined this could have ever happened at Concordia.… I think a lot of people, especially maybe people who went to Concordia and were involved in Concordia 10 to 20 years ago, but haven't kept in the loop about CSU affairs, were just utterly shocked, could not believe it. Then, a lot of current students were reaching out to me saying, 'I just had shivers reading this.' I can't believe that our issues are really being taken seriously and that the CSU really cares to help us fight antisemitism."
She acknowledged that the apology is the beginning of a process, not the end.
"I don't think this was a fix-all," she said. "I think this was the first step that the CSU is taking toward telling the Jewish community that they do care about us now and they are ready to start listening to us and taking our issues seriously. What really put the cherry on top was not just words but it came along with actionable steps."
Malorni said Concordia has had a national reputation as a tough campus for Jewish students, but he is well aware that other campuses have also had their experiences with conflict.
"While we had the worst reputation for it, it's not something that doesn't exist at the other universities," he said. When the apology was posted, he said, commenters from all over North America recounted their own experiences with antisemitism at their universities.
"It's not a thing limited to Concordia, despite our little extra bad reputation," he said. "It's something that seems to have crossed the bounds of our land."