During mock weddings, participants learn about Jewish and Sikh rituals. (photo from Shaul Osadchey)
While Judaism is the main focus of any synagogue, and many stop there, that is not the case with Calgary's Beth Tzedec Congregation. They have decided to take their Jewish engagement into the wider world and have hired scholars from other faiths to teach them about those faiths.
"There are a great number of religious traditions that are present in the community," said the synagogue's Rabbi Shaul Osadchey. "How do we learn about other people? How do we engage in conversation and interfaith relationships with people unless we know something about them? That's the challenge.
"In thinking about that, which is fundamentally an issue of how we make Jews more religiously literate about other religions, the challenge is to do that in a way that people will come out and actually participate in the learning."
Osadchey knew that if he left it to others to start the process, he'd be able to count participants on one hand – out of the 600 families that are a part of the synagogue.
"People aren't going to initiate that," said Osadchey. "People are intimidated going into other people's houses of worship. They don't find the time to do this on their own. The thought was, then, sanction it and bring it into the synagogue … making it 'kosher' in the sense that it's acceptable for us to do. Secondly, it will be much more effective, because people will be much more comfortable coming into a familiar environment to learn about others."
Osadchey was able to find someone in his congregation willing to support the cause, leading to the creation of the Lil Faider Interfaith Scholar in Residence Program.
"The idea was to allocate $10,000 a year for five years and pick five religions we wanted to examine, and invite a scholar or religious leader from the chosen tradition to be on our staff and teach within the synagogue for about 10 months (not over the summer).
"The first year, 2013-2014, we selected Sikhs. I thought that would be a good starting point because we know very little about Sikhs. They have a fairly significant amount of people in the Calgary community. Approximately 20,000 Sikhs live here, which is at least twice the size of the Jewish community, and they are very visible and yet kind of mysterious to us, we don't know much about them."
In his High Holiday sermon that launched the program, Osadchey invited attendees to learn about Sikhism. "All we know about them is they work at the airport, they
drive taxis and they wear a turban," said Osadchey to congregants. "People kind of chuckled, and said, 'Yeah, yeah. I know that.' The point was, what do you know beyond that? The answer was relatively nothing. That's not enough to engage people in conversation let alone collaborate in community activities."
The synagogue hired Dr. Harjot Singh, a medical doctor and leader in the Sikh community. She presented lectures, followed by some experiential activities. One program was called Turban and Tefillin.
"That was pretty amazing, because it was a way in which we explored what the meaning of religious apparel is in our respective traditions," said Osadchey. "The fact that we both cover our heads and wear identifiable religious objects was a starting point. During this program, all the Jewish participants were shown how to put on a turban and each of us was wrapped in one.
"We see turbans, but we don't see them unwrapped … and now [we] understand how complicated it is for the novice to actually do that. Even though it only takes them three to five minutes to do, it's quite an art. It was really quite wonderful to be wearing this turban and get a feel for what it's like. Then, we wrapped them in a tefillin and they got an idea of what that was as a religious object."
The congregation was invited into a gurdwara, the Sikh house of worship, and experienced a service. Then, they joined everyone in the langar, or common kitchen, where people can eat for free. Lastly, they finished the year off with a mock Sikh wedding and a mock Jewish wedding, for which they put up a chuppah, and presented the wedding rituals, acting them out and taking note of the similar and different rituals.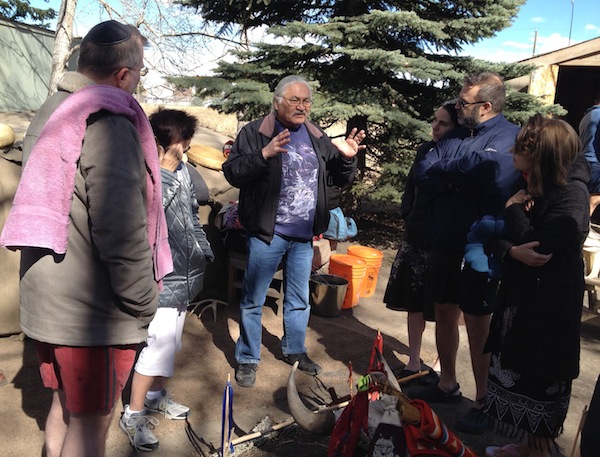 In 2014-2015, the synagogue focused on aspects of First Nations spirituality, inviting Casey Eagle Speaker and another teacher to give lessons on their culture.
"The year ended with a sweat lodge we went to, for us exclusively," said Osadchey. "Afterwards, we sat around and passed the peace pipe together. People really learned a lot from that, as native spirituality is an oral tradition mainly. These are customs passed on and taught – sundance, sweat lodges and so forth – but they also have a very interesting perspective about the creator, nature and the role of people in terms of building community and families. That was quite eye-opening."
This year, with all the new connections the synagogue has made with the Muslim community, they decided to focus on Islam.
"We didn't start with Islam and we didn't start with Christianity, because people probably would have said, 'Oh, I know everything I need to know about Christianity, so I'm not going to show up,'" said Osadchey. But it was time to get to Islam, he said. "The next two years are going to be Hinduism and Buddhism."
For Islam, the congregation selected Imam Syed Hadi Hasan of the Shia branch of Islam, who has a long history of interfaith work.
"What we did, however, was to respond to some of the naysayers and the skeptics by inviting a Jewish rabbi/scholar from L.A. after the imam had given about three lectures, and then we had Dr. Reuven Firestone come and speak," said Osadchey. "He's written books on Islam for Jews, about what Jews should know about Islam and what Muslims should know about Judaism. He's very active in Muslim-Jewish dialogue. He came up and gave us a weekend of four lectures on different aspects of Islam and how we approach it. We invited our Islamic friends to come and many did. And, they were very impressed by his scholarship and knowledge of the Koran and so forth."
At Chanukah time, the synagogue invited three imams to share their thoughts on religious freedom and join in the lighting of the chanukiyah, along with the rabbis. At the end, they all held up letters that spelled the phrase, "We refuse to be enemies."
Osadchey said, "It was a powerful moment and brought Chanukah and the whole meaning of respect into a much different perspective."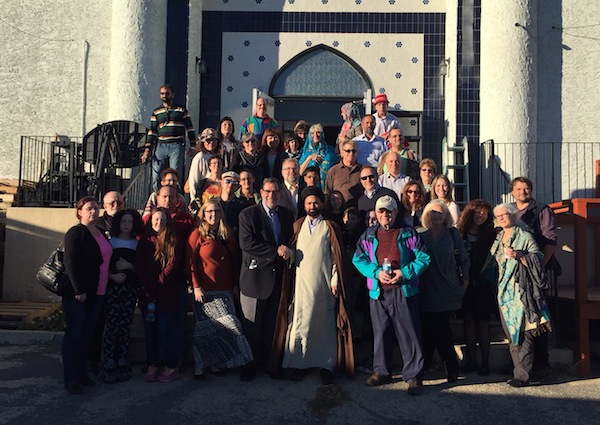 This March, the synagogue initiated the program Our House is Your House, which will be profiled in a future issue of the Independent.
Although Christianity is not one of the religions studied in the first five years of the program, the synagogue hopes to continue with a sixth year focused on Christianity. The program so far has been beneficial.
"It has given people permission to go out into the community and do things in a way they may have been hesitant to do before," said Osadchey. "They have more confidence that they have the knowledge and the literacy to engage people."
The scholars, too, gained much from the experience. "I was thrilled and amazed at that request and immediately accepted it," said Hasan. "And I did my best to teach about Islam and answer all the questions from the participants of the five sessions I was part of.
"In the first session, participants were not very comfortable…. They were friendly, but they were a little bit formal in the beginning … but, gradually, we developed a friendship."
Hasan is planning to bring Judaism into his mosque in a similar fashion, calling Beth Tzedec's method "perfect and brilliant."
He said, "We will be inviting Rabbi Osadchey for probably three to four sessions and he will be introducing Judaism…. When we are ignorant, when we don't know each other, definitely, we have a lot of misconceptions. We are going to bring knowledge and awareness, and show that we are almost the same. We all work for the welfare of humanity and the universe. In this sense, we all are the same. In doing these programs, we are promoting peaceful coexistence and we are bringing harmony and unity within our communities."
Speaker, who is a member of the Blood Tribe, which is part of the Blackfoot Confederacy in Alberta, echoed Hasan's feelings, mentioning he found the experience very valuable.
"I enjoyed the hospitality and the openness that the people had," said Speaker. "The congregation was very open in mind, body and spirit, very open to listening, to understanding who we are as a people, as indigenous people, and about the concerns or issues prevalent in society. They showed me a hunger to learn and to create an understanding, rather than just knowing.
"In our culture, we share openly to create an understanding and come together as human beings, rather than being separated by race, creed, color and religion. Those don't work. We've seen the conflict that those create.
"They shared with me. They felt safe. They didn't feel threatened. It felt more like family and how we do … the openness of sharing and expressing kindness, generosity and acceptance of each other was something they really came to be accustomed to. And, our style of ceremony, going into prayer and stuff like that, it's so heart-warming."
Rebeca Kuropatwa is a Winnipeg freelance writer.