Makeda Zook, left, and Sadie Epstein-Fine, editors of Spawning Generations. (photo from Demeter Press)
Sadie Epstein-Fine and Makeda Zook will be in Vancouver for the Jan. 17 launch of Spawning Generations: Rants and Reflections on Growing Up with LGBTQ+ Parents (Demeter Press, 2018), which they co-edited.
"It is really important to us that this book was written and edited by queerspawn. So often our stories are told for and on behalf of us by researchers, journalists and academics," Epstein-Fine told the Independent. "Our intimate, personal family lives have been under the microscope for our entire lives, proving to the world that we turned out all right. By curating stories from our community, including our own stories, Makeda and I ensured that we were not, as we like to call it, airbrushing our stories, but that we were allowing our contributors to tell the nitty gritty, the details of their stories that they have never been able to tell."
In the book's introduction, Epstein-Fine and Zook explain that the term queerspawn to describe someone who has one or more LGBTQ+ parents was coined by Stefan Lynch, the first director of COLAGE, an American "network dedicated to connecting and supporting queerspawn," which has one chapter in Canada (in Toronto).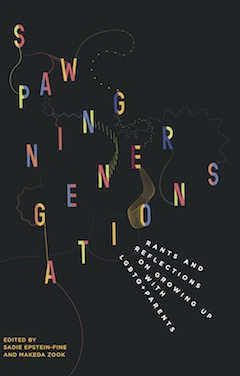 "By giving a name to our identities and experiences, he laid the foundation for connecting and politicizing queerspawn; Lynch gave us a term to organize around," they write, acknowledging that the term "is not without controversy. Although some people feel empowered by reclaiming both words ('queer' and 'spawn'), others do not like the association with 'spawn of the devil.'" Another term, "gayby," also has its proponents and its critics, those who "find it infantilizing and only representative of people whose parents identify as gay," note Epstein-Fine and Zook.
Ultimately, the editors chose to use queerspawn for the anthology because it is "unapologetic and bold." As well, it is "the word most often used in Canada and the United States and, as such, it helps us find each other; it is a common word we can rally around. We often feel highly visible in straight communities and invisible in queer ones. The term 'queerspawn' creates a space for us, and helps us to feel strength in numbers and a sense of belonging at times when we feel all too visible. When we feel invisible, naming ourselves as queerspawn tells the queer community that we are still here, even if we have grown up."
Epstein-Fine was born in Toronto in 1992 to two moms, in an activist home, "surrounded by 11 other women." She carries on her family's activist tradition and describes herself as a queer(spawn)-political theatre maker.
According to her bio, Zook "was born in Vancouver in 1986 to her two lesbian feminist moms. She was raised in a mixed-race family surrounded by anti-oppression politics and her OWLs (older, wiser lesbians)." She works in sexual health promotion for a feminist nongovernmental organization.
Epstein-Fine shared with the Independent how she and Zook came to be the editors of Spawning Generations.
"Demeter Press approached Makeda and I to edit the anthology because they saw a gap in their literature," she explained. "They mostly publish books about motherhood, through a feminist lens, and they realized that, while they had a lot of literature about queer parenthood, they didn't have anything from the children. This is a trend in the majority of queer parenting literature – we hear a lot from the parents, but rarely from the kids raised in queer households.
"Yes, it's true, Makeda's and my primary focus is not editing. Previous to editing this anthology we were both writers, which is how we got connected to this book. Our (queerspawn) community is small and disparate, there is not a plethora of options available. When Demeter first approached me with this project, I tried to think of folks who could do this project, and there was no obvious answer.
"Makeda and I learned to be editors in trial by fire," she admitted. "We always say that we didn't just grow alongside this project, but that this project grew us. After three years of working on this project, we now feel confident in our editing skills, which we didn't feel previously."
And the pair has done a commendable job in keeping the essays on point. The editing is such that each contributor maintains their own voice, which adds to the book's readability and interest. Contributors range in age, from 9 years old, to teenagers, to 20-somethings and older queerspawn. And the writers come from all over the world, from as far away as London, England, and as close as Victoria; one was born in Vancouver but seems not to live here anymore. While all the contributors have being the child of one or more LGBTQ+ parents in common and have shared some similar experiences, each story is unique.
"There was a call for writers, which we spread as far as we could," Epstein-Fine explained about how the essays for the anthology were chosen. She said they asked COLAGE and several organizations and people they know in Canada to publicize the call, which went out in the winter of 2015, with a due date of May 1 that year.
"We received 25 submissions and we took every single one," she said. "We thought that each person had an interesting story to tell and we were committed to helping them tell their story the way they wanted it to be told. We initially thought that we wanted to be more selective and, if we had received more submissions, we would have been forced to be. However, the wonderful result of us taking everyone is that our book is not just filled with works from professional writers, but we have contributors with a range of experiences – from people who have never written a personal essay to professional writers. It gives a real scope of our community."
The Spawning Generations book launch takes place Jan. 17, 7 p.m., at Massy Books, 229 East Georgia St., in Vancouver. For more information, visit facebook.com/spawninggenerations.