A Magen David is still attached to the roof of a former synagogue in Harbin, China. (photo by Deborah Rubin Fields)
If a few years ago you had flown on an international flight from Beijing, China, you would have noticed a departure terminal display of Chinese marionettes. Like many other sites in China, there was more to this small puppet exhibit than met the eye. While the display explained the history of this colourful theatre, it ironically underscored the question about which we Westerners are most curious: who is pulling the strings in today's China?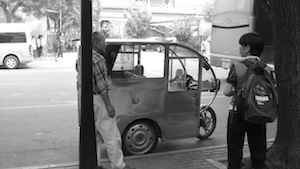 Our arrival point was Beijing. Right away, our local guide made critical comments about the regime. In her opening remarks, she stated the temperature in Beijing never went above 39°C. Why? Because then, she claimed, the government would have to give people the day off. So, officially, it never got hotter than 39°C. When she said this, I half-expected some secret police (perhaps our tour bus driver?) to arrest her for her sarcasm. As no one hauled her away, I started to rethink where I was and what I knew about China.
Our guide gave the group free time to wander Tiananmen Square. Like all those who visit the square, we passed through a metal detector and an X-ray security check. Yet, once past this point, uniformed police officers were few and far between. As my husband and I walked around the vast and infamous plaza, however, mounted cameras were everywhere. Nevertheless, everyone seemed oblivious to the fact that someone, somewhere was watching their every move. Chinese citizens and foreign visitors alike seemed preoccupied with one thing: taking photographs of each other.
This preoccupation with self expressed itself in different ways. For instance, several young Chinese awed me with their self-assurance. In Xian, a female guide-in-training confided in me that she wanted to do what she called exciting graduate work in the United States. She seemed undaunted by applying for permission to study abroad, having to take foreign entrance tests, getting accepted at an American university, finding funding and a challenging subject to study. She showed both marvelous confidence and a sense of mobility.
In a Jewish cemetery in Harbin, a young girl materialized by our side. Earlier, I had noticed her pushing her bike up the steep hill to the cemetery. It seemed she wanted nothing more than to practise her very limited English vocabulary. We huddled around her and the puppy she was carrying in her basket. She did not seem at all fazed that we weren't able to understand her. We never learned where she came from (there were no homes close by) or where she was going. From our guide's translation, all we learned was that she was 12 years old and that she had to leave to take care of her dog.
In Kaifeng, a 30-year-old female resident demonstrated a similar sense of unabashed certainty. Claiming Jewish descent, she expressed conviction in being able to build an entire synagogue. Although she seemed to have little knowledge of Judaism, much less about Jewish politics and/or philanthropy, she believed she would be able to achieve her goal.
In Beijing, one of our Chinese lecturers bombastically concluded that the Kaifeng Torah scrolls – which, according to the British Library, are from the 17th century – were fake. He offered no new study material; he simply and quickly discarded what others had written. Conversely, he offered a lengthy explanation of how, throughout his career, he had managed to be in the right place at the right time. And so it seemed, from his down-pat Silicon Valley gestalt and his outstanding command of American English.
I hoped that, on the road, I'd catch people "off guard." In fact, there were lots of antics on the road. In big cities like Beijing and Shanghai, pedestrians had designated crosswalks and lights, but drivers didn't honour them. People on foot would begin crossing with the "green walking man," but would end up dodging approaching vehicles. Yet, no one yelled or raised a fist at the intruding scooters, cars, buses, trucks and taxis.
In traffic, drivers impulsively decided to make U-turns on multi-lane highways. Intriguingly, other drivers simply yielded. There was no Western-style road rage; Chinese drivers just let the others merge into traffic. There was likewise fascinating seen-but-not-seen vehicle activity: scooter owners pocketed illegal fares from passengers they had picked up, while parking attendants of an upscale spa discreetly covered the car licence plates of relaxing "Party" members.
Yet, even with all the upward mobility of the big cities, we saw signs of hardships, past and present. For example, a senior university lecturer and former member of the Chinese diplomatic corps, still carefully extinguished his cigarette butt, saving the remainder for a later smoke. On the way to our Harbin hotel, I saw people searching for clothes in a giant heap of cast-offs. Down the same road, people were picking up chunks of coal in a coal yard. We saw small dwellings where even my head (I am only 5'1") would touch the ceiling.
Aha, I said to myself. I have found the "true" China in all this dust and pollution. The real China, I told myself, resembles the USSR of the late 1970s. But, as we kept driving, we reached the downtown skyscrapers and tall new apartment buildings. No beloved Chinese cranes (the ornithological family name is Gruidae) soared the horizon. They had been replaced by swiveling construction cranes.
Plastered on some of these buildings were the names of Western brand items. Not only were there ads for Western consumer products, but the Chinese models themselves all had surprisingly Western facial features. In fact, I later heard that Chinese plastic surgeons are doing a booming business "styling" Caucasian-type eyes.
And what of China's Jews? The merchant economy of ancient China brought Jewish traders to Kaifeng as early as the eighth century. The community thrived, reaching its height in the 17th century at 5,000 members. But, following generations of war, poverty and religious isolation, the community significantly declined. Some claim that Kaifeng Jews were victims of their own success, as they assimilated so well.
Wanting to establish a foothold, Russia encouraged its Jews to settle in Harbin in the 19th century. By 1908, Harbin had a diverse Jewish community of 8,000.
Shanghai first saw Russian Jews fleeing czarist persecution and massacres in the early 1900s, continuing through the 1917 revolution. Then came Jews from Baghdad, Bombay and Cairo, including several financially successful families. In the 1930s and early 1940s, more families from Germany and Nazi-occupied areas fled to Shanghai.
Most of China's Jews did not want to live under communism. So, after the Second World War ended, they left for either the West or Israel. Now, Beijing has a transient Jewish community of international businesspeople.
***
Even today, one party in China is calling the shots. Democratic freedoms such as multiple political parties or a free press are missing, so some elite group is still pulling the symbolic strings of millions of people. But the strings appear to have a lot of slack and the go-phrase ironically comes from other cultures: seize the day! In this, the Chinese seem to be having a lot of success.
Deborah Rubin Fields is an Israel-based features writer. She is also the author of Take a Peek Inside: A Child's Guide to Radiology Exams, published in English, Hebrew and Arabic.
***
Sidebar …
In 2014, the Chinese film industry produced a movie entitled Dr. Rosenfeld, by director Xu Zongzheng. The movie, which stylistically calls to mind old Soviet movies, was recently screened in Jerusalem.
Dr. Jakob Rosenfeld came to China as a Viennese-Jewish refugee from Nazi Austria. A urologist and gynecologist by training, he joined Mao's army to fight the Japanese. He was elevated to the rank of general and to a postwar job as health minister in the Manchurian government. At the end of the film, viewers read that, in 1952, Rosenfeld died in Tel Aviv of a heart attack.
– DRF