Portrait of Max Malit Grossman, circa 1926, copied from the book The Jew in Canada. Grossman's mimeographs were the start of it all. (photo from Jewish Museum and Archives of British Columbia L.00011)
From 1930 until Abraham Arnold's arrival in 1949, there was a new editor and/or publisher of the Jewish Western Bulletin every couple of years. Arnold lasted 11 years, Sam and Mona Kaplan about 36 all told. My first article ran in the JWB on March 28, 1997. I was listed as a contributor for the next year, becoming editorial assistant in May 1998, and assistant publisher that September. When Kyle Berger, Pat Johnson and I bought the paper, they graciously agreed that I become the publisher. Since that first issue, June 4, 1999, I have held that title. That makes 16 years. The second-longest term in the paper's history.
For more than 10 years, I've been the sole owner of the Bulletin / Independent. While Kyle still contributes occasional articles and blogs, Pat is on the editorial board with former editor Basya Laye and me, and contributes weekly. I have worked with countless talented and kind people, many of whom have stuck with me, the paper and the community through some tough times, especially since the 2008 economic downturn. It is us, a handful of people, along with a few regular freelance writers, who get this paper to press every week. It is a labor of love for all of us. We do it for very little pay.
Financial struggle is as much a characteristic of this paper as is its Jewish character and its communal foundation, though that is one tradition I would happily leave to the dustbin of history.
Reviewing the 85-year history of the paper affirms my conviction that it is an absolute treasure, one of immeasurable value to Jewish life and this community. Yet, it is largely taken for granted. True, it has its admirers – thank you to all the organizations and businesses who advertise, and to all the readers who subscribe, donate or support our advertisers. But, on the whole, it is undervalued. And it has been almost since Day 1.
The newspaper got its start in 1928 as a mimeographed newsletter whose goal was to generate the funds and enthusiasm for a Jewish community centre. It succeeded in that regard, though the JCC would experience existential difficulties more than once in its life. Today, thankfully, the JCC is a strong and vibrant fixture in the community. When the mimeo became a tabloid in October 1930, its name was borrowed from a 1925 publication that was well-loved but, evidently, not well-funded, as it didn't last for long.
More than one editor of the JWB has exhorted readers to pay their subscriptions and pleaded with organizations to buy advertisements. The relationship between editors and readers was much more contentious and frank during the 1930s and 1940s than it has been since. Reading these editorials every time I organize a special anniversary issue – this is my fourth – I am both saddened and heartened by the fact that, at their core, the issues remain the same.
This year, I have been particularly affected by the missives of editor and publisher Goodman Florence as he neared what turned out to be his last several months with the JWB. In the latter half of 1948, he starts to air some of the dirty laundry that has obviously been accumulating between himself and the Vancouver Jewish Administrative Council that took over control of the paper when the Jewish Community Centre, Jewish Community Chest and Hebrew Aid Society formed it in 1932, as well as other community organizations and even readers.
In August, he tackles head on the idea that readers have somehow gotten that "the Bulletin is a highly profitable proposition and is fought for. Such is not the case." He points out that "subscriptions pay for only postage, paper and addressing, if it does that much. An attractive, newsy and acceptable publicity medium such as the Bulletin, is expensive to produce and its cost must be borne by advertisers." This remains the case today.
That October, Florence's one-year contract was coming to a close. Among his "many problems and many anxieties" is "the matter of the financial loss so far sustained in publishing for the community" under the terms of his contract, which he describes as "hastily arranged."
He sums up his difficulties in being the publisher of an Anglo-Jewish weekly in November of that year, yet still holds hope that the situation is improving. In January 1949, he writes about all the ideas he has for the paper's future, with only "a few final details" to be organized regarding a new contract. "I am hoping in the coming year to be able to devote more time and space to national and international affairs and will express a viewpoint in 'editorials' – and will endeavor to get prominent members of our community to also take their 'pens in hand.'
"It will be my continued policy to assist every organization now in existence and which might come into existence, so long as the purpose is lawful and of good intention – to place itself before the public in as accurate a light as possible."
After talking about an increase in the price of subscriptions and new help in finding advertisers, Florence concludes, "For 1949 I hope with your cooperation to make of our paper 'one of the best' – and to help build a progressive integrated community – and to spread the story of its good works throughout the land.
"For the opportunities of the past and the promise of the future, I wish to say, 'Thank you.' I will continue to do my best to serve you well."
Less than a month later, his farewell editorial was published by the new team at the helm.
"Readers want world news, features, editorials . . . officers of all local organizations want their activities to be publicized. Up to date, I have not yet been able to completely sell the simple fact that to do all this requires considerable revenue," Florence writes. "Some headway has been made in recent months, and there are now signs that more organizations are becoming aware of the need to place advertising that would be considered commensurate with the amount of news publicity their various activities require. There are signs also that more of the Jewish business men are coming to realize that there is after all some virtue in advertising in the Bulletin and doing business with the members of this growing Jewish Community.
"My decision [to leave] was arrived at after I realized that I had not been getting sufficient advertising support, and that without such assistance, progressive development could not be undertaken. I feel certain that now that the position has been drawn to your attention, the new publishers, Abe Arnold and Asher Snider, will get the support necessary to continue the venture, and I bespeak for them your utmost cooperation."
When I look at the state of the publishing and newspaper industry today, I take heart that there have always been challenges and, despite the often-dire-sounding editorials of Florence and many of the paper's other editors and publishers, here we are today. Many recessions have come and gone. Heck, the newspaper survived the Great Depression. Will it survive the internet? I certainly hope so, and not just because I would like to own a successful business.
I have looked through the physical pages of almost every JWB and searched through them online (multiculturalcanada.ca/jwb) ad nauseam for various people and events. I have read every single copy of the JI. Every time I look back at the articles and images in the papers, something surprises me, something sparks my imagination, something makes me think or makes me laugh.
I don't know anyone who owns a community newspaper or any similar business. When I read that other editors, publishers and owners of the paper have had similar concerns, challenges and joys, there is a sense of solidarity, of not being alone. When I read about what various people in this community have had to endure, what they've accomplished, I am inspired. When I attended the rededication of the Jewish section of Mountain View Cemetery earlier this month, I felt like I had personally known many of those buried there. My connection to this community through its newspaper of record for 85-plus years is that strong and goes back that far.
But, ultimately, I didn't know any of those people. I was born in Moncton and grew up in Winnipeg. My immediate family now lives in the Montreal-Ottawa-Toronto corridor and I came to Vancouver from Ottawa in 1992. My Winnipeg-based aunt had lived here in the 1960s. After I got my MA and a job – i.e. once it looked like I was staying awhile – she connected me with the Vancouver Jewish Folk Choir via her longtime friend and former musical colleague Claire Klein Osipov. It was one of my first connections to the Jewish community here and it has, obviously, led to other connections, including being the editor of the Jewish Museum and Archives of British Columbia's annual journal The Scribe for the last seven editions.
I've always liked history, and I love having 85-plus years' worth of it at my fingertips. It wasn't until this special issue though that I decided to do a search for my aunt's name – she passed away last fall.
My searches yielded more than a dozen results from 1962 through 1966, including the birth announcement of one of my cousins, her third son. And there was a photo of her, which was published twice, once with the wrong caption, a correction being noted in the following week's paper. I knew that Aunt Chickie (married to Nathan Frankel at that time) was involved in the Peretz Centre and that she accompanied Claire on the piano, but seeing some of the committees she was on, the events she helped organize, the music she performed … seeing her face – I can't describe the feeling, except to say, once again, this newspaper is such a vital resource in ways that I'm still discovering after almost 20 years working here.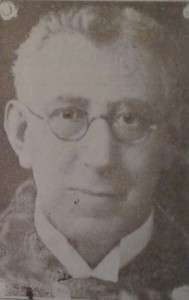 The JWB had two fifth anniversary issues, one in 1934, another in 1935. In the first, editor S.A. Goldston writes, "It seems hard to realize that time has flown so quickly. We all remember well the small mimeographed copy first issued in the office of Max Grossman, and we wonder how many thought that the day was not far distant when it would grow to a regular weekly newspaper."
He wonders whether the Bulletin had "filled the mission for which it was first intended? Is it any use today?" He leaves the answer to readers, "for naturally we are somewhat prejudiced in our personal views on the matter.
"The paper was first produced to act as the voice of the Community and to bring its readers in closer touch not only with the happenings in its own surroundings but with Jewry all the world over – to awaken Jewish consciousness, and if possible to create a deeper sense of unity among the Jewish residents of this City. In this way we can, without exaggeration, say [we] have been fairly successful."
I love this last sentence, which, to me, shows clearly Goldston's great humility. Yet his purpose is grand: publishing news of all the city organizations and devoting "considerable space to world happenings," trying "hard to preach through the columns of this paper the absolute necessity of a United Jewry not only in Vancouver but throughout the world…. We have also, during the past year, continued to spur on our readers in civic, philanthropic and educational services and have received congratulations from non-Jewish communities on our work."
But, he notes, as others would, "There are two things apart from the reading matter that is necessary to make a paper a success…. We need subscribers and advertisers."
Of the advertisers the paper did have, he says, "We get a very fair share…. But we also owe a duty to every advertiser who uses our columns. We must give them our patronage whenever possible. They have confidence in us and [we] must show that this confidence is not misplaced. We would therefore respectfully suggest that in making your purchases those who advertise in the Bulletin be given preference."
Goldston and his colleagues have "the great ambition of doubling the size of the paper," which was then eight pages, within the next year. He asks for help in getting there, saying he has "much to be thankful for," despite his "failing health," and is proud to hold the position of editor.
The very next issue carried a front-page obituary. Goldston had passed away suddenly, at age 63. According to B.C. Archives records, he died April 11, 1934. His given names were Sim Alfred.
In the 1935 editorial marking "Five years of the Bulletin," editor David Rome echoes some of Goldston's remarks. He, too, speaks of gratitude and writes that the Bulletin's "being taken as a matter of course by Western Canadian Jewry" is "the greatest compliment that can be offered to it," showing that it "is not a freak venture but part of the life of its readers.
"But this sometimes blinds its readers to the phenomenon of a relatively small community successfully publishing a weekly newspaper for a number of years. Those who are daily in contact with the workings of the community publication realize fully the efforts that have to be made to maintain the standards set and to elevate them."
Rome thanks all "those anonymous workers who have devoted unselfishly of their time and energy for this community enterprise. The Bulletin is a fairly big business and it needs a large amount of work and application to run this business. This devotion was given it by the members of the [Council's Bulletin] committee and it is no more than fitting that thanks be given to them for their work."
He notes that this anniversary of the paper also marks the first year since Goldston's passing: "It is not at all an exaggeration to say that he worked beyond the limits of health, and the community should honor his memory and recognize his sacrifices for the community newspaper."
Somehow I feel that, with every issue of this paper, we are honoring the people in this community who have made – and are making – sacrifices for whatever people and causes that are important to them. Every event, interview, photo, birth announcement, obituary … everything that gets recorded is proof of existence, of purpose, of being part of something larger than oneself.
This newspaper has always had a grand, even grandiose, view of the impact it could have on the community. But, looking back at 85 years – 90 if you count the original Bulletin, 87 if you start at Grossman's mimeo – I'd say it has exceeded even the grandest of its expectations. And I'd like to see it continue to do so, whether or not I'm involved. But, as pretty much every publisher of the paper will tell you, "There are two things apart from the reading matter that is necessary to make a paper a success…." The future of this community treasure is, quite literally, in your hands.