On the dock where they officiated the conversion ceremony are, left to right, Rabbi Alan Bright (Montreal), Rabbi Tom Samuels (Kelowna), Rabbi Jeremy Parnes (Regina) and Cantor Russell Jayne (Calgary). (photo from Steven Finkleman)
The Okanagan Jewish community in Kelowna recently completed a formal conversion ceremony.
Ten months of formal study, with weekly Tuesday evening Zooms, culminated in a long weekend of events July 14-17. There was a bet din (rabbinical court) and mikvah (ritual bath) in Lake Okanagan and the Shabbaton weekend included Friday night and Saturday morning services. Each of the students participated in the Torah service on Shabbat.
The dedication of these students who have chosen Judaism as their faith was remarkable, as was the dedication of the clergy during the teaching process.
Twelve people participated in the course, run as a Conservative conversion under the directorship of Rabbi Alan Bright of Shaare Zedek Synagogue in Montreal; Rabbi Jeremy Parnes of Beth Jacob Synagogue in Regina and Cantor Russell Jayne of Beth Tzedek Congregation in Calgary joined in the teaching. The OJC was so lucky to have all three clergy in Kelowna for the conversion ceremony, as well as Elizabeth Bright, who officiated at the women's mikvah, along with the OJC's Rabbi Tom Samuels. The occasion was the first time ever that four clergy were present in the OJC sanctuary at the same time.
Thank you to all the students and teachers who were involved in this event. Further information can be found at ojcc.ca.
* * *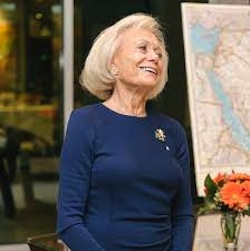 Sixteen people will be appointed to the Order of British Columbia, the province's highest form of recognition, Lt. Gov. Janet Austin, chancellor of the order, recently announced. Among them is Jewish community member Fran Belzberg.
Since arriving in British Columbia more than 40 years ago, Belzberg has championed numerous causes, from health care and medical research to education and nurturing the next generation of Canadian leaders. After her husband of 68 years, Samuel, z"l, died in 2018, Belzberg continued their family's lifelong legacy of community leadership. Now in her mid-90s, her commitment remains unwavering.
In 1976, Belzberg co-founded the Dystonia Medical Research Foundation (DMRF), with the mission to advance research, promote awareness and support the well-being of those affected by the disease. Forty-five years later, she is still actively involved in the foundation.
In the early 1990s, Belzberg was instrumental in the establishment of the Think Aids Society to advance research and funding, and raise awareness for HIV/AIDS. In 1995, she was awarded the Order of Canada in recognition of her numerous achievements. In 2003, the Government of Canada partnered with the Belzberg family to create Action Canada, a joint initiative to inspire and support young Canadians and future public policy influencers.
As a champion of education, Belzberg and family have made transformational impacts to the University of British Columbia and Simon Fraser University. In 2016, Frances and Samuel Belzberg were honoured by SFU with the President's Distinguished Community Leadership Award "for their many years of philanthropy and commitment to education, leadership and equality."
* * *
Bonnie Sherr Klein's children's book, Beep Beep Bubbie, illustrated by Élisabeth Eudes-Pascal and published by Tradewind Books, has been selected to be a PJ Library choice in 2022. PJ Library is a philanthropy that sends free, award-winning books that celebrate Jewish values and culture to families with children from birth through 12 years old. Now, many of these families will meet a grandma who introduces her grandchildren to the adventures they can share in a scooter, including an intergenerational march for the climate. (See jewishindependent.ca/shabbat-with-bubbie.)
* * *
The American Jewish Press Association's annual conference took place virtually in June. Its 40th Annual Simon Rockower Awards, recognizing excellence in Jewish journalism, took place virtually as well, on June 24. The Jewish Independent took away three honours this year, for work done in 2020.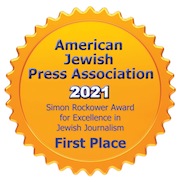 In its division – weekly and biweekly newspapers – the JI once again won first place for its coverage of Zionism, aliyah and Israel. The three-part series by Kevin Keystone – "Hike challenges one's views" (Sept. 11), "Seeking to understand views" (Sept. 25) and "Contemplating walls" (Oct. 9) – recounts some of Keystone's experiences on Masar Ibrahim Al-Khalil, the Path of Abraham the Friend, in the West Bank, which he visited in 2019.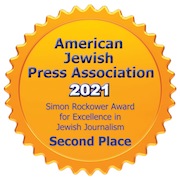 In most categories, awards were given out in each of three divisions: weekly and biweekly newspapers; monthly newspapers and magazines; and web-based outlets. However, for excellence in editorial writing, all entries (which comprise three articles each) competed as one large group, and the JI editorial board – Basya Laye, Pat Johnson and Cynthia Ramsay – came in second. The JI won for the set of editorials "Blessings in bad times" (Aug. 28), "Racism is a Jewish issue" (June 12) and "When is never again?" (Jan. 31). The first is about the communications technologies that have made COVID restrictions less isolating; the second asks our community to consider our complacency and complicity in upholding racist systems; and the third reflects on the fragility of democracy and civil order.
Another award that was considered as one large division was that of general excellence – best newspaper. In this category, the JI received an honourable mention (or third place). The judges commented about the paper: "Diverse content, from news to cultural writing, including unique reporting on Jewish media in Canada. Fun and easy to read."
All of these articles and other award-winning content can be found at jewishindependent.ca. Thank you to all of our readers and advertisers for your support – we are proud to share these honours with you.