Journalist Jesse Brown takes a humourous look at his homeland in The CANADALAND Guide to Canada (Published in America), written with Vicky Mochama and Nick Zarzycki.
Jesse Brown has emerged in the last few years as an important voice in the Canadian media landscape, hosting popular podcasts on media and current affairs. Brown's CANADALAND, which started as a single weekly podcast about Canadian media hosted by him, has expanded to include a permanent staff producing a full website and a roster of podcasts covering politics, arts, media and current affairs.
A former CBC documentary producer and host, Brown is most known for breaking the Jian Ghomeshi scandal in the Toronto Star with Kevin Donovan in 2014. But it's Brown's media startup and podcast roster that will likely make a more lasting mark.
Brown's pugnacious self-assurance sometimes teeters on the edge of the obnoxious, but his dogged fair-mindedness mostly outweighs small annoyances. More importantly, his content fills a necessary niche: media analysis that lacerates Canada's haughty self-image, provocative critiques of specific people and organizations, and deep dives into under-covered Canadian stories. The mixture of salaciousness and nerdiness create an alchemy that puts the listener in the thick of critical conversations in Canada.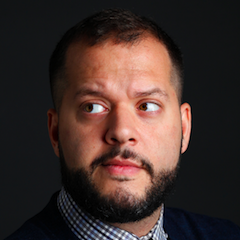 In addition to the growing news organization, Brown hasn't lost touch with humour, arguably the way that he gained some of his first public exposure, through elaborate jokes and pranks in his university years. His book The CANADALAND Guide to Canada (Published in America), with Vicky Mochama and Nick Zarzycki, came out this spring. It's an irreverent rundown of Canadian history, politics and social mores, including a ranking of how f-able Canadian prime ministers are and a cover illustration of Drake tenderly embracing a moose.
Brown can easily pass as a generic Canadian. But he is a Jew – a fact he neither hid nor discussed until recently. In an episode of CANADALAND this spring, Brown highlighted his Jewish identity in a discussion with members of the Jewish ethnic press about being Jewish in public, given attacks on Jewishness from both the left and the right. The CANADALAND website has begun to cover additional Jewish media stories, including the circumstances of the recent resignation of left-leaning columnist Mira Sucharov from the Canadian Jewish News.
The Independent interviewed Brown recently to ask him about his business, Jewish media in general and his new book.
Jewish Independent: CANADALAND started as a podcast where you had a single weekly conversation with someone in the media. You've expanded. Is everything going as planned or are you surprised at the success of this project?
Jesse Brown: Wildly surprised. When I launched the crowdfunding campaign a year into the project, I was terrified I wouldn't get to the first goal: $1,000 a month so I could keep making the show as a part-time job. I threw "$10,000: CANADALAND the news org/podcast network" up as a fantasy reach-goal. I never expected to get it.
JI: CANADALAND the book is on-brand in the sense that it's an irreverent takedown of fusty Canadian tropes, but it's essentially a comedy book, which seems outside of your core mission. How did this come about?
JB: If you're going to stick a pin in Canada's smug superiority and its convenient mythologies, I can't think of a better way to do that than in an hilarious book of rude jokes with good cartoons. Anything else would be a grim slog.
JI: For CANADALAND the media startup, about $200,000 comes from subscribers and another amount from sponsorship. Is it self-sustaining?
JB: It's totally self-sustaining from crowdfunding and sponsorships. It's not my vanity project, not something I'm ever going to bankroll out of my private bank account.
JI: In a sense, it's not so different from what the JI does (subscriptions and advertising). The product is available for free (online, at coffee shops), but some people still buy subscriptions to get it mailed to their door. But this and other newspapers continually struggle financially. Do you think your funding model is applicable to ethnic presses?
JB: Similar model, yes. Also similar to NPR, who pioneered the model of flipping "exclusivity." Instead of paying for content that nobody else can have, people pay for content so that everyone can have it. Ten percent of our readers and listeners make it possible for everyone else. As for tips … podcasts are generally more successful than articles at inspiring support. It's the intimacy of the medium, the relationship between podcaster and listener. So, you should make a podcast!
JI: Community papers need to balance freedom of speech and the financial reality that the people who pay for the product are usually older and more conservative than the ones who are getting it for free. Subscriptions are lost when something controversial is published, but nothing is gained from the people who appreciate the content but don't pay for it. Do you feel any pressure not to cross certain lines because of audience or advertisers?
JB: Not really. We only take ad money from people we don't cover and, as for our patrons, they are of no one political stripe. I'm mindful of what I say for fear of being dumb or wrong. I don't mind offending people when I believe what I say and, generally speaking, if I lose one patron because they disagree with me, I gain another who likes what I said. Most patrons understand that they are funding an organization with many voices, that does important original journalism in addition to punditry, and that it's not mandatory that they agree with me in order to support CANADALAND.
As for people not paying for a Jewish newspaper, the problem is that it's a newspaper. If someone did something like Tablet [an American Jewish online magazine] in Canada and it was really good, people would pay for it.
JI: You don't think our community is especially thin-skinned?
JB: I think smart Jews, of which there are many, value good debate. I think some older Jews are getting calcified in their opinions, are drifting rightwards as they age, feel like they are under siege, and see themselves as defenders of the tribe, not as people engaged in a good faith conversation.
JI: In the CANADALAND podcast "Being Jewish in Public," you said that, because attacks on you as a Jew had reached a certain threshold, it wasn't tenable any longer to be taciturn about your Jewishness in the media, and you wanted to foreground it in a discussion with a few people who explicitly talk about Jewishness all the time. Did something change for you after doing that episode?
JB: Yes, but I'm still working it out. I increasingly feel that the public discourse around all things Jewish has been abandoned by everyone except for those with radical positions: hawkish Zionists on the one side who are increasingly in cahoots with flat-out racists, Islamophobes and even neo-Nazis. And anti-Zionists on the other side, who decry Israel in absolute terms while, in my opinion, offering little in the way of viable solutions to the conflict. So, these two camps scream at each other and the rest of us have left the building.
JI: It sounded on that episode like you thought you were the only person who believes in Israel's existence but has strong criticisms of the government. Do you really feel so isolated in your views, which are pretty typical for centre- or left-leaning Jews?
JB: I suspect most Jews feel the same, but we keep quiet because we don't really know what to say. I don't pretend to know what should happen in the Middle East, but I don't like the way that extreme views from extreme people are increasingly defining not just the Israel debate, but Jewishness itself.
JI: Ezra Levant, another notable Canadian Jew, is also running a website media startup – The Rebel – which you talk about a fair bit on CANADALAND. Is the sparring between the two of you a symptom of a healthy rivalry?
JB: Ezra is not my rival. Nobody who funds The Rebel would dream of funding CANADALAND. Our business interests are not in conflict. We cover him a lot because our job is to cover the media and The Rebel is a media company (among other things) that is being ignored in large part by the big news organizations. They claim he is beneath their contempt or that they don't want to feed a troll but, in truth, he is very litigious, he fights dirty, and they can't afford to hold him to account. So we do it.
JI: How can you afford it?
JB: I dunno, maybe because we have less to lose? I don't live in fear of a legal challenge from Ezra, and his doxxing and public mobbing tactics don't scare me. I think he's building a hate machine, I agree with the courts that he has no regard for the truth, and I consider his harassment and disinformation campaigns quite dangerous. So, I'm not sure what we're here for, if not to scrutinize him and hold his organization to account.
JI: You just did a show recently about the newspaper bailout proposal suggested by a newspaper industry group. Under the proposal, it sounds like small community papers like us would be eligible but not web-native reporting startups like you. You're against the proposal. Do you think there's a way to subsidize news that would be good?
JB: Maybe, but I'm doubtful. I think various approaches would do some good for some people, but the overall effect would be terrible, for reasons explained on the show. But there are other things the government could do that would be very helpful; for example, removing the policies that inhibit charities from doing journalism. Nonprofit donor-based models would be a good choice for the ethnic press. And prohibiting the CBC from selling digital ads, but funding them well to do (mandatory) local news reporting online, which would be available for any publication to run or build on as free wire copy content – this would be a huge boon to small news organizations.
We make the most popular Canadian podcasts. We sell companies ads on them. We turn a small profit and pay our taxes. Meanwhile, the CBC is making podcasts with tax dollars and selling ads to the same companies that we do, and they can undercut us on ad rates because they don't need the money to survive, as we do. I support a strong public broadcaster, not some weird commercialized but subsidized broadcaster that competes with tiny startups.
Maayan Kreitzman is a PhD student in conservation biology at the University of British Columbia, who dabbles in editing, podcasting, and knitting. Follow her on Twitter at @maayanster.