Isabella: What do you do that makes you very happy?
Connor: I like to play with my mommy.
Isabella: Well, if you find something that makes you happy, that's what you should do.
(photo by Jocelyne Hallé)
***
As part of the Jewish Community Centre of Greater Vancouver's celebration of its 90th birthday, the centre brought together its members who are age 90 and better with children from the Karen and Gary Simkin Family Child Development Centre Preschool.
Preschool director Jennifer Trickett and her staff helped the children create and practise questions that they were curious about to ask the seniors. Questions covered such topics as "What games did you like to play when you were a kid?" and "Do you get hugs from your children?" The children also sang songs.
In addition to being interviewed by the children, the JCC members enjoyed a complementary brunch, and free portraits courtesy of Jocelyne Hallé of Jocelyne Hallé Photography.
The JCC has 25 members who are age 90 and over, most of whom are at the centre multiple times a week to exercise, socialize, learn and play. For more information about special membership pricing for adults age 65-plus, contact membership director Alexis Doctor at 604-257-5111.
***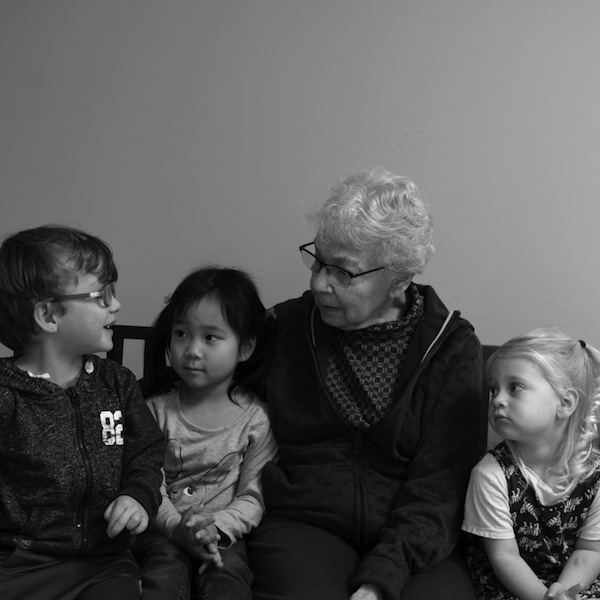 Gloria: Where do you live?
Joyce: I live in a condominium.
Gloria: Well, I live in Vancouver.
Joyce: Me, too.
Shiloh: Do you come here in the car?
Joyce: I came in a car today. My daughter drove me.
Shiloh: My mommy drove me!
Asher: Do you live in space?
Joyce: Sometimes I think I do! But, mostly in Vancouver.
(photo by Jocelyne Hallé)
***
Sam: Do you ever hug your grandchildren?
Danny: Yes, very big ones, they're even kissing me, too.
(photo by Jocelyne Hallé)
***
Milo: What did you like to play when you were little?
Grace: I liked to play baseball. How about you?
Milo (with a big smile): Me, too.
(photo by Jocelyne Hallé)