Marat Dreyshner in action. (photos from Ella Dreyshner)
I can tell it's going to be delicious even before I've taken a bite. I'm sitting in the Richmond home of Marat and Ella Dreyshner, owners of iKosherbake. I'm holding a slice of their chocolate chip banana bread. This golden cake is dense and moist; the semi-sweet chocolate is the perfect complement to the fruity sweetness of the bananas.
It all started with bagels. "We love bread in this house," said Ella. It's hard to find a good, kosher bagel, but iKosherbake has crafted its own variety. "It all comes down to time," said Marat. "How long you boil the dough…. It's a science!"
Over the last year, iKosherbake has gone from making bagels to cakes, to granola and catering birthday parties and personalized cakes.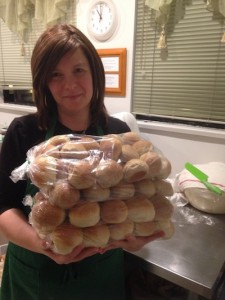 It's not always easy for a husband and wife to share a kitchen, but the Dreyshners have found their groove. Marat's specialty is their line of savory products, while Ella leads with desserts. While Marat has trained professionally, Ella's talents have flourished at home.
Marat explained, "She's gotten to a level that would make a professional chef happy to work with her."
It's hard to find a kosher fondant, so Ella makes her own – "I like to paint on the actual fondant." She has even molded a unicorn by hand. Her other specialties include kosher ice cream sandwiches: chocolate chip cookies filled with pineapple ice cream.
Their granola tells a story of its own. While working with students at Vancouver Talmud Torah, they were challenged to create a dish that included the seven flavors of Israel. The result was a granola bar containing ingredients like honey, olive oil, pomegranate juice and raisins. It was such a hit that they took the recipe home and developed a bagged granola.
The Dreyshners describe the flavor as "the perfect ratio of sweet and salty," which is borne out when I opened the package at home. Slightly tangy, with a smoky hint of cocoa, the texture is a satisfying blend of chewy fruit and crunchy seeds. And that salty tang really does make the taste buds tingle!
Now that their product line is growing, the Dreyshners are serving the North Shore market, as well. Queensdale Market and City Market on Lonsdale have both snapped up bagels from iKosherbake.
Organic markets are a good fit. iKosherbake uses no additives or preservatives in their cooking and, whenever possible, they purchase ingredients from local, organic growers.
For the Dreyshners, kosher cooking isn't just about finding ingredients with the right labels. The process of making food is a spiritual experience.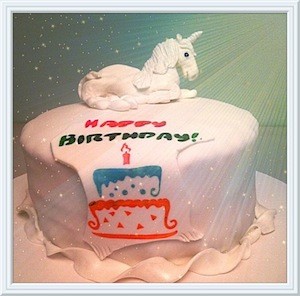 "Cooking is an art form that wakens your soul. It's more than just filling your stomach – it's digested on a spiritual level, as well," Marat suggested. He added, "There's a pleasure in the Torah aspect of the food, but also in the traditional aspect, as well – when you have the opportunity and the good luck to share with friends, family and community, the food becomes something real."
Ella agreed. For her, kosher baking "symbolizes peace and unity," by following a strict, methodical process with every recipe. Separating eggs, checking flour, keeping the wet and dry ingredients apart until the right moment: "These steps create a sense of calm and unity, when you finally combine all of these things together."
For a sneak peek into the Dreyshners' kitchen, you can watch Marat at work on YouTube with Rabbi Yisrael Shurack in their series of witty videos. In The Rabbi and the Chef, Marat talks about how the food is made, and the rabbi picks up on the symbolic, spiritual significance of dishes. These are lessons in Judaism served at high speed with delicious menus and a side dish of kooky humor.
Shula Klinger is an author, illustrator and journalist living in North Vancouver.