For the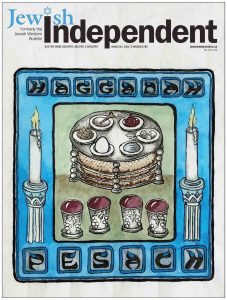 this year, Steveston, B.C., artist Merle Linde, chose to create a Haggadah cover that would look old and hand drawn. To achieve this authentic feeling, Linde used Taiwan linen paper, traditional Chinese watercolour paints and brushes.
The calligraphy letters in solid black Hebrew-like text feature peacock blue flashes, often seen in antique manuscripts. Yom Tov candles sit on candleholders that borrow their design from ancient Egyptian columns. The traditional Four Cups of Wine are inspired by a set of old silverware featuring raised grapevine leaves and grapes. And a silver seder plate holder has space for the three traditional shmura matzot, the shank bone, the burnt egg, haroset, bitter herbs, green vegetable and salt water for dipping.
Chag Pesach sameach.