Last year, I requested two books from Simon & Schuster Canada. Both contained strong female protagonists and stories that sounded compelling. While it took the pandemic slowdown before I had time to read them, I enjoyed both and would recommend them, albeit one with a caveat.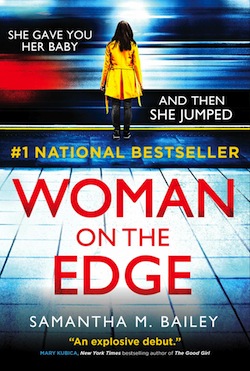 Let's start with the debut novel, the one I breezed through even though I found the premise tenuous. I wanted to know how Samantha M. Bailey's thriller Woman on the Edge ended, even as I cursed aloud at the two main characters – Nicole Markham, founder and head of a widely successful athletic wear company, and Morgan Kincaid, a woman who has rebuilt her life after her husband was caught swindling people and then killed himself.
For reasons not revealed initially, Nicole hands her baby to Morgan at a subway stop, then jumps to her death, though video of the incident makes it seem like Morgan may have taken the baby then pushed Nicole onto the tracks. Alternating between Morgan's attempt to clear her name and how Nicole came to give her baby to Morgan, the read is thrilling, even as it is too obviously contrived. At any point in time, a question or revelation from Nicole or Morgan could have shed light on their respective situations and cleared up critical matters. Yet, both women – unrealistically – keep their suspicions to themselves. The silences are necessary for the plot to work, so I chose to go where I was being led and relish the craziness of it all.
While there is no overt Jewish content in Woman on the Edge, Toronto-based writer and editor Bailey is Jewish. In her first novel, she shows a talent for creating dramatic tension, if not overall story structure. Despite its weaknesses, I found this novel a good escape read.
An absolute pleasure to read, and just as page-turning, is veteran author Alice Hoffman's latest novel, The World That We Knew, set during the Holocaust. In it, there is magic. It is tangible – the golem Ava, created by Ettie, the precocious daughter of a respected rabbi, to protect Lea – and more abstract, in the loyalty of Ava to Lea and the beautiful friendship that develops between Ava and a blue heron along their journey.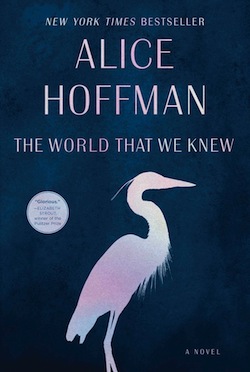 After her husband is murdered and her daughter Lea is almost raped, Hanni knows she must get Lea to Paris, but she herself cannot leave Berlin. So, she turns to the rabbi for help, but making a golem is risky business and he won't do it. Ettie, though, plans to escape with her younger sister, and Hanni's payment will help her do that. Ettie has observed her father at work, and is able to bring Ava into being. As Ava becomes more seemingly human, however, and forms a bond with the blue heron, the main tension of the novel arises – will her appreciation for her own life and its possibilities outweigh her responsibility to Lea?
Many other tensions and relationships mingle with history, which is sometimes pedantically told but always interesting. The World That We Knew is a well-woven and moving story that offers an understanding not only of the past but of the emotions that motivate us and the connections we make with one another.