In the Jewish Cemetery at Mountain View, a shroud was erected to protect the Kravitz family headstones. (photo from Schara Tzedeck Cemetery Board)
Responsible for three Jewish cemeteries in the Lower Mainland, the Schara Tzedeck Cemetery Board recently completed several projects.
Unable to restore two of the most interesting headstones at the Jewish Cemetery at Mountain View, a large metal shroud was erected for protection over the Kravitz family headstones. Designed by Bill Pechet and donated by the City of Vancouver and Saul Goldberg, a cousin of the family, this has added a unique decorative feature in the cemetery, as well as essential protection from the elements.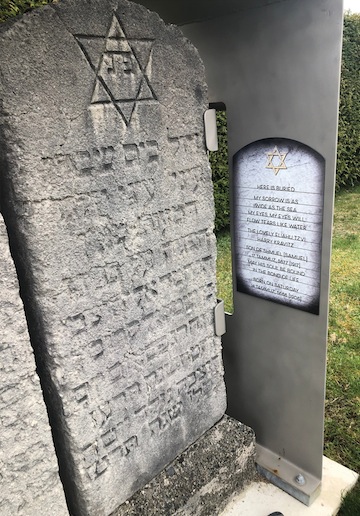 The Kravitz/Goldberg family has been traced back to the 1800s and has four members buried in this pioneer cemetery. Leah Deslauriers, Saul Goldberg's daughter, provided a family history that completed missing pieces of information about the family. Translation of the poetry on the headstones was completed by Daniella Givon and mounted in weatherproof panels inside the shroud.
With the protection in place for these headstones, this site already has become a highlight for visitors on their walking tours.
Inside the new Schara Tzedeck Funeral Chapel in Surrey is a beautiful Memorial Giving Tree. Designed and created by Eclipse Awards, this tree made of maple, cherry and walnut woods is prominently displayed at the entrance to the new chapel. It will contain engravings that members of the community may purchase to memorialize their loved ones buried in Surrey. The tree can contain up to 100 elements to be inscribed, ranging from small leaves to birds.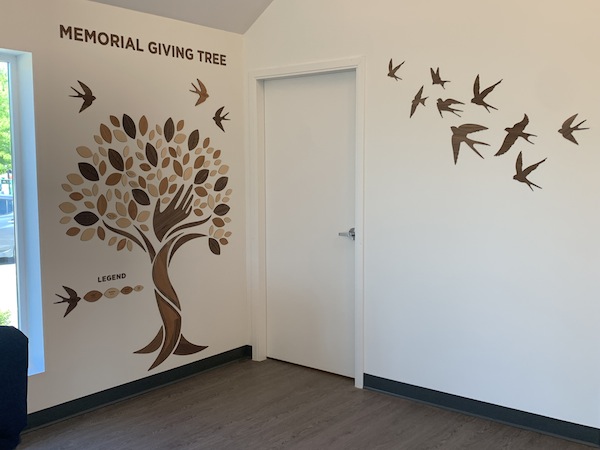 Years ago, the elders of the community were asked to place headstones on unmarked graves. Today, the Chesed Shel Emet Fund, fulfils that mandate. This past year, more than 50 headstones were placed on gravesites where there were no headstones. In some cases, there were no families to do so and, in many cases, there was a financial inability to have a marker.
The Schara Tzedeck Cemetery Board, under the executive director Howard Jampolsky, board chairs Jack Kowarsky and Arnold Silber, and funeral director Joseph Marciano, works to ensure that all members of the community not only have a dignified burial, no matter what their financial situation is, but also works to initiate projects that serve the community and help maintain the beauty of its cemeteries.
This past year, other projects have included a new irrigation system, the establishment of a water/well in New Westminster and the ability to manufacture burial caskets on-site. The cemetery board and the Chevra Kadisha also produced an informative video on tahara (the process of preparing people for burial), which may be seen on the website cemeteryboard.com.
For more information on these and other projects, contact Jampolsky at 604-733-2277, ext. 204.
– Courtesy Schara Tzedeck Cemetery Board