Pumpkin spice snickerdoodles (photo by Greg Dupree, food styling Torie Cox, prop styling Christine Keel / Food & Wine)
November arrives and I think pumpkin. Here in Israel, the d'la'at is amazing. Whole, they are huge in size and weight, cream in colour, with stripes all around.
Pumpkins are a variety of winter squash that belongs to the Cucurbitaceae (or cucurbits) family. Melon, watermelon and cucumber also fall into this category. Technically, pumpkins are fruit but, since they are often eaten in savoury dishes, many people refer to them as vegetables. Just about every part of the pumpkin is edible, including the seeds, their shell, leaves and flowers. Pumpkins are a superfood and are high in iron, packed with vitamins and minerals, and considered natural antioxidants.
But, enough about that and on to some recipes. Forget pie, though, and try these treats for your holiday guests.
The first dessert is pumpkin spice snickerdoodles. I was unfamiliar with snickerdoodles until coming across this recipe by Kelly Fields. Probably German in origin, the name of these sugar cookies could be a corruption of the German word schneckennudel, but notice the word schnecken, popular in Jewish cooking. American cookbook author Joan Nathan tells us: "Schnecken – the word means snail in German – are made of a rich and sweet yeast dough enriched with egg, sour cream and butter. The dough is pressed out in a large rectangle shape, sprinkled with sugar, cinnamon, raisins and ground nuts, and rolled up like a jelly roll. Cut on the cross section, the roll is sliced, baked and served open-side up in small coiled rounds." Here is my version made pareve with slight changes.
PUMPKIN SPICE SNICKERDOODLES
(Adapted from Food & Wine. Makes 20 cookies.)
1 3/4 cups sugar
2 tbsp cinnamon
1 1/2 tsp cardamom
1/2 tsp nutmeg
1/2 tsp cloves
2 3/4 cups flour
2 tsp cream of tartar
1 tsp baking soda
1 cup unsalted butter or pareve margarine
2 large eggs
1 1/2 tsp orange blossom water or 3/4 tsp orange extract
1 tsp vanilla
Preheat oven to 350°F and line three baking sheets with parchment paper.
In a bowl, stir together 1/4 cup sugar, cinnamon, cardamom, nutmeg and cloves.
In another bowl, stir together flour, cream of tartar and baking soda.
Beat margarine and 1 1/2 cups sugar until light and fluffy (four minutes). Add eggs one at a time, then orange extract and vanilla. Add flour in two additions.
Shape dough into 20 balls. Roll balls in spice mixture until coated. Arrange on baking sheets. Bake for six to seven minutes, then switch pans onto different racks, and continue baking 10 minutes. Let cool.
BAKED PUMPKIN WEDGES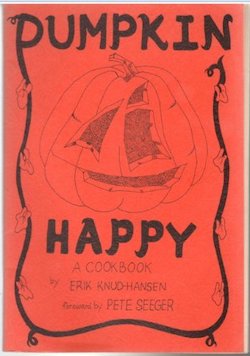 (While I found this recipe in a newspaper some 40 years ago, it comes from the 1976 cookbook Pumpkin Happy, written by Erik Knud-Hansen and illustrated by Andrea Grumbine. It makes 6 servings.)
1 4-pound pumpkin, cut into wedges, strings and seeds scraped out
1/2 to 3/4 cup pareve margarine
1/4 cup brown sugar or honey
1 tsp cinnamon
Preheat oven to 350°F. Oil a glass baking dish.
Make shallow cuts in each wedge.
Melt margarine in a saucepan. Add sugar and cinnamon. Brush over wedges.
Bake for 35 to 45 minutes, until tender.
PUMPKIN BUTTER
(This butter is great on toast with cream cheese, according to Kelsey Youngman, writing on Food & Wine's website. This recipe makes 2 1/2 cups.)
1 3-pound pumpkin, stemmed, halved lengthwise and seeded
1 tbsp vegetable oil
1/4 cup apple cider
1/2 cup brown sugar
3 tbsp honey
1 tsp apple cider vinegar
3/4 tsp cinnamon
1/2 tsp ginger
1/4 tsp nutmeg
a pinch of cloves
Preheat oven to 350°F and line a baking sheet with parchment paper.
Brush cut sides of pumpkin halves with oil. Arrange cut side down and bake 50 minutes, or until tender.
Scoop flesh into food processor. Discard shell. Add apple cider, process one minute. Add brown sugar, honey, apple cider vinegar, cinnamon, ginger, nutmeg and cloves. Process 20 seconds. Transfer to a saucepan.
Bring to a simmer, stirring occasionally. Reduce heat and cook until mixture is reduced by one-third and turns slightly darker in colour, about 25 minutes.
Remove from heat, cool and spoon into jars with lids. Store in refrigerator.
Sybil Kaplan is a journalist, editor of nine kosher cookbooks (working on a 10th) and a food writer living in Jerusalem. She leads English-language Shuk Walks in Machane Yehuda.