Newcomer to Vancouver and longtime National Council of Jewish Women of Canada member Rachel Ornoy, left, cheers the Purse Project volunteer gang on.
Members of National Council of Jewish Women of Canada, Vancouver section, under the guidance of Cate and Jane Stoller, stuffed purses with cosmetics, toiletries, comfort candles, chocolates, gift cards, pyjamas and other useful items on the morning of Sept. 27 for partner agency Atira Women's Resource Society, a not-for-profit organization committed to the work of ending violence against women.
Thank you to everyone who dropped off purses, helped fill the bags and collect their contents – more than 100 purses were delivered to Atira. Also thank you to Jane Stoller for putting together the hostess table with coffee and Timbits. It was a lovely pre-Kol Nidre morning mitzvah and it was great to have a socially distant visit with our NCJWC Vancouver friends.
* * *
This year's Project Isaiah campaign required Jewish Family Services (JFS) to change the way it looked at the traditional food drive. From Sept. 8 to Sept. 29, JFS ran its very first virtual community food drive, ending with a COVID-19-safe drive-thru drop off.
Despite the needs being greater than ever – more than double compared to last year – this year's Project Isaiah campaign has been the most successful food drive in the past 10 years. Thanks to donors, the Jewish Food Bank will be able to feed 700 clients (up from 450 last year) over the next four to six months; recipients include 175 children and 118 elders within our community.
* * *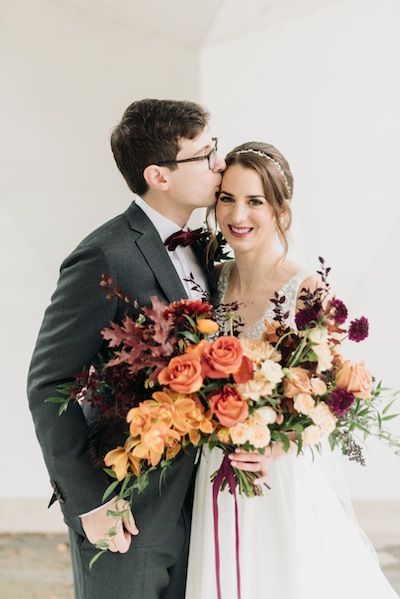 Carolyn Digby and Aaron Klein were wed in a romantic ceremony, surrounded by family and friends, Nov. 9, 2019, at VanDusen Botanical Garden in Vancouver. The couple resides in Toronto, where both are pursuing studies, Carolyn in a clinical psychology counseling master's program, and Aaron in aerospace engineering, doctorate program.
* * *
The Peretz Centre has appointed Liana Glass to lead the centre's pnei mitzvah program. The Peretz pnei mitzvah – pnei (faces) rather than b'nei ("sons of"), to reflect a gender-neutral descriptor – is a two-year program in which students meet once every second week for two hours, culminating in a group ceremony. The next intake period is this fall.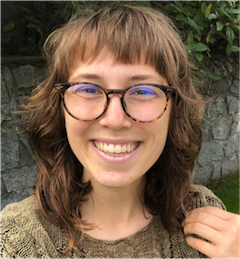 Glass, who has earned a master's of community and regional planning at the University of British Columbia, has considerable experience in teaching and facilitating groups from diverse backgrounds, most recently as a research intern with Vancouver's Social Purpose Real Estate Collaborative.
Glass's path to secular Judaism was not a straight one. After studying Yiddish at the Vilnius Yiddish Institute's summer program in 2017, she found that "Yiddish opened up a secular avenue for me to explore my Judaism and connect with it on a different level. It allowed me to reexamine Judaism in the larger context of my life and as part of my cultural identity. The prospect of helping pnei mitzvah students find that sense of connection through the various subjects we'll explore in class is extremely exciting."
"In our search, we indicated that we were looking for a candidate who is dynamic, enthusiastic and firmly committed to secular Jewish ideals and learning. Liana brings all that and so much more. We're looking forward to working with her and seeing where she'll be taking the program next," said David Skulski, Peretz Centre general manager.
* * *
Jewish Federation of Greater Vancouver elected its 2020-2021 volunteer board of directors at its annual general meeting Sept. 30. New directors, elected for a two-year term, are Hodie Kahn, Shay Keil, Kyra Morris, Lisa Pullan and Stan Shaw. Each of them brings a background of community leadership and past contributions to Jewish Federation.
Kahn is currently chair of Jewish Federation's Jewish Day School Council, whose work addresses the ongoing enrolment and financial stability needs facing the day schools; she is also a member of the Community Recovery Task Force. Keil is chair of major gifts for the Federation annual campaign and a member of the Jewish Day School Council; he is a past co-chair of men's philanthropy. Morris is the new chair of the Axis steering committee, which oversees Federation's programs for young adults. Pullan has lent her fundraising and leadership expertise to Federation for many years, including chairing women's philanthropy and serving on the board in that capacity. And Shaw has held several leadership roles with Federation; he co-chaired the Food Security Task Force and is now bringing his cybersecurity expertise to the new cybersecurity and information protection subcommittee.
Returning directors elected for a two-year term are David Albert, Bruce Cohen (secretary), Alex Cristall (chair), Jessica Forman, Rick Kohn (treasurer) and Lianna Philipp. They join the following directors who are in the middle of a two-year term, and will be continuing their service on the board: Jim Crooks, Catherine Epstein, Marnie Goldberg, Candace Kwinter (vice-chair), Melanie Samuels and Pam Wolfman.
Joining or continuing to serve on the board are Sue Hector (women's philanthropy co-chair), Karen James (immediate past chair), Jonathon Leipsic (campaign chair), Shawna Merkur (women's philanthropy co-chair) and Diane Switzer (Jewish Community Foundation chair).
For more information, visit jewishvancouver.com.
* * *
At its Oct. 14 annual general meeting, the Vancouver Holocaust Centre Society confirmed the society's board of directors: Rita Akselrod, Marcus Brandt, Jeremy Costin, Michelle Guez, Belinda Gutman, Helen Heacock-Rivers, Philip Levinson, Michael Lipton, Shoshana Krell Lewis, Jack Micner, Talya Nemetz-Sinchein, Ken Sanders, Joshua Sorin, Al Szajman, Robbie Waisman and Corinne Zimmerman. For more information, visit vhec.org/who-we-are/#board.