Congregation Beth Israel's former parking lot will be replaced by an underground parking garage with a 200-vehicule capacity. The roof will be an interconnected series of courtyards. (photo from Beth Israel)
This September, when construction is complete and Congregation Beth Israel reopens at Oak and 28th, Vancouver's oldest Conservative synagogue will join a very special Vancouver membership. The structure will be on the city's list of green buildings.
Vancouver is pushing to become the world's greenest city by 2020 and, this year, it began phasing in bylaw changes that would require both residential and commercial construction projects to integrate more environmentally friendly features into their infrastructure. For BI, this means a building that uses less electricity, more natural resources like sunlight and outdoor carbon-reducing green spaces and, wherever possible, partners with neighborhood facilities to reduce energy usage.
BI executive director Shannon Etkin told the Independent that the congregation has known for a couple of decades that it would have to replace the 65-year-old building. "The air conditioning system was shot, the plumbing and electrical systems were very old and outdated and subject to continuous breakdowns, [and] the roof was well past its best-before date," he said.
In addition to its age and the environmental concerns, the structure no longer fit the needs of the synagogue's membership.
"We also wanted a space large enough [where] all of the congregation could be under one roof at High Holy Days instead of having to have a second service, or an alternative service for other people because we didn't have space for them in our main building."
"The spaces weren't designed for the way we work with our congregation now," said Etkin. "We also wanted a space large enough [where] all of the congregation could be under one roof at High Holy Days instead of having to have a second service, or an alternative service for other people because we didn't have space for them in our main building. We didn't have lounge spaces for people to gather informally. Some of the rooms were too small and some of the rooms were too big. The auditorium was not large enough for many families who wanted to have functions at the synagogue."
The new building, said Etkin, will be attractive, as well as serve the needs of the 600-family congregation. "We are going to have a beautiful sanctuary…. It will feel intimate for various-sized numbers of people attending services," he said, adding that the social hall will be able to accommodate larger wedding and other simchah receptions.
As well, people who want to sit and shmooze after services or while waiting for a class or a presentation will be able to do so. "We have informal spaces for people to lounge in and be able to talk to one another, [and] we will have new technology allowing us to project images in different rooms, a sound system, all those different things we didn't have in the previous building," explained Etkin.
BI Rabbi Jonathan Infeld said the changes will make a big difference to the atmosphere and functionality of the synagogue. "One of the other critical components of the building is lighting. The new sanctuary will have a skylight and lighting that will make the whole place bright. Dim, dark lighting like we had in our old building is depressing. Brighter lights are more uplifting and spiritually enhancing," said the rabbi.
"The building will be extremely friendly for those with physical challenges," he added. "Not just the bimah, which will be extremely accessible for someone with physical challenges, but washrooms as well." And, he noted, "[The] heater will work in the winter, and the air conditioner will work in the summer, and not vice versa."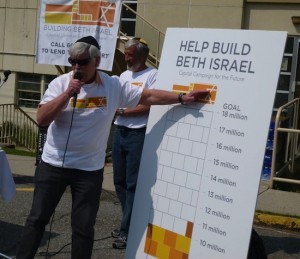 Despite all of the environmental improvements, Infeld said the congregation has decided not to seek LEED (Leadership in Energy and Environmental Design) certification through the Canadian Green Building Council, as doing so would cost upwards of another $100,000, and the congregation feels the money could be better spent on projects within the synagogue. However, the new building's environmental features would allow it to apply for a gold rating as a LEED building. For example, Metro Vancouver's design guide for LEED buildings points out that using daylight to enhance the brightness of the building's interior is not only appealing, but energy efficient. Properly applied, it can reduce electricity usage and heating bills – as can the design of the overall structure.
In fact, said Mark Ostry, principal architect at Acton Ostry Architects, Inc. – the new building's designer – many of the esthetic and functional changes will provide environmental benefits, including the congregation's decision to keep the building's original frame; a decision that was also a nod to its 82-year history (the congregation was incorporated in 1932 and completed the structure in 1949).
"Roughly 60 percent of the building area has been accommodated in the original building," said Ostry. According to a 2012 study by Preservation Green Lab, an arm of the U.S. National Trust for Historic Preservation, construction retrofits that emphasize green techniques are often easier on the environment than new construction.
Ostry said they are also looking into BI joining a district energy system (DES) that would be run by the nearby B.C. Women's and Children's hospitals complex. Hooking up to a DES would mean that BI could reduce energy usage further. Shaughnessy Hospital introduced an earlier version that shared service with the Oak Street hospital complex back in the 1980s, and the proposed DES upgrade would allow BI to benefit from that network.
Ostry said other environmentally beneficial features include the landscaping that is going to serve as the roof to a shared underground parking lot.
"This [will allow] the synagogue to be wrapped with a network of interconnected courtyards," said Ostry. "In addition to promoting biodiversity, the soft-planted landscaping contributes to storm water management…. Equally important, these courtyards establish a strong connection between the synagogue and the outside. Landscape areas have been designated to accommodate a gaga pit, chuppah, sukkah, outdoor services and various informal activities – all of which enhance the meaningfulness of the natural world in Judaism."
BI's reconstruction started in 2012 and, according to Etkin, it is expected to be complete in time for this year's High Holy Day services. Almost all of the funding has been raised through donations, and the Jewish Federation of Greater Vancouver has contributed for a preparatory security review. He said the support from both congregation members and the larger community is what has allowed the redevelopment to move forward. With only $2 million of the targeted $18 million cost still to raise, BI's new home is almost complete. And, in this new home, the "building will finally face east, toward Jerusalem," said Infeld. It has been a long-term goal and, now, he said, "It will finally be correct."
Jan Lee's articles have been published in B'nai B'rith Magazine, thedailyrabbi.com and Voices of Conservative and Masorti Judaism. She also writes on sustainable business practices for TriplePundit.com. Her blog can be found at multiculturaljew.polestarpassages.com.