The three current Museum of Jewish Montreal tours can be taken online or while in Montreal, either self-directed using a mobile device or led by museum staff.
The Museum of Jewish Montreal was created when the city's Jewish community turned 250 years old in 2010. While it may contain material dating back to the 1760s, it presents the information using the latest technology.
An online and mobile museum, its activities include "connecting exhibits to personal stories, narrations, songs, poems and films"; and "creating a virtual museum and mobile applications so that the viewer can interact with our community's history at home or on the street." So, if you're in Montreal, you can take the museum's tours with museum staff or self-direct your own. From Vancouver, you can simply go online.
One of the current tours, Work Upon Arrival, gives visitors an idea of the challenges faced by immigrants who worked in Montreal's garment industry from 1914-1941. It does this through the stories and photographs of six people, supplemented by archival images and text/audio providing the broader historical context.
The oral history excerpts in the exhibit were recorded in the 1970s by Vancouverite Seemah Berson. They are among the interviews Berson conducted with Eastern European Jewish immigrants to Montreal, Toronto, Winnipeg and Vancouver in the first part of the last century, which form the basis of her book I Have a Story to Tell You (Wilfrid Laurier University Press, 2010).
Berson's work came to form the foundation of the exhibit when Montrealer Harold Gordon wrote Berson to praise her book. They kept in touch and he introduced her to a friend, who introduced her to museum director Zev Moses. Later, Berson was introduced over the phone to museum research director Stephanie Tara Schwartz and exhibit curator Sarah Woolf. For them, she told the Independent, she was "available for queries and questions. I suppose were I younger and more agile, I would have loved to be on the spot and physically part of this. They were amenable to my suggestions, etc. Essentially, I needed to keep in mind the important fact that a great part of the purpose of my book was to disseminate these stories and keep the voices of my storytellers alive."
Berson explained that Schwartz and Woolf "researched and found children and grandchildren – one in Israel – which was so great for me because his grandmother was not known to me when I went to Montreal to interview people. I had walked into a nursing home where she lived and she talked to me. I didn't know anyone in her family, so it was great to connect."
The six interviewees and locations featured in Work Upon Arrival are Hyman Leibovitch, Midway Photo Play, 1229 St. Laurent (1914); Jennie Zelda Litvack, L. Holstein and Co., 1475 Bleury (1925-26); Rose Esterson, International Ladies' Garment Workers' Union, 395-397 Ste. Catherine O. (1933-1954); Sidney Sarkin, Sam Hart and Co., 437 Mayor (1925); Ena Ship, Jacobs Building, 460 Ste. Catherine O. (1934); and Norman Massey (aka Noach Puterman), Parkley Clothes, 372 Ste. Catherine O. (1937-1941).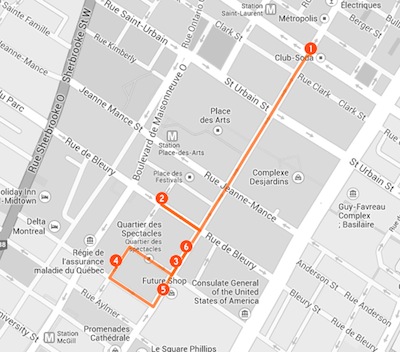 "Exploring the open expanses of downtown Montreal's Quartier des spectacles, it's difficult to believe this was once a bustling garment district. Packed with factories and sweatshops, tailors and seamstresses, manufacturers and union executives, the relatively small Rue Ste. Catherine corridor between University [Street] and Boulevard St. Laurent was a hotbed of clothing production, class confrontation and radical politics," the exhibit begins.
"Picture Ste. Catherine on a busy day in the 1920s and 1930s: steam billowing out of factory windows and grey snow covering the muddied streets; children ferrying newspapers and bales of cloth from building to building; thousands of weary workers flooding the streets for a brief lunchtime break; the mingling sounds of French, English, Yiddish, Italian, Russian…."
Work Upon Arrival explores such questions as "… how did these immigrants find work with little financial support and few personal connections at their disposal? How did so many Jews end up in the garment industry, working as cutters, machine operators and even as manufacturers? And how did so many Jews get involved in labor politics?"
Each oral history section has a summary of the subject's arrival to Canada and their first jobs (at least), how much they were paid, the working conditions, etc.; a couple of brief excerpts from Berson's book, along with their transcriptions; and photos of the interviewee and relevant buildings and/or documents. The parts between each oral history provide a broader context, and direct tourists (virtual and literal) from one location to the next. The combination of the personal and more general makes for a memorable learning experience. There is something special about hearing someone's voice, even if you don't know them, and it gives the exhibit more impact than images or text alone would have provided.
Work Upon Arrival has 20-odd sources, and Berson's recordings appear courtesy of the Canadian Museum of Civilization, Seemah C. Berson Collection. Among those thanked are Berson and the Betty Averbach Foundation.
The other current MJM tours are Between These Walls: Hidden Sounds of Hazzanut in Montreal (1934 to 1965) and A Geography of Jewish Care: A Virtual Tour of 150 Years of Jewish Social Services in Montreal. The website is imjm.ca and in-person visits can be scheduled by emailing [email protected].