Jewish community member Erika Babins co-stars in How to Adult: The Musical. (photo from Coffee & Screaming)
As with the Jewish community Fringers profiled in the last issue of the Jewish Independent, the performers interviewed this week seek not only to entertain audiences but to spur self-reflection and even societal change. And they do so in a range of styles – musical, vaudeville and drama.
How to Adult: The Musical opens Sept. 8 at the Cultch Historic Theatre. It features three 20-something roommates who are trying to get their lives in order.
It is Amy Dauer's writing debut and it is directed by Eleanor Felton, whose Eurydice received critical acclaim at last year's festival. Dauer and Felton know each other from university.
"Last year, during the Fringe Festival, I told her she should write me a show to direct. And so she did," Felton told the Independent. "It's fantastic because Amy and I are also roommates, so a lot of what is in the script are things I recognize from our lives. I love the mixture of hilarity and disaster that feels very close to my life. And I love that, above all, this show is about the relationships between the characters rather than the events that are going on in their lives."
Being a new musical, however, posed some challenges, the biggest of which, said Felton, "has been working with an evolving script and score. Peter [Abando] and Amy have worked really hard and the actors have been incredibly flexible, which was a huge blessing in the process."
Jewish community member Erika Babins plays Imogen.
"Imogen is your textbook introvert," explained Babins about the character. "She works from home on her computer all day as a graphic designer and, when she's done, all she wants to do is curl up on the couch and watch Doctor Who on TV. When her friends suggest they go clubbing for her 25th birthday, it's the worst thing imaginable. She finds it hard to stand up for herself and voice her opinions and usually defers to the judgment of her outspoken and confident best friend and roommate Holly. Throughout the course of the play, you see her getting frustrated with constantly being talked over and her ideas being vetoed, especially with Holly, who's always been the alpha in their relationship, but with their other roommate Rosie and her brother, Graham, who suddenly reappears in her life."
Babins can relate to her part.
"When I first read the character description, I joked that I was being type cast in this role. I even wore my Doctor Who shirt to the audition," she said. "Like Imogen, I would rather stay home and read than go to a club or a party. I've also been able to bring my experiences with anxiety and panic attacks to the role, which has been both enlightening and really hard to explore. I've definitely had many moments in the five years since I graduated university where I've seriously sat down with myself and thought, 'What is the point here? What am I actually doing?' The big difference between Imogen and myself is that, unlike her, I have an amazingly strong support system of family and friends who I know I can talk to and who will either give me great advice or complain and berate the universe right along with me."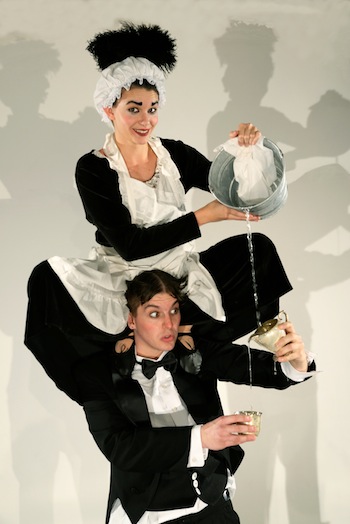 A strong support system is also at the heart of Bella Culpa, where Portland-based circus theatre duo A Little Bit Off – Amica Hunter and David Cantor – must rely on each other, as their comedy shows are not just vaudevillian and slapstick but acrobatic, as well.
Bella Culpa, which opens Sept. 9 at Waterfront Theatre, is set in an Edwardian-era manor house, and Hunter and Cantor play two servants who are trying to finish (unsuccessfully) all of their chores before a big dinner party.
"We tend to approach our work from many angles at once," Cantor told the Independent about their creative approach. "Once we have an idea for a show, we think of the overarching theme, the props we want to use, the characters, and we tend to approach all of those areas by playing games, or doing exercises. Through the games, we find things we like, which we take and apply some structure to. Once we have a few well-crafted bits, then we start weaving them together and making things flow together, to grow and expand out into a full show."
Cantor – who is first cousin, twice removed of famed vaudeville and film actor Eddie Cantor – met Hunter at the Circus Centre in San Francisco in 2013.
"We were inspired by many of the same artists, so we started working together," he said. "When the opportunity arose to travel to Europe and perform in some festivals, we jumped at the chance, and A Little Bit Off was born."
About the enduring popularity of vaudeville and slapstick, Cantor said, "Language can be a very useful tool when it comes to conveying ideas to other people, but it can also be a mask. While it lets us connect on an intellectual level, it also distances us. Having our work centre around the body, it gets closer to what makes us all human. It's a way to speak across any language barrier, any generational gap, any cultural differences. Our work is very much about tying people to their humanity and giving them a shared experience with the temporary community that forms any time you see a show in a theatre."
As to the physicality involved in their performance, Cantor said, "All art takes risks. Our risks are sometimes with our bodies. We take care to use good technique, which mostly protects us, but there is an element of chaos that we choose to include, that makes the slapstick a bit more real, and the audience can see that, and we hear it in their reactions. They gasp at the falls, and then there is a laughter that comes with the relief of tension, as they realize that it was part of the shtick.
"We, luckily, to this point have avoided any serious injuries from our slapstick. We have had other show mishaps. In our last show, Beau & Aero, we use a tambourine as a prop. We were nearing the finale of the show and Amica stepped on one of the tambours, the little metal cymbals, that had fallen off, due to the abuse we put the prop through in the show. It was razor sharp and sliced Amica's foot open quite badly. She left bloody footprints all over the stage and on my costume as we finished the show with an acrobatic number. Luckily, the footprints were up my back and, hence, not visible to the audience. We left immediately after the show to a pharmacy to get superglue and glue her foot shut. Had we been in Canada, with proper health care, we could have gone to the ER, but we do what we have to."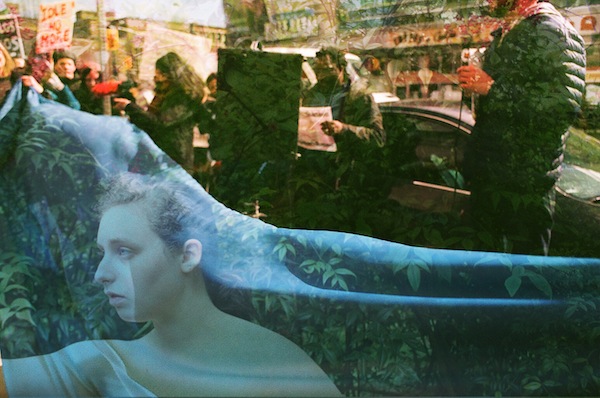 Moving from health policy to the environment, climate change is front and centre of the program Generation Hot, which features nine "young artists responding to the climate crisis through new performances." Guided by The Only Animal co-founder Eric Rhys Miller and mia susan amir of The Story We Be, the mentees have created various works. Divided into three programs, local Jewish community member Ariel Martz-Oberlander's The Lilacs that Come a Month Early are Still so Beautiful shares Program C with Cosmic Justice by Nelson Ellis and Howard Dai. Program C opens Sept. 10 in the Anderson Street parking lot.
"This piece is vitally personal, there are parts that are deeply vulnerable and, therefore, risky to present publicly," Martz-Oberlander told the Independent about her play. "I believe strongly that the personal is political, and that we can only talk successfully about large-scale issues by addressing the specific ways these issues are experienced in the small details of the day to day. For this piece, I am working with a cast of six enthusiastic, intelligent actors who fully bring their own worlds to this piece in such a rich way."
The play's description reads, "A grandmother, millennials, a woman coming to terms with abuse and 'The Last of His Kind' all share the stage. What is the everyday normalcy of climate change, or the deep abnormality of ignoring a crisis so large it already affects everyone? The characters struggle to hold on to the answers even as a world that ended five minutes ago slips away."
"In the play," said Martz-Oberlander, "the last of an unidentified species struggles to curate a message that will illustrate the urgency of the situation; however, the vignettes presented always get away from him, and the result is bittersweet."
She added, "Jewish viewers will recognize a twist on the traditional Passover seder scene halfway through the play, as a young girl struggles to bring social justice to her family table."
For tickets and information on all the Fringe shows, visit vancouverfringe.com.