The Oot n' Oots band helps launch Mission Folk Music Festival. (photo from Mission Folk Music Festival)
Family band the Oot n' Oots helps kick off the Mission Folk Music Festival on July 21, as part of the main-stage lineup that opens the weekend of concerts and workshops. Several other Jewish community members are also participating over the weekend, including Boris Sichon, Jesse Waldman and Abigail Lapell, who helps close out the annual event on the evening of July 23.
The theme of this year's festival builds on last year's, said artistic director Michelle Demers Shaevitz, also a member of the Jewish community.
"In 2022," she said, "I programmed a festival that reflected the experience of homecoming, the coming back together of our community, our festival family. This year, I'm digging into the process and ideas of connection and reconnection, as we move through our experiences beyond that initial homecoming and return to the festival. For me, the idea of reconnection speaks to getting to know who we are as a community post-pandemic and how we have changed/emerged as a result of our experiences.
"I was drawn to our 2023 artists through the ways they express their connection to their homelands, their languages, their heritage and cultures, and musical traditions," she continued. "It's how Okan celebrates their roots to their homeland of Cuba and her languages and stories, while Terra Spencer sings of the Maritime landscapes and communities around her.
"It could be reconnecting to language, as Cedric Watson and Jourdan Thibidoux explore their roots in the Creole community based in Louisiana alongside Wesli, who sings in his Haitian Creole of home and in French from his newly adopted community in Quebec.
"It's the ways that Leonard Sumner and Twin Flames sing their connections to their heritage or how Alysha Brilla presents her identity in her songs."
And, she said, it's how the Jewish musicians weave their Jewishness into their stories and songs.
Sichon, a classically trained percussionist, plays more than 400 different instruments from around the world, many of which would send most of us to the internet to find out what they are, such as mayuri, zurna and agogo bells. He can also make music from wrenches, plastic containers, kitchen bowls and even rocks – basically, anything. His TikTok videos are quite entertaining and mind-broadening. It's easy to see why he is in demand for school and other educational workshops. He told the Independent he is currently "in the process of preparing a new program with an accent on voice and wind instruments."
"I love to perform for kids," he said. "It gives them an opportunity to travel around the world with exotic musical instruments."
In performances, Sichon sings songs about "love, friendship and freedom [in] Ukrainian, Gypsy, Russian and Yiddish." He also plays klezmer, and has taken part in the International Klezmer Festival in Jerusalem for many years. He has played at and collaborated with the Mission folk fest many times and, at this year's festival, he takes part in a Sunday afternoon session, called Global Routes, with Dongyang Gozupa and Robin Layne & the Rhythm Makers.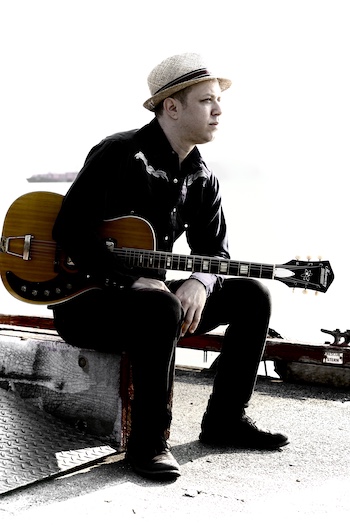 Earlier that Sunday afternoon, Waldman takes to the stage as well. A blues and folk artist, the Independent spoke with him ahead of his participation in the 2019 festival (jewishindependent.ca/blues-klezmer-at-mission). A couple of years ago, he shared more about himself and the importance of family in a piece for the JI about being inspired by his great-grandmother, Adele Waldman, to reimagine the Yiddish song "Papirosen" (jewishindependent.ca/a-great-grandmothers-song).
Making her debut at the Mission Folk Music Festival is Lapell, with a shared session on Saturday (with Alysha Brilla) and on Sunday (with Terra Spencer), as well as being part of the festival closing concert. She said "there's so much great music on the lineup – personally, I'm especially excited for the workshop stages, to have a chance to collaborate with and get inspired by artists from across Canada and beyond."
Based in Toronto, Lapell's latest album, Stolen Time, which came out last year, earned her a 2023 Canadian Folk Music Award for English songwriter of the year. She was similarly recognized in 2020 for her album Getaway and she received a CFMA for contemporary album of the year in 2017 for Hide Nor Hair.
"I'm always trying to challenge myself as a writer and collaborator," she said. "I've had the chance to work with so many great players and personnel on these albums and I think it's really helped me grow from one project to the next."
Lapell has always sung.
"Singing and writing songs is very intuitive to me and definitely a big source of comfort and community," she said. "Ultimately, I think it's such a primal thing, singing and sharing music – for me, it's a way of connecting with myself, with nature and with the world at large."
Her Jewishness finds its way into her work subtly.
"I find my writing is infused with a lot of biblical and natural imagery," she said. "I'm very drawn to stylized, sometimes repetitive language, whether prayerful or playful or both. I was raised in a religious Jewish family, and I think there's a reverent spirit to my music – and sometimes a touch of gentle dissonance or wry humour – that reflects some of the Hebrew and Yiddish traditions I grew up with."
For the Oot n' Oots – 16-year-old Ruthie Cipes (voice, ukulele) with her dad Ezra (voice, guitar, keys) and uncles Ari (voice, guitar, keys), Gabe (voice, bass) and Matthew (voice, drums) – Judaism and Jewish community are important parts of their lives, but don't necessarily influence their music.
"We're grateful for the wisdom of our ancestors and the culture bestowed since Abraham," wrote Ezra and Ari in an email interview with the Independent. "It's a great gift that makes our lives rich and meaningful. We're members of the Okanagan Jewish Community and supporters of Chabad Okanagan."
The family lives in Kelowna.
"Our parents moved us from Westchester County in New York to Kelowna, B.C., in 1987," said the brothers. "They wanted to get off the money-go-round and be farmers living in connection with the earth. They ended up founding Summerhill Estate Winery."
The Oot n' Oots was formed in 2007, when Ruthie was born, "but it really got going in 2015 once Ruth joined the band. We released our first album in 2016, although it was mostly recorded back in 2007. Then we made two more albums after our elder brother Matthew joined the band on drums."
The group is currently recording their fourth album. Their third album, Ponderosa Bunchgrass and the Golden Rule, was nominated for a 2023 CFMA for children's album of the year and it also garnered a 2022 Juno Award nomination – they were named Children's Artist of the Year at the 2022 Western Canadian Music Awards.
"We write songs to make each other laugh and to inspire each other. That's what we've always done and it's what we continue to do," said the brothers. "It's a practice that's ongoing. We want it to continue to be meaningful as we all grow."
While the awards may refer to children's music, the Oot n' Oots describe their music as "all generations together music."
"That's the sweet spot for us – when it's toddlers, teenagers, parents and grandparents all on the dancefloor together," said Ezra and Ari. "We have a couple of other musical projects that we do, but the Oot n' Oots is our focus because it seems to provide the most tangible value, and it feels really good to bring that energy of joy to the world."
In addition to the festival opener, the Oot n' Oots play a few sessions with other musicians over the weekend, which takes place at Fraser River Heritage Park. The festival includes food and artisan market vendors, as well as a licensed bistro, and attendees can choose to camp in the park for an additional fee. For the full lineup and tickets, visit missionfolkmusicfestival.ca.