Mike Kobluk (the Chad Mitchell Trio) is one of the musicians featured in Under the Radar, by David Eisenstadt. (photo from Trail Times)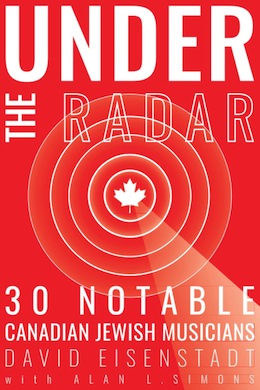 Under the Radar: 30 Notable Canadian Jewish Musicians, which I wrote with Alan L. Simons (editor), takes an historical approach, covering musicians of most genres and genders, some alive and others having passed on, all skilled, but excelling somewhat out of sight. This is the third in a three-part series of excerpts from the book, which was released last November, and is available in paperback and as an ebook from amazon.ca. The excerpts feature performers with B.C. roots: Robert Silverman, Ben Mink and Mike Kobluk.
In 1958, as students attending Gonzaga University in Spokane, Wash., William Chadbourne Mitchell, Mike Kobluk and Mike Pugh formed the Chad Mitchell Trio. Their repertoire criticized the Cold War and the Vietnam War while championing civil rights. Many of John Denver's early songs were part of their songlist.
Kobluk, who is Jewish, was born in Trail, B.C. As a child, he sang for fun, but "singing for a career … never entered [his] mind." He majored in English and math at Gonzaga. He spent 10 years – the longest-serving vocalist with the trio – before leaving in 1969.
But, going back. In the summer of 1959, a friend of Mitchell's "hatched the plan that started us on a professional career" and the trio journeyed to New York to begin that chapter in their lives, according to Kobluk.
By May 1960, they signed with Harry Belafonte's management company and performed with Belafonte, Pat Boone and Arthur Godfrey.
After two albums were pressed – The Chad Mitchell Trio and In Concert – Everybody's Listening – Pugh left the group in the fall of 1960 to return to university. Mitchell and Kobluk auditioned more than 150 vocalists, including Tom Paxton. They chose Joe Frazier and, according to The Virgin Encyclopedia of Popular Music, the group cut nine albums together.
Initially, the trio recorded on the Colpix label. Their sound soared recording for Kapp Records, with tunes like "Lizzie Borden" (about the accused axe murderer), "Mighty Day" (remembering the Galveston, Tex., hurricane of 1900) and the Prohibition-era tune "Rum by Gum." Other songs included "The Ides of Texas" (about financier Billie Sol Estes) and "The John Birch Society." On their live album, they sang "Moscow Nights" in Russian, a controversial decision at the time.
Interviewed by the Trail Times, Kobluk said that, "in the early 1960s, we worked with Belafonte, culminating in a Carnegie Hall concert he hosted featuring Miriam Makeba, Odetta, the Belafonte Singers and us." As part of a U.S. cultural exchange program, the trio also toured South America in 1962.
"Over time," he added, "we'd renew our association with Belafonte and, years later, when the Selma, Ala., march with Dr. Martin Luther King was being organized, our reputation put us on Belafonte's list."
They left Belafonte Enterprises in 1962 for Mercury Records, adding provocative songs like "The Draft Dodger Rag" and "Barry's Boys," the latter of which lampooned Barry Goldwater's Republican 1964 presidential run.
Mitchell quit the band in 1965, replaced by John Denver, then a relatively unknown singer/songwriter. The musicians retained the well-known Mitchell Trio name with Denver, "who stayed for three years, writing many of the group's songs," notes The Virgin Encyclopedia. In 1966, Frazier was replaced by David Boise. In 1969, when Kobluk departed, Michael Johnson joined. Because of contract legalities, the Mitchell name could no longer be used and the group became known as Denver, Boise and Johnson. But it was shortlived – they disbanded in 1969.
Kobluk told the Trail Times, "[We] performed songs of political and social commentary, not exclusively, but such material was an important part of any program. Equal opportunity and voting rights for all were high on our personal and professional priority list and fodder for such commentary."
Kobluk, Frazier and Boise moved to careers outside the music business, Mitchell cut various solo albums and Denver's career as a solo performer soared. Johnson recorded more than 15 solo albums and Frazier became an Episcopal Church priest.
On Nov. 15, 2014, in Bethesda, Md., the trio shared a final stage at a "farewell" concert, with singer/guitarist Ron Greenstein replacing Frazier, who died in March of that year.