Hannah Moscovitch (photo from Hannah Moscovitch)
Not one normally drawn to psychological thrillers, Little One intrigues me, in large part because its playwright, Hannah Moscovitch, has such an impressive track record. She has not only won multiple awards for her writing, but has done so while tackling an almost unbelievable breadth of heady topics, including, but not limited to gender politics, Stalinist Russia, the Holocaust, the Canadian military in Afghanistan, and the nature of time. In Moscovitch's words, Little One "is an exploration of guilt, family, trauma and the limits of love."
The synopsis for the play – which runs in New Westminster at Anvil Centre Theatre from Feb. 4-6 and in Vancouver at Firehall Arts Centre Feb. 9-13 – reads: "When 4-year-old Claire is adopted into the family, 6-year-old Aaron has to learn to 'love' his new monster of a sister. Told through the now-adult voices of its two main characters, Little One weaves stories of childhood horror and teenage humiliation into a twisted, wryly funny, and ultimately haunting narrative. One that asks how far you'd let a psychopath control your life, and what you'd do to regain it."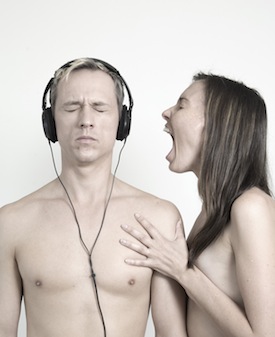 In a 2011 blog, Moscovitch pondered why she wrote Little One. In contemplating humor and darkness, she noted that the humor allows "the audience to relax and go with me into the darkness."
In an email interview earlier this month with the Independent, Moscovitch expanded on this topic. "There is humor in life," she said, "even in the bleakest circumstances (we know, for instance, from diaries written in the Warsaw Ghetto, that starving Jews, imprisoned there, being terrorized by Nazis, told jokes) and so I tend to want to include humor in my work in order to accurately represent life.
"I don't know why I write about dark topics. They attract me. I also tend to write historical plays for some reason. I write a lot of works set in the 20th century. I can't altogether explain my voice and my story instincts as a writer. My guess is, in dark circumstances, human nature is exposed, so I head to dark circumstances (war, disaster) to understand the human psyche."
Now based in Toronto, Moscovitch was raised in Ottawa, which is where Little One is set. Given the complexity and emotional depth of her work, the Independent wondered what the dinner table conversation was like at home when she was growing up.
"My father is an economics and history professor (he teaches in the social work department at Carleton and his specialty is social policy) and my mother was a social worker and a researcher on women in unions and women in the workplace, so conversations growing up were on the serious side," she explained. "Conversations were generally abstract, about ideas. Not much small talk."
She seems very comfortable with having a play that ends with some questions unanswered.
"Clarity opens up one possibility in the minds of the audience. Ambiguity opens up two or more possibilities in the minds of the audience," she explained. "It's a sophisticated form of storytelling. Makes the story more complex."
Moscovitch's own story is relatively complex, and her path to writing a little winding. As high school came to a close, she auditioned for National Theatre School in Montreal, and then spent time in Israel on a kibbutz and in England when she wasn't accepted. When she returned to Canada, she got into NTS, graduating from its acting program in 2001, though also being introduced there to playwriting. One of the plays she wrote as a student was workshopped by the Great Canadian Theatre Company in Ottawa.
Moving to Toronto, it only took her a few years to find her niche as a playwright. Her short play Essay premièred at the 2005 SummerWorks Festival; The Russian Play, in 2006, won the festival's prize for best new production. Her first full-length play, East of Berlin, premièring at Tarragon Theatre in 2007, was nominated for a Governor General's Award. And the rest, as the saying goes, is history. She has won multiple awards for her writing over the years, and her plays have been mounted in several different countries. She also writes for other media, including radio, TV and film.
In a 2014 article on kickasscanadians.ca, she said, "For me, there's a big question about whether I want to be a Canadian playwright or an American TV writer." Her answer so far is that she's "a Canadian TV writer as well as playwright," though she told the Independent, "My husband and I talk about moving to London or New York for a year, to meet new collaborators and immerse ourselves in a different theatre culture."
In her work, she added, "I try to show Canada to Canadians. We see tons of work by Brits and Americans. Canadian audiences like to see themselves represented (is my sense)."
Other aspects that enter her plays derive from her cultural background, which is both Jewish (her father) and Catholic (her mother). She told the Jewish Daily Forward in 2013 that Judaism was the core of her identity and that she "write[s] a hell of a lot less Irish plays." Since then, she told the JI, "I've written a play called What a Young Wife Ought to Know that draws on my Irish heritage! It's set in a working-class Irish immigrant district of Ottawa in the 1920s.
Probably because I was immersed in my Jewish heritage growing up – including Hebrew school, temple, Jewish holidays, bat mitzvah, trips to the concentration camps in Poland and to Israel to work on a kibbutz – my Jewish side has always loomed larger in my imagination."
She most identifies with Judaism's traditions and holidays, "especially Passover and Shabbat. I've named my son Elijah. The oldness of our culture compels me, our 5,000-year history. I spent a lot of time reading about the Holocaust when I was younger and that's influenced me profoundly."
With such a talent in writing, it's hard to believe that Moscovitch initially tried her hand at acting. "When I was younger," she shared, "I wanted to be a lawyer or a librarian or a war journalist. I wrote poems and stories my whole childhood though. My mother tells me she knew I'd be a writer because I was always reading and writing growing up."
As to her current projects, Moscovitch is as busy as ever.
"I have a première in Edmonton at U of A in March (The Kaufman Kabaret) and at the Stratford Festival in August (Bunny), I'm working on an opera with a Philadelphia-based composer named Lembit Beecher. Along with a number of collaborators, I'm co-adapting Fall On Your Knees by Ann-Marie MacDonald for the stage. I'm talking to a Japanese theatre company about writing a play about Hiroshima. I'm writing a project with Maev Beaty, Tova Smith and Ann-Marie Kerr about modern maternity (in development at the Theatre Centre). I'm talking to 2b theatre in Halifax about co-creating a project that would feature the lives of my Romanian great-grandparents, Chaim and Chaya (both of them arrived in Halifax when they immigrated to Canada)."
And dream projects? "There are a number of brilliant artists in Canada I've yet to work with," she said. "I'm a big fan of Vancouver's Electric Company!"
For tickets to Little One at Anvil Centre Theatre ($25/$15), visit ticketsnw.ca. For the Firehall Arts Centre performances ($23-$33), visit firehallartscentre.ca.