For anyone who has thought about publishing their own story, poems, photos, artwork – really, anything they have created – The Gate and Other Poems on a Life's Journey (FriesenPress) should be an inspiration to just do it already.
This book of poetry by Winnipeggers Doug Jordan, with editing and photography by my cousin Sidney Shapira, is a wonderful example of what we are capable of creating when we stop thinking about maybe doing something and act. It also affirms the benefits that can be reaped by working with someone on an endeavour, not only for encouragement but for holding ourselves accountable to whatever vision we may have, and bringing it out of our heads and into being.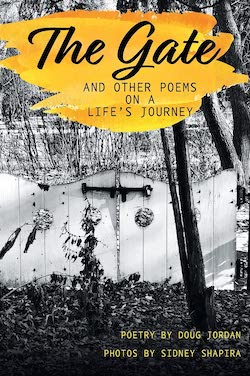 In Shapira's introduction, he acknowledges that Jordan's target audience for this collection is his family, friends – in particular, friends who had also lived on the Shilo army base, near Brandon, Man., as kids – and former students. While this is probably the audience who will most revel in this publication, there are poems that will speak to everyone, about love, work, grief and other universal themes. They date from 1965 through to 2021.
Shapira has thoughtfully chosen photos of his that would complement various poems – all in black-and-white, to match the sombre mood of Jordan's writings. The collection doesn't leave readers in a sombre mood, however, perhaps because of the rhyming, which may not suit everyone's tastes. Jordan explains his choice in a note at the end of the book:
"I enjoy poetry that rhymes and has rhythm," he writes. "It is easier to read. Most poets prefer a form of free verse and their message is completely lost to many of their readers as they try to uncomplicate the poet's words. This is when, as a teacher, we often hear 'I hate poetry.' No wonder. They can't understand it, and don't get me going on Shakespeare and others of that ilk.
"I say, if you are a poet and have a message or a story to tell, try do so in its most understandable terms."
But don't confuse rhythmic with simplistic. As Shapira notes, "Doug's poems never meet his own standards after one draft; for example, 'The Streets of Copenhagen' took 10 years to achieve 'finished' status."
The Gate truly represents a journey – one to which all of us can relate.