Megs Gatus's solo exhibit, Leaves in Space, runs until Sept. 22 at the Zack Gallery. (photo from Megs Gatus)
Megs Gatus – whose solo show, Leaves in Space, opened at the Zack Gallery on Aug. 24 – unexpectedly stumbled onto an artistic path.
"It started for me when I saw a photograph of a butterfly," she said in an interview with the Independent. "It was in 2010. I was fascinated by that picture. I thought maybe I could be a photographer too."
She had never taken photos before that day. She came to Canada in 2002 from the Philippines and worked (and still works) for the City of Vancouver. "But there is a creative gene in my family," she said. "My brother is a contemporary dancer. My sister sings. I decided I wanted to be a photographer."
In 2011, Gatus signed up for a photography workshop at a local community centre. "I bought my first camera from Craigslist," she recalled. "It was only a hundred dollars."
After that, she started taking photos. Portraits, flowers and landscapes were among her favourite subjects.
"I joined an online photography group on meetup.com because I wanted to share my pictures with the others," she said. "I was amazed when the group picked my photos to display on their website. It was so encouraging. Later, a friend told me I had an eye for composition. I was elated. I wanted to learn more about the photographic art, so I enrolled in the Emily Carr certificate program, evening classes."
She kept up her daytime job through it all, even as she graduated from Emily Carr University of Art + Design in 2018.
"I never stopped taking photos," she continued, "but, by that time, I stopped being interested in reality photography. I didn't want my photos to reflect the objects by themselves, the way they are off camera. I wanted people to see my photographs as an art form, different from reality. I wanted my pictures to invite curiosity in viewers."
Gatus began experimenting with her camera settings. She also tried to move the camera while taking the photos, and the results meshed perfectly with her artistic vision. No recognizable objects manifested in her images when she used the technique called intentional camera movement, combining it with multi-exposures.
Each image is a play of colours and patterns, abstract and bright. The lines and the colours dance together in her photographs, which look more like paintings. She seems to invite viewers to use their imagination, while she herself explores every possible hue and shape to convey her ideas. Her camera is her paintbrush. "I do everything inside my camera. No Photoshop," she said.
In 2016, Gatus joined Photoclub Vancouver. Since then, she has participated in many of their group exhibitions, including those the group held annually at the Zack Gallery. She liked the energy of the gallery, so, a few months ago, put forward the idea of a solo show and it was accepted.
"This is my first solo exhibition in a gallery space," she said. "But I had a show recently in the Britannia Art Gallery, together with another photo artist, and I often display my works in several coffee shops."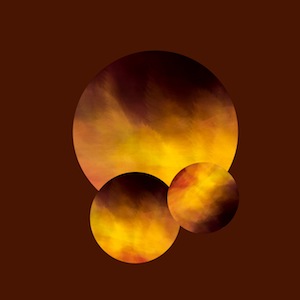 Gatus created all the work displayed in the current show during the pandemic. "We all felt so isolated, but we all occupy the same space. We are all responsible for our environment: plants, leaves, flowers. That's why I used the shape of a circle," she explained. "I took photos of nature: autumn leaves and spring flowers, and the circles enclose them. The circles symbolize all of us. That's what the name of the show means: Leaves in Space."
No image in the show looks like a standard photograph. One doesn't see leaves or trees, but rather abstract compositions throbbing with life and fantasy. They could be science fiction illustrations of distant galaxies, visual representations of a soul or screenshots from a computer game. Or just beauty emerging from the artist's insight.
"I like taking photos of organic matter. Leaves, plants, flowers – they are all alive," she said. "I take photos in parks and gardens around B.C. I only enhance the colours a little inside the camera. Through my technique, the images become abstract, and I try to find ways to present them differently. I want to engage viewers."
Besides the images hanging on the gallery walls, Gatus also offers large silk scarves for sale. All the scarves are imprinted with the photographs she used in the exhibit. The same swirls of colours in a different medium look surprisingly different, almost unrecognizable, but still pretty and vibrant.
"Sales are not my motivation," she said. "I want to show my pictures, to share them with people." That's why she enjoys commissions. "A client of mine liked one of the pictures in this show so much, she asked me to enlarge it and she put it in her spa office."
Gatus has big plans for these works after their run at the Zack Gallery.
"I'd like to exhibit this collection in other B.C. cities: Surrey, Port Moody, Langley. Later on, maybe even in Toronto and Montreal. I'm going to retire soon, and then I will dedicate all my time to my art."
Leaves in Space continues until Sept. 22. The official opening reception will be held at the gallery on Sept. 8, at 7 p.m. To learn more, visit the website megsgatus-abstract.myportfolio.com.
Olga Livshin is a Vancouver freelance writer. She can be reached at [email protected].