Inspired by real people, Jai Chakrabarti and Michaela Carter have written novels that explore the Holocaust and its impacts. Their books also happen to share common themes. Notably, the power of art to change the world, and the power of love to change a person.
Chakrabarti (A Play for the End of the World) joins Gary Barwin (Nothing the Same, Everything Haunted: The Ballad of Motl the Cowboy) on Feb. 6 in a Cherie Smith JCC Jewish Book Festival event, moderated by Helen Pinsky, called Mythical Quests. Carter (Leonora in the Morning Light) and Meg Waite Clayton (The Postmistress of Paris) take part in the event Art and War on Feb. 9, moderated by Hope Forstenzer.
In Chakrabarti's A Play for the End of the World, the quest is that of child survivor Jaryk Smith, who travels from New York to India in 1972 to collect the ashes of his best friend and fellow Holocaust survivor, Misha, who died of a heart attack. Misha had ventured to India to help a village mount a production of Rabindranath Tagore's Dak Ghar (translated as "The Post Office"), which Jaryk and Misha had performed when they were under the care of Janusz Korczak (aka Pan Doktor by the children) in Warsaw in 1942.
While Jaryk, Misha and all the other characters are fictional, Korczak and Dak Ghar were very real. "The play is about a dying child living through his imagination while quarantined," writes Chakrabarti in the author's note. "Pan Doktor chose to stage the play to help his orphans reimagine ghetto life and to prepare them for what was to come."
The Indian villagers are also being prepared for what is to come – they are under threat of expulsion, or worse, from the government; already, protesters have been imprisoned, even killed. The Indian professor promoting the play wants to bring international attention to their plight.
Tangled up in all this is Lucy, who Jaryk loves but abandons in New York when he hears about Misha's death. One of the many choices Jaryk faces is whether he can accept the happiness that Lucy and life in general can offer him.
Happiness is a rare and difficult-to-achieve state in Carter's novel, as well. The Leonora of the book's title is artist Leonora Carrington, who was born in England in 1917 and died in Mexico in 2011. An unofficial part of the Surrealist movement (because women weren't allowed), Carrington was an acclaimed painter and writer. Of her relationships, the most famed would be with fellow Surrealist Max Ernst, who was twice her age at their time of meeting.
"I was drawn to Leonora Carrington before I even knew who she was," writes Carter in the author's note. "Long intrigued by the Surrealist artists, by their playful take on creativity and their celebration of surprise and strangeness, I had set out, in 2013, to write a fictional story placed among them, set between the wars and with a young woman at its centre."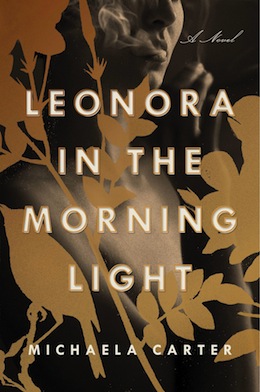 It was only later that Carter, at the Tate Gallery, came across a piece by Carrington, as well as the book Leonora Carrington: Surrealism, Alchemy and Art by Susan L. Aberth. For months, Carter says, she resisted the idea of writing a novel, but "read everything about Leonora I could get my hands on, as well as everything available about Max and Peggy Guggenheim, who was, I realized, an integral part of their story."
Ernst had many lovers, including Guggenheim, who helped him get to the United States, but Carter's novel posits that Carrington was his true soulmate, and that he was Carrington's. Their affair is interrupted by the Second World War, however, and, after we get to meet the couple in 1937, the novel mainly alternates between Carrington's story from that point and Ernst's from 1940, as he is trying to escape from France. While the two met in London, they moved to Paris – Ernst first (Carrington's father apparently had a hand in Ernst's work being declared "the product of an immoral mind," which was an arrestable offence at the time in London), then Carrington.
Leonora in the Morning Light – which is named after a painting Ernst made of Carrington – takes readers to 1943, by which time Ernst is in Arizona and Carrington is in Mexico; both married to other people.
"During her 94 years on this earth, she created thousands of magical, mystical works of art – drawings, paintings, statues, masks, plays, short stories and her masterful novel, The Hearing Trumpet," writes Carter of Carrington. "She was also an eco-feminist who fervently believed in the innate rights of all individuals – of humans, animals, plants and the earth itself."
Visit jccgv.com/jewish-book-festival for the full festival lineup and tickets.