Many Jews retain the custom of honoring Judith by eating cheese for Chanukah, and the custom of eating dishes like cheesecake and blintzes emerged from the story of Judith. Many Jews retain the custom of honoring Judith by eating cheese for Chanukah, and the custom of eating dishes like cheesecake and blintzes emerged from the story of Judith. (photo by Andrevan via commons.wikimedia.org)
Mention symbolic foods for Chanukah and everyone immediately responds – latkes and sufganiyot. But someone may say cheese pancakes. Cheese? Why?
The Shulchan Aruch (Code of Jewish Law), written in the 1500s by Rabbi Joseph Ben Ephraim Caro, a Jew from the Iberian Peninsula, is a digested version of commentaries on laws in the Talmud (commentaries on the first five books of the Bible). The Shulchan Aruch is meant to be an authoritative volume on commandments and, in this volume, there is a legend that dairy dishes and cheese pancakes were to be eaten for Chanukah to commemorate the bravery of Judith, who was a Hasmonean, the same clan as the Maccabee family. As well, Rabbi Moshe Isserles, the 16th-century Polish scholar (1525-1572), wrote, in Orach Chaim, that eating cheese commemorates Judith feeding milk to the enemy.
So, who is Judith and why do some Jews honor her at Chanukah? The Book of Judith is part of the Apocrypha – books not included in the Bible as read by Jews and Protestants. Originally written in Hebrew, the 16 chapters of the standard version of the Book of Judith are in Greek. It is surmised that the author of this book was a Jew who lived and wrote in Palestine and probably lived near Shechem.
In the Book of Judith, interestingly enough, Judith is not mentioned in the first half of the story. In the second half, first her lineage is described then we are told that this young woman was a widow for three years and four months. She was the widow of Manasseh, who belonged to her tribe and who suffered some kind of heat stroke while overseeing the barley harvest and subsequently died in the town of Bethulia in northern Samaria where they lived. Bethulia is near where Joseph was sold into slavery by his brothers. It was also a city in the hill country of Samaria that occupied a narrow, important pass at the entrance of Judea, from Jerusalem to Jezreel.
We read: "She was beautiful in appearance and was very lovely to behold." Judith was also wealthy, having been left gold and silver and menservants and maidservants and cattle and lands.
In the story, it is related that Bethulia was under siege by the army of Holofernes, commander-in-chief of the sixth-century BCE Assyrian king Nebuchadnezzar. Holofernes was a soldier sent to destroy any people who did not support his king. In the story, he cut off the water supply of Bethulia. After 34 days, when the town leaders were ready to surrender to Holofernes, the town magistrate, Uzziah, suggested five more days as a compromise to see if G-d would intervene.
Judith was upset that her countrymen had no trust in G-d and did not approve of the five-day compromise, so she sent her maid to summon the town magistrates. She chastised them for putting G-d to a test, and she urged them to call upon G-d. "Therefore, while we wait for His deliverance, let us call upon Him to help us, and He will hear our voice, if it pleases Him."
Of course, the people were thirsty, and Uzziah told Judith to pray for rain. She was not happy with that suggestion, so she convinced the magistrates to let her try to do something independently – "Stand at the town gate tonight so that I may go out with my maid…. Only, do not try to find out what I am doing; for I will not tell you until I have finished what I am about to do."
First, she put ashes on her head and uncovered the sackcloth, then she prayed to G-d to hear her, and she prayed for strength to G-d to strike down the enemy. "Give to me, a widow, the strong hand to do what I plan."
She then went to her house with her maid, removed her widow's clothes, which she had worn for the past three years, washed her body, anointed herself, braided her hair and dressed as beautifully as when she was married. She adorned herself with bracelets and chains and rings and earrings and ornaments "to entice the eyes of all the men who might see her."
She and her maid then went outside the city gates with wine and oil, roasted grain, fig cakes and bread, and dishes on which to eat. Together, they went down to the gate of Bethulia where Uzziah and the elders stood. They opened the gate and she and her maid walked down the mountain, past the valley until they were out of sight.
Judith was greeted by the Assyrian soldiers, who took her into custody. They inquired who she was and where was she going. She told them she was a woman of the Hebrews, fleeing from them. She told the soldiers she had information on the Israelites for Holofernes and she would show him how to capture the hill country. The soldiers then chose 100 men to take her to his tent.
The men who were with Holofernes left his tent, and Judith went inside, where Holofernes was laying on a bed under a canopy woven with purple and gold and emeralds and precious stones. She bowed before him, and his servants helped her up. He told her not to be afraid; he had never hurt anyone willing to serve Nebuchadnezzar. They talked, and she told him she would give him information so he could attack Bethulia. Holofernes and his servants were impressed.
Judith told him her people had exhausted their food supply and would kill their livestock. She devised a plan for Holofernes to go against them with his army and she would lead him to Jerusalem. Holofernes was delighted with her beauty and her wisdom.
Holofernes offered Judith food and drink, but she refused. She then left and went to sleep in her tent. She remained in his camp for three days and, each night, she bathed in a nearby spring and then returned to her tent. On the fourth day, Holofernes asked his eunuch to persuade Judith to come to a banquet in his tent. It appeared she had gained his trust. This time, she accepted. She adorned herself, and her maid entered his tent and placed skins on the ground near where Holofernes was sitting.
When Judith entered, we read: "Holofernes' heart was ravished with her and his passion was aroused, for he had been waiting for an opportunity to seduce her from the day he first saw her."
Judith drank and ate what her maid prepared. "Holofernes was greatly pleased with her, and drank a great quantity of wine, much more than he had ever drunk in any one day since he was born."
His servants left them alone, and he fell asleep dead drunk. Only Judith and Holofernes were in his tent. Her maid was outside. Judith prayed for help from G-d. "Now, indeed, is the time to help your heritage and to carry out my design to destroy the enemies who have risen up against us."
She then took Holofernes' sword, took hold of his hair and struck his neck twice to cut off his head. She pulled his body off the bed and covered it with the canopy. She gave the head to her maid to put in their food bag. They left the camp and returned to Bethulia.
When the men of the city heard her voice, they called the elders to gather at the city gate and open it for her. Judith took the head of Holofernes out of the bag and showed it to them. They were astonished, and they thanked G-d. She told them to hang the head on the wall. At daybreak, she said, they should take up their weapons and look as if they were going to attack the Assyrian outpost. Holofernes' men will run to Holofernes, she said, they will panic and flee, and the men of Bethulia will pursue them and cut them down.
At dawn, the men of Bethulia hung the head of Holofernes on the highest part of the wall and waited at the mountain passes with their weapons. The Assyrian soldiers could not believe their eyes, so they went to Holofernes' tent and found his body on the floor. The eunuch ranted and raved about what this woman had done.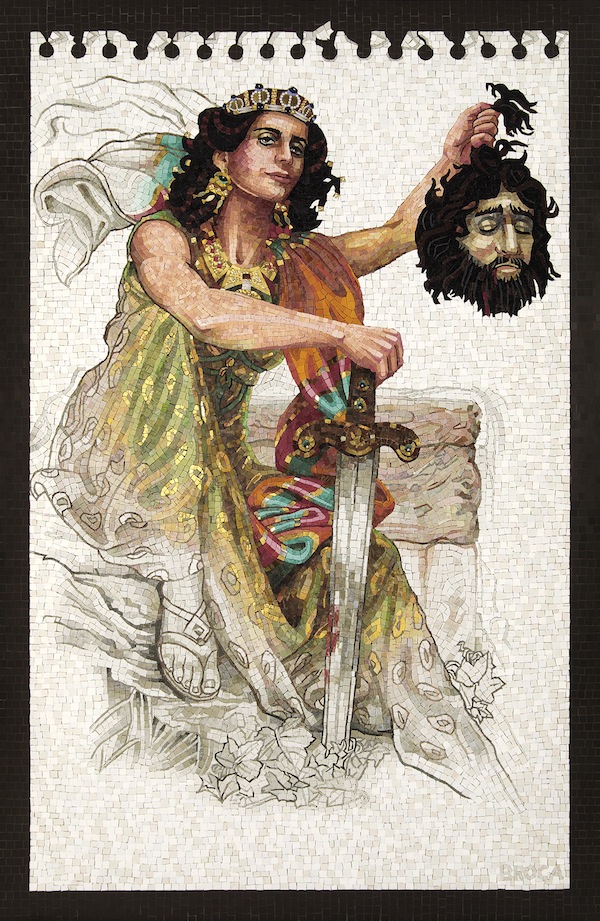 When the army heard the eunuch, "overcome with fear and trembling," they rushed out and fled through the hill country. The Israelite soldiers chased after these enemies and slaughtered them and took their possessions.
The high priest came from Jerusalem to salute Judith and bless her. The people plundered the camp for 30 days. He gave the tent of Holofernes and the general's possessions to Judith. Then, all of the women of Israel ran together to see Judith and they blessed her and performed a dance in her honor. They adorned her with olive branches, and she went before all the people in the dance, leading all the women, and the men followed the women.
The procession continued to Jerusalem, where Judith took the possessions of Holofernes and offered them as a gift to G-d. The celebrations in Jerusalem lasted three months, after which Judith and the townspeople returned to Bethulia. Judith continued to live there and rejected all the proposals from men who wanted to marry her. At the age of 105, she freed her maid and distributed her property since she had no children. She died and was buried in a cave in Bethulia with her husband.
"No one ever again spread terror among the Israelites during the lifetime of Judith, or for a long time after her death."
Some scholars have come up with another reason that Judith is a heroine. Both 11th-century French talmudic scholar Rashi and 14th-century Spanish scholar Rabbi
Nissim ben Reuven Gerondi maintained that the Greeks had decreed that all virgins about to marry had to submit themselves to a prince prior to marriage. Because Judith, the daughter of Yohanan the high priest, fed the governor cheese that made him sleepy, and she seized the opportunity to chop off his head, she thus saved the virtue of all future brides from sexual exploitation (Mishnah Berura).
This story in the Mishnah says Judith fed Holofernes cheese to make him thirsty. Since Judith lived about the same time as the clan from which the Maccabee brothers came, and they are the heroes of Chanukah, around the 14th century, some Jews instituted on the eating of cheese pancakes and cheese blintzes at Chanukah in honor of her heroism.
According to an article in Schechter on Judaism (Vol. 4, issue 4, December 2003), entitled "Insight Israel," Rabbi David Golinkin, president of the Schechter Institute of Jewish Studies in Jerusalem, confirms the original story that, in Orach Chaim, section 670:2 of the Shulchan Aruch, Rabbi Isserles relates: "It is customary to recite songs and praises [to God] at the festive meals which are common [on Chanukah] and then the meal becomes a mitzvah meal. Some say that one should eat cheese on Chanukah because the miracle occurred through milk which Judith fed the enemy (Kol Bo and RaN)."
Golinkin writes: "Indeed, that is what the Kol Bo and Rabbi Nissim of Gerona (RaN) wrote. In his commentary to Rabbi Yitzhak Alfassi (the Rif) on Shabbat 23a … he says that, 'it says in a midrash that the daughter of Yohanan [the high priest] fed the enemy leader cheese to get him drunk and cut off his head and they all fled, and, therefore, it is customary to eat cheese on Chanukah.'
"The Kol Bo, which is an anonymous halachic work written in Provence in the early 14th century, has a slightly different version of the story. It says that the daughter of Yohanan the high priest fed the Greek king 'a cheese dish in order that he become thirsty and drink a lot and get drunk and lie down and fall asleep.' That is what transpired; she then cut off his head and brought it to Jerusalem and, when his army saw that their hero had died, they fled, and that is why it is the custom to cook a cheese dish on Chanukah."
The question, of course, is where did RaN and Kol Bo find this story? It sounds a lot like the story of Judith and Holofernes, as found in the apocryphal Book of Judith. Indeed, cheese is mentioned in some ancient versions of Judith 10:5, which lists the foods that Judith took with her when she left the besieged city to visit Holofernes. Nevertheless, Judith 12:17-20 describes the way in which Judith got Holofernes to go to sleep; it says explicitly that Judith gave him wine to drink and not a cheese dish. Medieval Jews knew the story of Judith from medieval Hebrew sagas called "The Story of Judith" and the like. Some 18 versions of the story have been published. Most of those versions, including the Book of Judith itself, say that Judith gave Holofernes wine to drink, but a couple of the versions do indeed mention milk or cheese.
"Ma'aseh Yehudit," which was first published in Sefer Hemdat Yamim (Livorno, 1763), says that Judith "opened the milk flask and drank, and also gave the king to drink, and he rejoiced with her greatly and he drank very much wine, more than he had drunk in his entire life." In other words, according to this version of the story, Judith gave Holofernes both milk and wine. It is clear that the author was influenced by the story of Yael and Sisera in the Book of Judges, because the phrasing was borrowed from Judges 4:19.
"Megillat Yehudit" relates that Judith, after fasting, asked her maidservant to make her two levivot (pancakes or fried cakes). The servant made the levivot very salty and added slices of cheese. Judith fed Holofernes the levivot and the slices of cheese "and he drank [wine] and his heart became very merry and he got drunk and he uncovered himself within his tent and he lay down and fell asleep."
Finally, the milk and cheese version of the Judith story is mentioned in a Hebrew poem for Chanukah published by R. Naftali Hacohen in 1757: "… It is mitzvah to eat and rejoice / eating cheese – one cannot force. / It is customary to remember, not to forget / the story of Judith who did it on purpose / to feed him milk to make him sleep."
American Jewish writer Rahel Musleah discovered that Jews of Tunisia celebrate Rosh Chodesh Tevet, which falls at the end of Chanukah, with chag habanot, festival of the daughters. Mothers give honey cakes and gifts to their daughters, men give gifts to their fiancées and they eat a festive meal to honor Judith.
Scholars have tried their hands at coming up with other reasons why one eats cheese dishes for Chanukah with a little gematria. The Assyrian oppressors forbade the celebration of Rosh Chodesh, Shabbat and brit milah. If one takes the first letter of the Hebrew word for month, chet from chodesh; the second letter of the Hebrew word for Sabbath, the bet of Shabbat; and the third letter of the Hebrew word for circumcision, the lamed of milah, you get the Hebrew word chalav, which is milk.
Matthew Goodman, the Food Maven of the Forward newspaper maintains that the first latkes were probably made from curd cheese and fried in butter or olive oil. By the Middle Ages, as Jews migrated into Eastern Europe, butter and oil were expensive and poultry fat became a frying agent, thus cheese would not be used. By the 16th century, pot cheese was either unavailable or expensive, so first buckwheat flour and then potatoes were substituted and, ultimately, potato pancakes became common fare for Chanukah.
Meanwhile, many Jews retain the custom of honoring Judith by eating cheese for Chanukah, and the custom of eating dishes like cheesecake and blintzes emerged from the story of Judith. Some believe the salty cheese that Judith served Holofernes may have been in the form of fried cakes. Recipes for ricotta pancakes in Italy and feta cheese pancakes in Greece may be modern versions of these ancient fried cakes.
It is a custom that women do no work on Chanukah as long as the lights are burning, and they should not be lenient in this matter. Among some Sephardi communities, women refrain from work all day during Chanukah. In other communities, this custom is followed only on the first and last days. On the seventh night, women sing, dance, drink wine and eat foods made from cheese.
The reason for particular emphasis of Chanukah observance on the part of women goes back to the harsh decree issued by the Greeks against the daughters of Israel – that every girl who was to be married was to be brought first to the Greek ruler. Additionally, the miracle itself came about through the heroism of a woman.
Among Ashkenazim, many serve latkes with sour cream, and will partake in blintzes. But, for the most part, serving cheese dishes at Chanukah is more popular in the Sephardi tradition. Sephardim typically prepare various rudimentary doughnuts (bunuelos and loukoumades) and fried pastries, such as shamlias (fried dough strips) and zalabiya (batter poured into hot oil in a thin spiral, similar to Amish funnel cakes, and coated with syrup or honey). North African Jews enjoy debla, dough rolled to resemble a rose, deep-fried and dipped in sugar or honey. Italians honey-dip deep-fried diamond-shaped pieces of yeast dough called frittelle. The Bene Israel in India prepare milk-based fried pastry called gulab jamun.
Whichever traditions you follow, you might want to add a new one to honor Judith.
Sybil Kaplan is a journalist, foreign correspondent, lecturer, food writer and book reviewer who lives in Jerusalem. She also does the restaurant features for janglo.net and leads weekly walks in English in Jerusalem's market.