Left to right: Josh Cooper, Frank Sirlin, John Baird, Avi Dickstein and Ilan Pilo. (photo from Jewish National Fund, Pacific Region)
On June 7, the Jewish National Fund, Pacific Region, hosted the 2015 Negev Dinner at the Four Seasons Hotel in honor of Canada's former minister of foreign affairs, John Baird.
In his speech, Baird summed up Israel and Canada's friendship, saying, "Canada doesn't stand behind Israel, but rather, walks shoulder to shoulder with Israel."
Ilan Pilo, JNF Jerusalem emissary and executive director of JNF-PR, said, "Mr. Baird is a man of integrity and a true friend to Israel. JNF was grateful to honor him for his leadership on the world stage, for years of devoted service to the citizens of Canada, his dedication to the Jews of Canada and to the state of Israel. Thanks to John Baird's outstanding leadership, Canada has become Israel's most unwavering ally."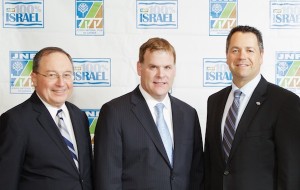 Among the 350 guests at the dinner were Minister of Justice Suzanne Anton, representing the province, representatives of major Jewish institutions, as well as many community rabbis. Also in attendance were Rafael Barak, Israel's ambassador to Canada; Josh Cooper, chief executive officer of JNF of Canada; and Avi Dickstein, executive director of the research and development division of KKL-JNF. All three dignitaries spoke of the uniquely warm relationship between Canada and Israel.
Proceeds from the dinner will support the creation of the Sderot Memorial Park in Israel, which will be named after Baird. This multi-functional urban park will host sports, leisure and recreation activities, as well as community events, and will provide children and their families with playground and fitness facilities. The new park will lift the morale of the residents of the city, which has been the ongoing target of rocket attacks from the Gaza Strip since 2001, as well as provide a venue for community activities and contribute to improving the quality of life for residents.