Jeanne Beker reads from her parents' (Bronia and Joseph Beker) Holocaust memoir on Feb. 19. (photo from Jeanne Beker via vhec.org)
Some survivors of the Holocaust choose never to speak of the horrors they endured. My parents talked. They were adamant about telling us every detail of their war experience, time and time again. I remember hiding under the bed as a small child – I didn't want to hear any more of their "war stories." Now, I realize it was precisely their storytelling that made me who I am, coloring my personal philosophies, imparting a sense of resiliency and instilling in me a precious instinct for survival.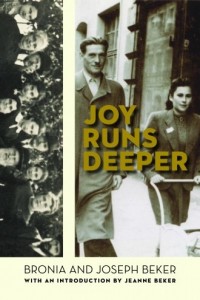 What they endured and all they have given me [was] on my mind a great deal over Toronto's Holocaust Education Week [Nov. 2-9, 2014], with the recent publication of their memoirs, Joy Runs Deeper. With the last generation of eyewitnesses to the Holocaust slowly slipping away, my parents' stories have taken on more value and urgency. As a child of survivors, I'm keenly aware that I have been left with a legacy that's as powerfully daunting as it is inspiring.
My parents, Bronia and Joseph Beker, both grew up in Kozowa – a small town in eastern Poland that is now part of Ukraine. They paint a colorful prewar picture of life in their idyllic shtetl, where they met and fell in love. But when Germany invaded Poland in 1939, their lives became a living hell. By 1941, all the Kozowa Jews were confined to a ghetto.
Nazis would regularly come into town and randomly shoot any Jew in sight.
After these horrific shootings, the Germans would command the Jews to make their ghetto even smaller. Many people lived in one room, and with little food, people grew weak and prone to disease. My grandmother and mother both came down with typhus, and it killed my grandmother. In the meantime, my grandfather built a bunker in the basement of the family home where they would hide whenever the Nazis came to town.
In April 1943, my mother and nine members of her family went down to their bunker. After about six hours, they could hear digging: the Nazis were looking for them.
"We held our breath and didn't move for about half an hour," writes my mother. "They left without finding our bunker, but the pipes through which we got air must have been covered during their digging. We couldn't breathe," she recalls.
"I remember seeing my father, sitting on the floor in his prayer shawl, praying, and my brother with a hammer in his hand, trying to open the entrance to the bunker. Then I fell down and everything went black."
My mom's entire family perished that day: all of them suffocated, except, miraculously, for her. Like a knight in shining armor, my dad came to her rescue, scooped her up and, for many months until their liberation, my parents were on the run, hiding in barns and bunkers, depending on the kindness of strangers for their very existence.
It was these stories of survival that were relentlessly recounted to my sister and me throughout our childhood. "Don't be afraid and never give up" was my father's famous saying, the mindset that saw him through the war, and the sage edict he raised us on.
My mother's modus operandi, which tended to chip away any potential optimism, was even more pragmatic: "Expect the worst and you won't be disappointed." It certainly wasn't an upbeat way of viewing the world, but it was her motherly attempt at protecting us and sparing us pain.
While my mother's influence certainly affects me even to this day, it was my father's motto that I especially took to heart – an order that still carries me through all my trials.
Ultimately, both my parents taught me the meaning of fearlessness and tenacity, courage and dignity.
As my mother always says, "If you live long enough, you'll live to see everything." And her words rang true as I sat by her side at her book launch, watching in wonder as she proudly signed countless books bearing her name. On the verge of turning 94, suffering the ravages of Parkinson's, but as radiant and stylish as ever, my mom was realizing one of her greatest dreams: she could now share her personal story with the world.
Her memoir, which she'd written more than 30 years ago, along with my father's memoir, which he'd written, longhand, in Yiddish, just before he died in 1988, has been published by the Azrieli Foundation's Holocaust Survivor Memoirs Program.
Established in 1989 by the late Montreal philanthropist David J. Azrieli, himself a Holocaust survivor, this Canadian organization collects, archives and publishes inspirational accounts of courage and strength in the light of horrifying adversity, and distributes them free of charge to libraries and educational institutions across the country. (The books are also available at bookstores, with all revenues going back into this extraordinary memoirs program.)
My mother and so many others had their youth nipped in the bud, endured unspeakable pain and suffered profound loss. Yet still, they managed to soldier on, pick up the broken pieces and stoically rebuild their shattered lives.
Their tales of toughness and tenacity light our paths, and teach us the kind of fearlessness it takes to survive. These lessons learned from survivors, like my parents, inspire and challenge us to shoot for the moon, work hard, be successful and live out not just our dreams, but their unrealized ones as well.
Their heroism drives me relentlessly.
Jeanne Beker is a Canadian television personality, fashion designer, author and newspaper columnist. This article was originally published in the Globe and Mail and is reprinted here from Zachor, the magazine of the Vancouver Holocaust Education Centre, with permission.
 ***
Jeanne Beker reads from her parents' (Bronia and Joseph Beker) Holocaust memoir Joy Runs Deeper (Azrieli Series of Holocaust Survivor Memoirs) on Feb. 19, 7 p.m., at the Museum of Vancouver, 1100 Chestnut St., to open the Vancouver Holocaust Education Centre's Shafran Teachers' Conference. Those in attendance receive a complimentary copy of the memoir, and a reception follows. The event is open to the public and is free of charge but space is limited. RSVP to 604-264-0499 or [email protected].