Last year, Yad b'Yad, Hillel BC and others joined the Pride parade. This year, they will host a booth at Sunset Beach, which will allow them to engage more in discussion with festival-goers. (photo from Hillel BC)
The Jewish contingent in this year's Vancouver Pride celebration is inviting everyone to participate. Yad b'Yad, the Jewish LGBTQ organization, will have a booth at the festival site on Sunset Beach, from 9 a.m. until 5 p.m. on Sunday, Aug. 2.
The parade runs from noon until 3 p.m., culminating at the Sunset Beach site. Jonathan Lerner, who is coordinating Yad b'Yad's participation, said the decision was made to participate as a booth rather than to march in the parade, as the community has done beginning in 2010.
"We have messaging we want to get out," said Lerner. "While it's great to march in the parade, you only get to pass people by for a few quick seconds and maybe, if you're lucky, you get to hand them something. For us, we wanted to be able to have conversations with people, meet people, introduce ourselves, tell them where they could come find us, have discussions with members of the queer community and the Jewish community. So, we felt like a booth would better serve that purpose."
Yad b'Yad will be giving away items, offering face painting, a spinning wheel with prizes and an educational component, he said.
The presence of the group on Pride day has a dual purpose, he added.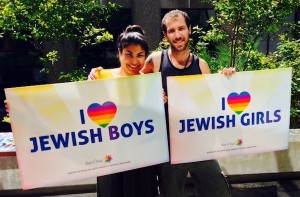 "It's incredibly important for LGBTQ Jews to see us there and know that resources do exist for them," Lerner said. "It's also important to show that the Jewish community supports the queer community. There are a lot of other ethnic and religious groups that participate. It's important for us to have a presence there and show that we stand in solidarity with other minority communities and support them when they need it."
Yad b'Yad is Hebrew for hand in hand, which is meant to symbolize the two communities working together and the two identities that many people have, Lerner said. Yad b'Yad is just about a year old and represents a solidification of the community's approach to LGBTQ issues, which until now was more ad hoc.
The community's first participation in the Pride parade, in 2010, was spearheaded by Hillel BC, with support from the Jewish Federation of Greater Vancouver and other community groups, including synagogues. Lerner, who is director of operations, administration and finance for Hillel BC, explained Yad b'Yad's mandate.
"We started out to provide resources to queer members of the Jewish community and to advocate for the Jewish community within the LGBTQ community, because we still see a lot of antisemitism within that community," he said. "Once we established the group, Yad b'Yad, it was a decision among the organizations that had been involved before – including Federation, CIJA [Centre for Israel and Jewish Affairs], Hillel – that Yad b'Yad as a group should sort of lead the charge" in organizing Pride day events.
"We encourage all the agencies to come out to the booth, be part of the celebration," Lerner added. "If an organization wants to come and be part of the booth, maybe bring with them a couple of pamphlets about their organization, they are absolutely welcome to do so."
Potential volunteers, or anyone seeking additional information, can email [email protected].