Beet salad from Gluten-Free Goes Gourmet. (photo by Ruchy Schon)
At least three times a year – Rosh Hashanah, Chanukah and Passover – I liven up my dinner menus by trying out some new recipes from recently published cookbooks. I don't keep a kosher kitchen, I'm not gluten or dairy intolerant, nor am I diabetic or allergic to corn, yet I ventured this spring to try Vicky Pearl's Gluten-Free Goes Gourmet (Moznaim Publishing Co.), which actually came out last September. While many of the recipes may be appropriate for Pesach meals, many are not chametz-free, particularly in the dessert section – but they'll make for delicious treats after the holiday.
There are more than 100 recipes in Gluten-Free Goes Gourmet; most are easy-to-follow and quick to make (even without a mixer), but others require a few hours (preparation plus cooking time), so make sure to plan ahead and carefully read through the recipes before setting about to make them. Everything I tried in Gluten-Free Goes Gourmet turned out just like the photos (which are lovely) and, with the exception of the kugel – which, for some reason, I couldn't get to the quite the right consistency and which had too much salt for my liking – everything tasted great. There was one typo in the book that I came across: the oatmeal chocolate chip cookie recipe makes almost four-dozen cookies, not 18, as indicated.
Gluten-Free Goes Gourmet contains useful information on many of the ingredients used in the recipes, including their nutritional benefits. It has numerous sections: dips and drinks, salads, soups, meat and poultry, fish, mock dairy, side dishes, breads, desserts, and cakes and cookies. It would have been nice to experiment with these last chapters more, as the cookies I made were so delicious – and all indications are that the other gluten-free desserts and breads will be just as tasty.
The following recipes will give readers an idea of how good "free" eating can be. Enjoy!
BEET SALAD
Try to buy beets that are uniform in size, since they'll cook more evenly. As an added bonus, smaller beets are sweeter.
10 beets, peeled
1 red onion
Dressing:
1/2 cup liquid from cooked beets or water
1/3 cup vinegar or freshly squeezed lemon juice
1/4 cup agave, xylitol or granulated sugar
1/4 cup oil
2 tsp kosher salt
1/2 tsp freshly ground pepper
Place beets in an eight-to-10-quart pot (depending on size of beets); cover with water. Bring to a rolling boil over high heat. Cook for one or two hours, maintaining a rolling boil, or until beets are tender enough that the tines of a fork meet with little resistance. Reserving 1/2 cup of cooking water, remove beets from water. Cool slightly. Slice beets according to your preference.
Place beets in a serving bowl; add onions. In a separate small bowl, mix together dressing ingredients. Pour dressing over vegetables, tossing gently until well coated. For best results, cover with plastic wrap and refrigerate overnight. Bring to room temperature before serving.
Yields eight to 10 servings.
CREAM OF ZUCCHINI SOUP
5 large zucchinis, scrubbed clean, washed and cut into thirds
3 large potatoes, peeled and cut into quarters
1 large onion, halved
1/4 tsp freshly ground black pepper
1-2 tbsp (heaping) kosher salt
Place all ingredients into an eight-quart pot. Fill three-quarters full with water and bring to a boil over high heat.
Reduce heat to medium; cook, with lid slightly ajar, for half an hour.
Place immersion blender in pot; blend until smooth.
Makes eight to 10 servings. Freezes very well for up to six months: chill before freezing and thaw in refrigerator.
ALMOND CRACKERS
2 large eggs
2 1/2 tbsp oil
3/4 cup sesame seeds
2 tsp kosher salt
3 cups almond flour
2 tbsp potato starch
1 tbsp minced onion
1 tbsp minced garlic
Preheat oven to 350°F. In the bowl of an electric mixer, cream together eggs and oil. Change paddle attachment to a dough hook.
Add sesame seeds, salt, flour, potato starch, onion and garlic to bowl; mix well.
Divide dough in half. Working with one piece at a time, roll out between layers of parchment paper to 1/16th of an inch thickness.
Remove the top parchment paper; transfer the dough with the parchment paper still under it to a cookie sheet. Cut into one-by-three-inch rectangles. Repeat with the remaining dough.
Bake in preheated oven 14 to 16 minutes or until golden.
Allow crackers to cook on parchment paper on rack.
Yields 60 crackers and the crackers freeze well for up to two months. They will store well in an airtight container at room temperature for up to two weeks.
SHOULDER STEAK
1/4 cup oil
3 cloves garlic, minced
3 large onions, sliced thinly
1 lb shoulder steak or pepper steak, or 4 pieces minute steak
1 cup semi-dry red wine
1 bay leaf
1 tsp kosher salt
1/2 tsp dried minced garlic
1/4 tsp dried rosemary leaves (optional)
1/8 tsp freshly ground pepper
Heat oil in a large skillet set over medium heat. Add garlic; brown for about one minute. Add onions; sauté until translucent, three to five minutes.
Add steak, wine, bay leaf and spices. Increase heat to high; bring to a boil. Add five cups water; return to a boil. Reduce heat to medium; cook, covered, for two to two-and-a-half hours or until meat is tender. Remove bay leaf before serving.
Makes four servings. Freezes very well for up to six months.
POTATO KUGEL
5 large eggs
1 cup oil
2 tbsp (heaping) kosher salt
10 large Idaho/russett potatoes (about 5 lbs), peeled and cut in half lengthwise
1 large onion, peeled and cut in half
Preheat oven to 450°F. In a large bowl, whisk together eggs until lightly beaten. Whisk in oil and salt.
In a food processor fitted with the blade with tiny holes and working in batches, process potatoes and onion until almost smooth. Transfer potato mixture to bowl, blending well with egg mixture.
Pour mixture into a parchment-paper-lined nine-by-13-inch baking pan.
Bake in centre of preheated oven for one hour or until top is browned. Reduce heat to 350°F. Bake for two hours.
Yields 12 generous servings.
OATMEAL CHOCOLATE CHIP COOKIES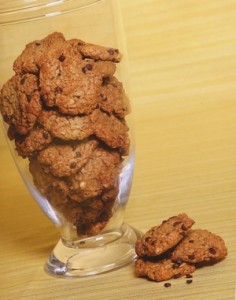 1 cup peanut butter
1/4 trans-fat-free margarine, room temperature (1/2 stick)
3/4 cup agave
1/2 cup xylitol or granulated sugar
2 large eggs
1 1/4 tsp baking soda
3 cups old-fashioned rolled oats
2/3 cup chocolate chips (sugar-free, if you prefer)
Preheat oven to 350°F. Line two baking sheets with parchment paper. Set aside.
In an electric mixer, cream together peanut butter, margarine, agave and xylitol (or sugar). Add eggs and baking soda. Mix well.
Stir in oats and chocolate chips until well combined.
Use a tablespoon to drop spoonfuls of dough onto prepared baking sheets. Bake in centre of preheated oven for 11 minutes or until golden yet soft. Do not overbake. Remove to rack to cool completely.
Makes about 48 cookies.