Honey Island Swamp tours take passengers through a landscape untouched by time. (photo from louisiananorthshore.com)
Our Jeep is stationary and I'm marveling at the scenery when I feel someone nuzzling my back very gently. Turning slowly, I find myself eye to eye with an adult zebra whose broad smile displays a set of large, yellow teeth. His message is clear: "Corn, please, ma'am!"
This being the Global Wildlife Centre in Folsom, La., the zebra isn't overstepping his boundaries in the slightest. He knows only too well that private Jeep tours like ours are well stocked with one of his favorite treats – dried corn. I fill my plastic cup and pour corn directly into his gaping mouth, watching as my new friend guzzles the food in seconds.
The largest free-roaming wildlife park in the country, the Global Wildlife Centre's 900 acres are filled with 30 species of very tame herbivores and omnivores from all over the world. There are Somali giraffe, Chinese Father David deer, South American rhea birds, African eland and zebra, Australian kangaroos, Indian black buck and at least 1,000 fallow deer. It's the latter that all the other animals are eyeing wearily the day of our Jeep tour. "It's rutting season," explains our guide, Paul. "This is a time when the fallow deer are mean to each other and to all the other animals, too!"
The animals scamper toward the Jeeps and wagon tours, conditioned to understand that visitor-filled vehicles mean free food handouts. Their proximity allows close encounters, with some animals feeding directly out of our hands and others opening their mouths gratefully as my daughter Sarah and I pour food inside. Trust me, nothing gets a kid off their iPod faster than the extended tongue of an African watusi cow with impressive horns and imploring eyes, or the sweet, kissing sensation of a 16-foot reticulated giraffe willingly scooping food from the palm of your hand. Sarah, 11, turns to me with shining eyes and a huge smile. "This is so cool," she declares.
We'd crossed the 24-mile causeway from New Orleans to St. Tammany Parish a few days earlier, intent on exploring Louisiana's North Shore. With Lake Pontchartrain behind us, we quickly learned that the nine communities that comprise the parish offer the warm friendliness of the south coupled with a great selection of outdoor, family friendly attractions – from giraffes to swamp monsters and beady-eyed alligators.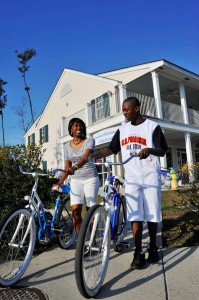 We started out on the still waters of Cane Bayou in Lacombe, paddling past trees heavy with Spanish moss and turtles sunning lazily on upturned logs. Within minutes, the traffic was far behind us and birdsong filled the air. With Fontainebleu State Park on one side of the bayou and a national wildlife refuge on the other, this is a landscape untouched by time, one as perfect today as it was 150 years ago. I had bare feet drifting overboard the kayak when our guide, Shannon Villemarette, owner of Bayou Adventure, pointed out a statuesque 10-foot alligator a few yards away. "Best to put your feet back in the boat," she said, reeling in the shrimp bait that was dangling from a fishing line off the end of the kayak. I followed her advice, thinking there seemed little point attracting reptilian attention in a place this remote.
Later that day, though, Captain John was determined to do just that. Our guide on the Honey Island Swamp had attached a white marshmallow to the end of a stick and was dangling it off the end of our boat. Within seconds, we were in the company of an alligator – a small one, but a reptile whose larger relatives surely weren't far away. "They think these are turtle eggs," explained the captain of the Pearl River Eco-Tour excursion, who was leading our group of 20. The brochure had tempted us with potential sightings of panther, wild boar, alligators, and perhaps even the elusive swamp monster.
In no time at all, the feral hogs showed up on the embankment, pushing each other out the way to get as close to the boat as they could. It turned out they were avid marshmallow fans, too. "They're a real problem right now," says the captain, describing the speed at which the wild pigs reproduce – three times a year from the age of three months.
The two-hour tour takes us deep into the swamp and we putter gently through some of its narrow channels, examining the plant life. Bald cypress trees point their skinny knees out of the water while Spanish moss hangs like thick, ghostly white hair from their branches. The captain pulls closer to the bank to peer at unusually large tracks in the mud. "I have no idea who or what made these prints," he says, shaking his head. "I've also been out here at night and heard sounds I can't identify. I'm not saying it's the swamp monster. I'm just saying, I don't know."
Lauren Kramer, an award-winning writer and editor, lives in Richmond, B.C. To read her work online, visit laurenkramer.net.
***
If you go:
Where to stay: Covington's new boutique Southern Hotel is an elegant oasis of comfort in a 150-year-old building located in the heart of the city's historic centre, 1-985-871-5223 or southernhotel.com.
Global Wildlife Centre offers wagon tours (kids $11, adults $17) and private Jeep tours at $35 per person, 1-985-796-3535 or globalwildlife.com.
Kayak rentals and guided bayou tours are offered at bayouadventure.com in Lacombe, 1-985-882-9208 or bayouadventure.com. For swamp tours, contact Pearl River Eco-tours at 1-985-892-0708 or pearlriverecotours.com.