Julianne Moore as Alice in Still Alice. (photo by Jojo Whilden, courtesy of Sony Pictures Classics)
Fifteen years ago, the subject of dementia was the "elephant in the room," a very large issue that everyone is acutely aware of, but nobody wants to talk about. If you or a member of your family developed symptoms such as forgetfulness or confusion, you kept it quiet as long as you could. The first time your grandfather found himself somewhere and did not know why he was there was but the coup de grâce, the decisive stroke that heralded the end of a lifestyle as he knew it. This was the beginning of a terrifying and tragic journey towards senility and death.
I remember my paternal grandmother; she was a wonderful cook, Polish style. Her husband took care of her until she had to be placed in a seniors residence. The topic of her illness never came up at home. My father visited her every week. My brother and I did not go with him. Then there was the telephone conversation with my aunt: she was surprised to hear that I lived in Vancouver (I had moved here eight years prior). I knew then that she had Alzheimer's disease. It was a shock.
During the last 10 years, things have changed. Articles about dementia, in terms of statistics, symptoms, prevention strategies, caregivers and residential settings, abound in our newspapers, magazines, on the radio and on the internet. Seminars, forums, courses, self-help and support groups are readily available – and world cinema has made up for lost time. For the last few years, I have been tracking American, Canadian, British, European and Israeli films that feature people who are suffering from some form of dementia, especially Alzheimer's. These movies show the impact of their condition on caregivers, whether they be spouses, sons, daughters or friends.
The British film Iris (2001) reveals the true story of the lifelong romance between novelist Iris Murdoch and her husband John Bayley, and her gradual deterioration due to Alzheimer's disease.
The Canadian movie Away from Her (2006) follows a loving couple; she acknowledges her condition and moves into a seniors residence, and the husband must cope with his wife's new romantic attachment to a male resident of the facility. Still Mine (2012), also a Canadian movie, is an old-age love story told with minimal sentimentality and spiky integrity. She has Alzheimer's, he wants to build her a smaller house, with his own hands; complications ensue.
Amour (2012), a French film, gives us an unflinching vision of dementia caused by stroke and the complex relationship between the members of the octogenarian couple. It was widely acclaimed and nominated for several Academy Awards.
The British comedy Quartet (2013) brings together four superb actors in a magnificent seniors residence for musicians. Each member of the ensemble has his or her own impairments and talents. Somehow they cope and produce beautiful music together.
The American movie Still Alice (2014) shocked and educated every viewer who stayed until the end. We watch as early-onset dementia gradually overcomes the heroine's intelligence and independence. Her strategies and courage educate and enrich our lives as she struggles with her loss of memory and mental abilities. Julianne Moore won an Academy Award for her performance.
In the American documentary Glen Campbell … I'll be Me (2015), the legendary singer agrees to a final North American tour knowing that he has Alzheimer's. The family supports, encourages and devises ways in which he can continue to perform despite the debilitating effects of the disease. A superb real-life drama that makes one appreciate how drastically the disease affects everyone close to the struggling singer.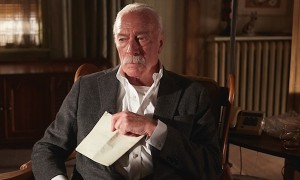 In the Canadian movie Remember (2015), two residents of a seniors home seek revenge against the Nazi killer of their families in the Holocaust. With Alzheimer's robbing him of his capacity to remember, one old man goes forth, with detailed instructions in hand, to find and kill his tormentor. He struggles with his inadequacies and perseveres.
Then there is the Israeli drama The Farewell Party (2015), which deals with the topic of assisted suicide and dementia. Notwithstanding the topic, it is a sweet, funny and sad tale that teaches us compassion and acceptance.
I recommend all of these movies to you, no matter at what stage of life you find yourself. But you might say, why should I watch these movies, why should I care? I am not there yet. It is not my issue, I don't need to know about all this. It is too depressing. I defy readers to tell me they do not know someone who is suffering or has suffered from dementia. One in nine people over the age of 65 will develop some form of dementia. We must acquire knowledge of the disease, we must become familiar with the signs and symptoms, we must acquaint ourselves with the various paths that dementia takes.
How can we understand, empathize and assist these people, our grandparents, our parents, our friends, in their journey? As ethical human beings, it is our obligation and privilege to make the disease and those who suffer from it an integral part of our society. Watching these movies will provide you with the tools and strategies to be informed, to be helpful and to be accepting of this condition. After all, you or I may receive the diagnosis of dementia tomorrow.
Dolores Luber is a retired psychotherapist and psychology teacher living in Vancouver. She writes regular columns for Senior Line, blogs for Yossilinks and writes movie reviews for Isaac Waldman Jewish Public Library. This article was originally published on yossilinks.com.